As announced previously, MediaTek has finally made its high-end chipset, the Dimensity 9300 official. This one directly rivals Qualcomm's Snapdragon 8 Gen 3 mobile platform, which was introduced recently. Check out the details below.
The Dimensity 9300 SoC, which succeeds the Dimensity 9200, is based on the third-gen 4nm process and has an octa-core setup. This includes four Arm Cortex-X4 cores with up to 3.25GHz clock speed and four Cortex-A720 cores clocked at up to 2.0GHz. It is touted as the first one to use "all big cores for extreme performance." In comparison, the Snapdragon 8 Gen 3 has a maximum clock speed of 3.3GHz.
The presence of the Immortalis-G720 GPU provides up to 46% increased GPU performance and 4% less power consumption. You also get hardware-based ray tracing for "console-level global illumination effects at a smooth 60fps."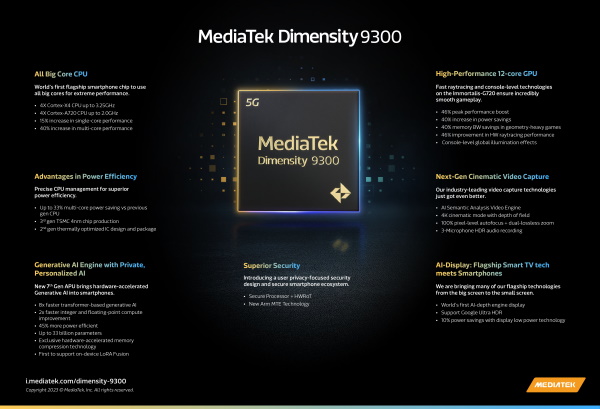 The chipset supports the new APU 790 AI processor with improved generative AI performance and up to 45% reduced power consumption. There's also support for NeuroPilot Fusion, which can enable support for large language models.
Joe Chen, President at MediaTek, said, "The Dimensity 9300 is MediaTek's most powerful flagship chip yet, bringing a huge boost in raw computing power to flagship smartphones with our groundbreaking All Big Core design. This unique architecture, combined with our upgraded on-chip AI Processing Unit, will usher in a new era of generative AI applications as developers push the limits with edge AI and hybrid AI computing capabilities."
For the photography bit, the chipset has a low-power AI-ISP and support for always-on HDR up to 4K resolution, 4K AI Noise Reduction (AI-NR), and AI processing on RAW photos and videos, among other things. It also provides support for Android 14's Ultra HDR format. The display configurations include WQHD at 180Hz and 4K up to 120Hz. There's also the MiraVision Picture Quality (PQ) engine for enhanced picture quality.
Additionally, the MediaTek Dimensity 9300 chipset comes with Wi-Fi 7, a 5G R16 modem, and much more. The first MediaTek Dimensity 9300 phones will be released by the end of 2023, starting with the Vivo X100 series scheduled to launch on November 13. So, stay tuned for further details.