With the tablet market reaching saturation, there are not exactly a whole lot of reliable options to go for in the budget category. More so, if you are looking for a tablet that can provide a good multimedia experience, can double down as a reliable e-book reader, and also get some casual gaming done. Can the recently launched OnePlus Pad Go fulfill all of these requirements? I got my hands on the tablet, the top-end 8GB+256GB LTE variant, at the Beebom office. And after thoroughly testing it for about two weeks, here is my review of the OnePlus Pad Go.
OnePlus Pad Go Box Contents
OnePlus Pad Go comes with pretty much everything you could ask for in the box. You get to see a 33W SuperVOOC adapter alongside the trademark OnePlus red USB type-A to type-C charging cable. Additionally, you will get to see a sim ejector tool with the LTE variant along with a Quick Start Guide and Safety Guide. Unboxing it all was easy too as everything was nicely packed in the box.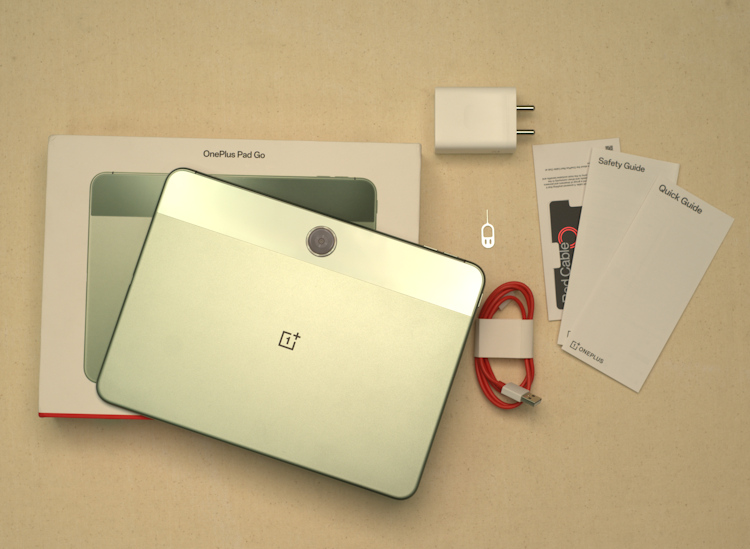 Unlike the OnePlus Pad, one thing to note here is that Pad Go doesn't support additional accessories like a keyboard or stylus, which is a bummer.
OnePlus Pad Go Design & Build
In the box, the OnePlus Pad Go is placed screen-ward, so at first, it seems like "just another tablet". However, when I took it out and looked at the back panel, I liked the dual-tone design, with one section using a slightly darker shade of green and a glossy finish. It makes sense as to why OnePlus is calling this the Twin Mint color option.
At first, you may mistake the glossy bit as glass. However, that is not the case, and this is simply polished plastic. Still, looks pretty elegant, although is a fingerprint magnet. The rest of the rear panel is made out of aluminum, which does not attract fingerprints or smudges and feels very premium to the touch.
Moreover, when I first picked up the Pad Go, I noted how lightweight the tablet was. The rounded edges also made sure that it didn't feel like the tablet was digging into my skin. There's some nice weight distribution at play here. But, the tablet can be slippery, and I did feel the need for a case as I'm pretty clumsy.
Towards the right side of the frame, you get to see the volume buttons coupled with a microphone. Meanwhile, the left side is completely empty and I like that. At the top, you get to see the power button and SIM tray alongside two of the speaker grilles. The bottom bit of the tablet is home to the other two speaker grilles, a charging port, and another microphone.
While all that sounds good, I feel that OnePlus could have really added a 3.5mm headphone jack as the tablet has adequate enough thickness for it. Since you do not have a whole lot of options that come with one today, it would have immediately hit the spot for most folks.
OnePlus Pad Go Display
If you are looking for a budget tablet, you definitely are not looking to game on it a lot. Mostly, you will need it to fulfill your multimedia requirements. Whether you are planning to watch movies or TV shows or just reading some books/manga, you want a tablet that doesn't disappoint on that front. So, keeping these things in mind, I took the OnePlus Pad Go for a ride.
From the Realme Pad 2 to the Honor X9, we have started seeing more and more 2K panels on offer in budget tablets recently. The same is the case with the OnePlus Pad Go, which houses an 11.35-inch 2K display with a 90Hz refresh rate. In my time with the tablet, the viewing angles were surprisingly good and the colors were pretty accurate. I didn't feel the absence of an AMOLED panel for once. Note that I set the screen color mode to Vivid, which boosted the colors a bit.
Moreover, thanks to Widevine L1 support, the tablet can stream 1080p content on any platform. I really enjoyed watching movies and binging Brooklyn 99 on Netflix for hours on end. However, I couldn't make sense of why OnePlus opted out of providing an HDR display since the Helio G99 supports it. That is a bummer and something that could have further elevated the viewing experience.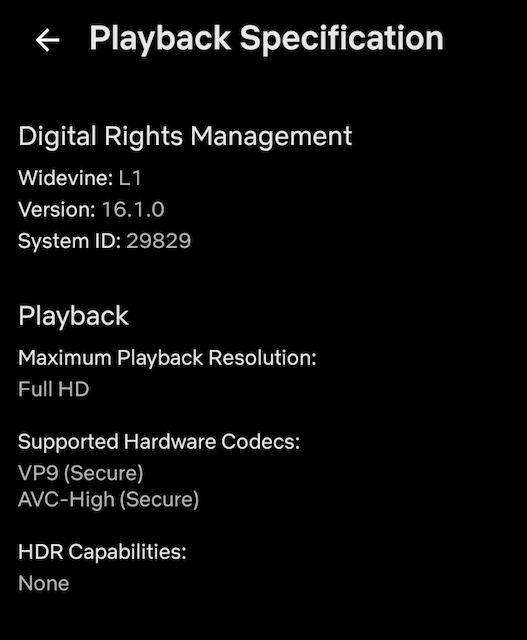 Even with the absence of HDR, the blacks were prominent, and the color contrasts were on point, which allowed me to enjoy The Nun 2 on Prime Video without any issues. This movie has a lot of dark sequences, and I was surprised by how I didn't have to squint my eyes when viewing those scenes.
Furthermore, the 400 nits of peak brightness translated well into offering a good indoor and modest outdoor viewing experience. Not to mention that I also used the tablet to read through an e-book on my terrace during the day; did not have any issues there either. I mean, even the top e-book readers out there come with some 450-500 nits of brightness, and this tablet matches them perfectly.
OnePlus Pad Go Sound Quality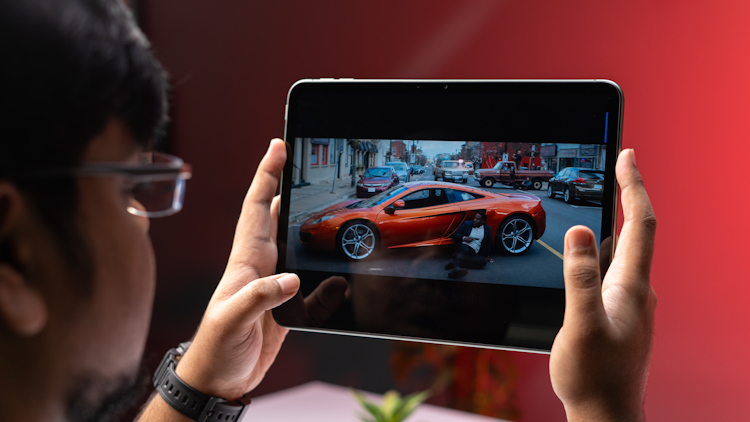 The display is definitely impressive, but what certainly made my jaw drop was the sound output you get from the quad speaker setup. I never had to use my earbuds or connect the Pad Go to a speaker. This tablet, in itself, is a speaker, and I'm not exaggerating. The speakers being backed by Dolby Atmos surely does take the experience to a whole new level.
When I first played the Blood Code soundtrack from John Wick 4, I remember a colleague of mine going, "What the…." The bass, the mids, the lows, none of it seems to be overpowering the other. The sound profile is well-balanced out of the box. Of course, you can further tweak it as per your preference. However, this is definitely one heck of a speaker setup for a tablet. The speakers are also very well-placed and I never accidentally cupped the bottom two speakers on each side when holding the tablet. I have pretty big hands and for that not to happen is always good in my books.
OnePlus Pad Go Performance
The OnePlus Pad Go is powered by the MediaTek Helio G99 chipset, which can be found on most budget smartphones and tablets today. On a small screen, those stutters and lags may go unnoticed, but on a tablet, things are different. I put it all to the test as I played games, read books, and multitasked on the tablet. Take a look below:
Daily Usage
Before I get into how the tablet performs during daily usage, let me tell you a little about what my day-to-day usage consists of. It mostly includes a bit of reading on Kindle Unlimited, using Chrome for research purposes, penning things research points in a Notepad, binge-watching silly cat videos on YouTube, streaming content on Netflix, and shuffling between these applications basically.
Apps never crashed and I rarely had to face any annoyance with severe lags. There were micro stutters occasionally, which you would expect from a budget tablet. Still, for the most part, the tablet handled all my tasks pretty well. Whether I was swiping through pages of an e-book, scrolling through a webpage, or shifting between apps, I never faced an instance where the tablet was not responsive enough.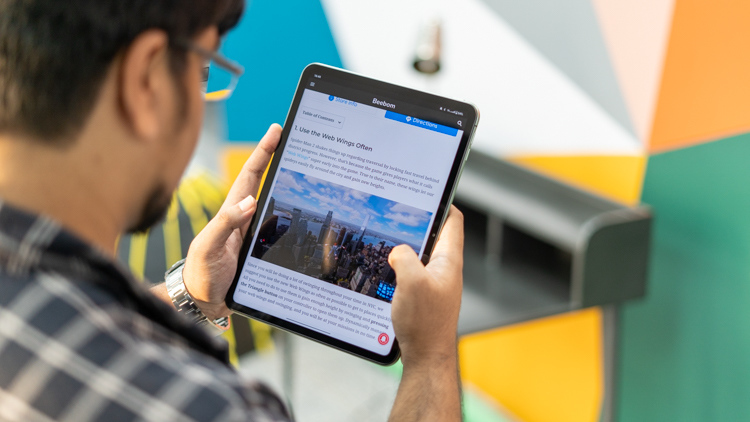 Of course, when those apps start stacking up in the background, the tablet definitely has a hard time trying to perform well. You will notice stutters. However, nothing too severe. It's what you would expect from a G99-powered tablet. Moreover, RAM management was also pretty decent, as long as I had no more than 10 apps running in the background. During my daily usage, I couldn't help but notice literally how cool the tablet manages to stay. It gets slightly warm around the back camera during heavy usage, but that's it.
Overall, the tablet was handling every casual task that I threw at it pretty well, so it was time to take it up a notch. I decided to brush up my gaming skills a bit and ambitiously hopped into a COD Mobile match. That brings us to the next section.
Gaming
The gaming experience was surprisingly decent on the OnePlus Pad Go. Starting with COD Mobile, you can use a combination of Medium/ High graphics settings. However, note that the problem with 2K displays is that most games aren't yet optimized for that resolution, which makes them look blurry. You can see this problem on the Pad Go as well.
In COD Mobile, you can simply download the HD Resources pack in the game to fix this to an extent. However, it doesn't completely get rid of it. Keeping that aside, the gameplay was pretty smooth, and I didn't face any lag or stutters when playing the 10 vs 10 game mode. The 10 vs 10 game mode has a whole lot of enemies on your screen at all times and the tablet still managed to offer 60 FPS consistently. But, in Battle Royale mode, it was capped at 48 FPS.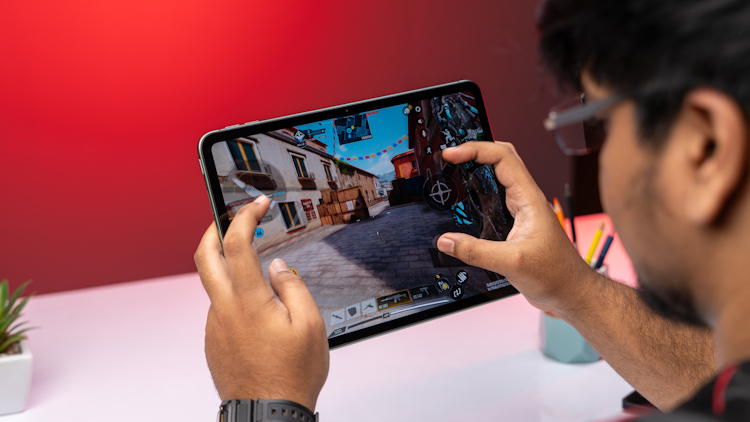 Talking about BGMI, you get to see a Smooth/ Ultra graphics option, which is good. You can then take this up to a maximum of HD/ High graphics settings. At the highest settings, the tablet was able to constantly achieve 60 FPS, with minor stutters at times when there are multiple enemies on your screen. I also threw some Asphalt 9 into the mix and the tablet handled it like a charm as well.
Overall, if you are a casual gamer, the tablet handles it all pretty well. As I said before, I liked the thermal management of the OnePlus Pad Go. It barely gets warm even when gaming for an hour or so. That is surprisingly good if you ask me.
Benchmarks
For benchmarks, I ran the tablet through AnTuTu and Geekbench 6. I mean, the Helio G99 is a decent budget performer, scoring 396,058 points on AnTuTu. In addition, on Geekbench 6, the tablet managed to score 733 points in the single-core and 1429 points in the multi-core test. So, I'm not surprised that it could handle most games in low settings without breaking much of a sweat.
OnePlus Pad Go Software Experience
Note: The tablet received a 391.77 MB OxygenOS 13.2.0.205 (EX01) on 20 October 2023, and most of the optimization issues I had prior to that were gone. The tablet immediately became 10x more stable.
The OxygenOS 13.2 skin that the Pad Go comes with is pretty seamless and optimized for tablets for the most part. When the tablet is in landscape mode, you can simply use two fingers to do a top-to-bottom swipe and that will summon the split screen mode. You can also easily adjust the width of the split screens.
Now comes the best part. If you are a OnePlus fanboy and want to build an ecosystem, the Multi-Screen Connect feature will come in super handy. Using this, you can mirror your OnePlus phone's screen onto the tablet. This is one feature that I wish my Xiaomi Pad 5 had. Sadly, it's an OxygenOS-only feature. Once connected though, I could easily control my phone right on the tablet without having to pick up my phone.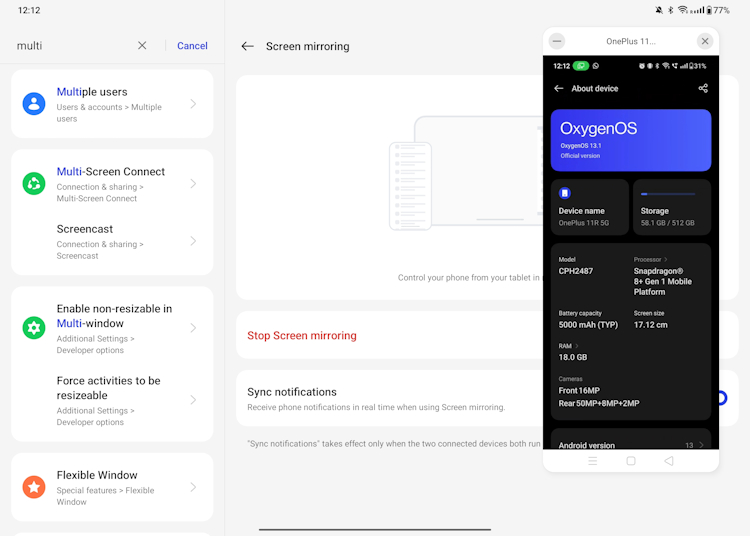 Additionally, sharing files between the two devices became so much easier with this feature, as to do so, you just need to drag and drop files onto the mirrored phone screen and the file gets copied to your phone. Super duper convenient and an underrated feature, if you ask me.
OxygenOS 13.2 also brings a variety of other features to the tablet version. Recently, we saw these features make it to the OnePlus Open as well, which you can see in our recent YouTube video. These features include an enhanced taskbar that comes with a "recent apps and recent files" tab. This takes your multitasking to the next level. You can easily use the recent files feature to drag and drop files directly into WhatsApp or any other platform to share them easily.
Note: The enhanced Taskbar and the features it brings are an OxygenOS 13.2 special. I cross-checked and the OnePlus Pad running on OxygenOS 13.1 didn't have some of these features. It may get these features via OxygenOS 13.2. However, it hasn't received any updates yet.
Coming to what I didn't like. Right out of the box, something strange occurred. When watching Netflix, there was some noticeable lag that sure did interfere with the viewing experience. However, after a while, the issue was resolved on its own. I can't say for sure if it was due to an app interfering with Netflix, Netflix app's issues, or other optimization issues within the tablet itself. The good thing is that the issue did not last long. Oh yes, you also get to see Widevine L1 support on the tablet, allowing you to take advantage of the 2K panel.
Moreover, just like with the Netflix stuttering issue, there were a couple of problems I ran into with OxygenOS 13.2. There were some UI optimization issues, which caused the tablet to lag and stutter even during normal usage. However, these optimization issues were mostly gone or significantly reduced when we received the day-zero update on 20th October. I'm guessing our unit was running on a pre-launch build, which was understandably a bit unstable.
OnePlus Pad Go Battery & Charging
There is an 8,000mAh battery on the OnePlus Pad Go, which looks good on paper. However, it performs even better in real life. OnePlus claims a whopping 514 hours of standby time, which of course, I couldn't put to the test thoroughly. However, I did use the tablet for over a week, and these unbelievable numbers became very believable by the end of it.
In one instance, I charged the tablet to somewhere around 70% and used it for a little over two hours. These two hours primarily saw me playing COD Mobile, clicking some photos, and watching 1080p videos on YouTube. I didn't switch off the pad or turn on the power saver mode either. 5 days, 2 hours, and 24 minutes later, I was still left with 37% of juice. You can guess from this how commendable the battery backup is.
The OnePlus Pad Go's battery backup is definitely the best that I have come across in recent years. Personally, I use the Xiaomi Pad 5 and even though it packs a larger 8,720mAh battery capacity, it can't last longer than the OnePlus Pad Go. Well, MIUI is such that, it drains a considerable amount of juice even on standby. So, OnePlus has definitely done some serious battery optimization with the OxygenOS 13.2, from the looks of it.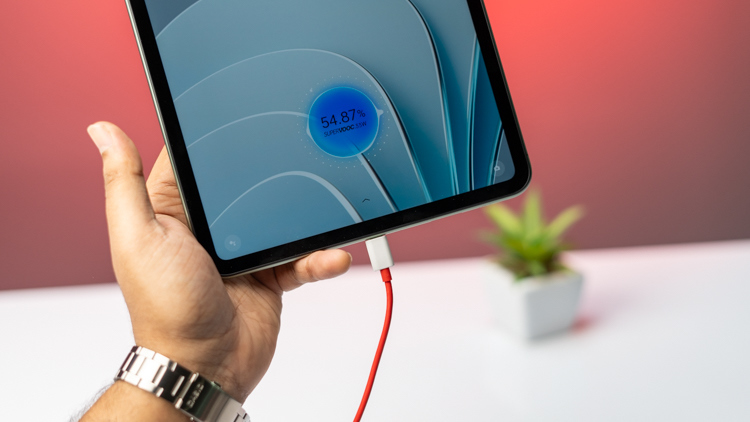 As for charging, you get a 33W SuperVOOC fast charger in the box itself. Using this, I could charge the device fully in a little over 2 hours 15 minutes. Sometimes, a tad bit more. I certainly did miss the 67W fast charging that the OnePlus Pad got.
OnePlus Pad Go Cameras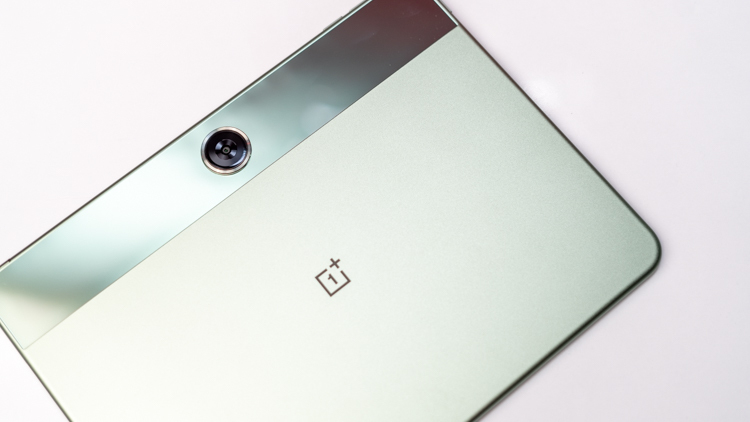 I just had to move this section lower. I mean, everyone knows that a tablet camera is not for you to unleash the photographer in you. The OnePlus Pad Go is no exception. There's a single 8MP rear camera sensor on the Pad Go. This sensor supports EIS (Electronic Image Stabilization). Although, I doubt that you will find yourself shooting videos with it. However, there are no additional features you get with it. It's just a basic camera. Still, it takes some decent shots.
However, at night, you should definitely refrain from taking pictures with it as there's no dedicated night mode. Moreover, the 8MP is just not enough to provide you with crisp, noise-free pictures. This is clearly visible in every photo as you zoom in and start pixel-peeping. But, it's satisfactory for a tablet. You also need to have steady hands and your subject should not be moving around a lot for you to take decent pictures. You won't get any majestic details out of this and that's okay for a tablet camera.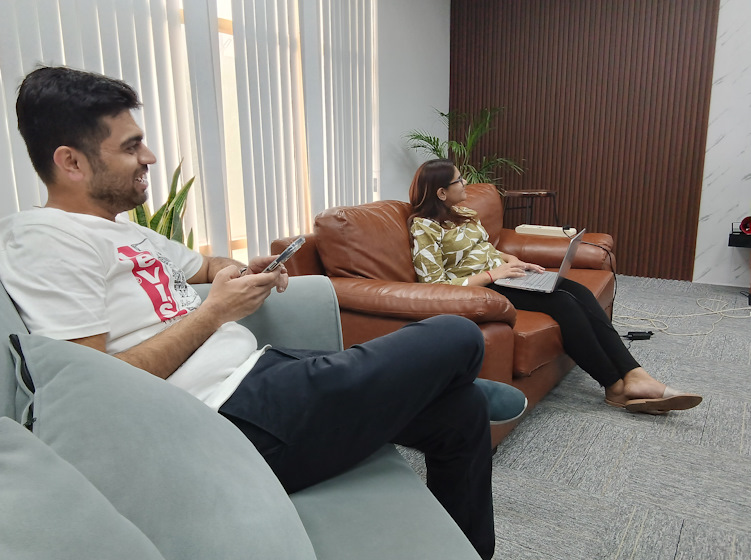 At the front, you get to see another 8MP sensor. I used this front shooter for a couple of video calls and the quality was good enough to get by. Most importantly, the microphone quality is pretty good to ensure that there are no disturbances that come in the way. This tablet will be a good companion to get you through classes or meetings in an emergency. You can also take some decent selfies with it during the daytime. If you are indoors with proper lighting, video calls at night are also decent enough.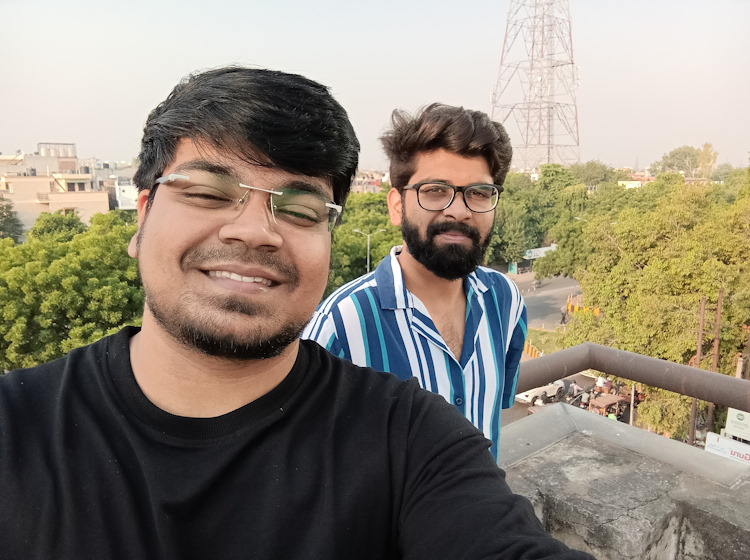 OnePlus Pad Go Pros & Cons
| PROS | CONS |
| --- | --- |
| Great display; Good build quality | No compatible accessories like keyboard and stylus |
| Quad-speaker setup offers amazing audio | No 3.5mm headphone jack |
| Helio G99 keeps up with your day-to-day use | |
| Exceptional battery life | |
| Solid thermal management | |
OnePlus Pad Go: Should You Buy It?
When it comes to tablets, it is hard to come across a well-balanced tablet in the sub-Rs 20,000 price bracket. But, OnePlus Pad Go is one such tablet that does pretty much everything decently. It will be more than enough for you if entertainment and some light gaming are all you need. Anything more than that, and you will find yourself in need of more power which this tablet just can't offer. Then again, going by the price, it is understandable. The sub-Rs 20,000 price segment does not have a lot of versatile options to go for in the first place.
In case you are on the lookout for an alternative, you can give the Realme Pad 2 (starting at Rs 17,999) a try. The Realme Pad 2 comes with everything that the Pad Go packs. In fact, it features a faster 120Hz refresh rate display and a slightly bigger 8,360mAh battery. But, instead of 8GB, you get 6GB of RAM on the base variant for Rs 1,000 less. If you wish for faster refresh rate over more RAM, you can go for it. That is if you are strictly limited to the under Rs 20,000 budget.
However, if you can extend your budget up to Rs 25,000, I will recommend getting the Xiaomi Pad 6, which is usually selling for around Rs 24,000 with bank offers (on Amazon) during sale events. For that price, you'll get the Snapdragon 870, which offers twice the power, along with a 144Hz display. The Xiaomi Pad also supports keyboard accessories and a stylus, but you will need to buy them separately.
Finally, it all comes down to understanding your needs and if the OnePlus Pad Go aligns with them, it is one of the most "value-for-money" options you can get for under Rs 20,000. What are your thoughts on the Pad Go? Let us know in the comments below.
Buy OnePlus Pad Go on Amazon (starts at Rs 19,999)