Who is Ginni Thomas, and why does the Jan. 6 committee want to talk to her?
Conservative activist Virginia "Ginni" Thomas will speak to the House select committee investigating the Jan. 6, 2021, attack on the U.S. Capitol about her involvement in efforts to overturn the 2020 election.
It's a notable development for many reasons, not the least of which is that she is married to U.S. Supreme Court Justice Clarence Thomas. Her lawyer, Mark Paoletta, confirmed she agreed to a voluntary interview with the panel, according to news reports.
That agreement came three months after the committee sent Thomas a letter requesting an interview. Although Thomas initially said she was willing, Paoletta pushed back on the committee's request, asking it in an eight-page letter to justify the need to speak with Thomas, NBC News reported. 
It is unclear what changed to allow the interview with the committee to proceed. A date for the interview has not yet been set.
Why the Jan. 6 committee wants to talk to Thomas
Reps. Bennie Thompson, D-Miss., and Liz Cheney, R-Wyo., the committee's chair and vice chair, respectively, indicated they wanted to speak with Thomas after discovering references to her in communications from John Eastman, one of the lawyers for former President Donald Trump, The Associated Press reported.
Eastman was the architect of a plan to have then-Vice President Mike Pence set aside Electoral College votes from seven states and deny President Joe Biden victory. Eastman outlined his six-step plan in a memo obtained by CNN and others. It included having states send a second slate of electors. Eastman pleaded the Fifth Amendment 100 times in a deposition before the committee.
Part of a memo from John Eastman, a lawyer for former President Donald Trump, is displayed on the screen during a Jan. 6 committee hearing at the Capitol in Washington, June 16, 2022. (AP)
"We believe you may have information concerning John Eastman's plans and activities relevant to our investigation," Thompson and Cheney wrote to Thomas in a letter obtained by The New York Times.
Thomas said in a June 16 interview with the conservative Daily Caller that she "can't wait to clear up misconceptions. I look forward to talking to them."
Eastman downplayed a Washington Post report of his communications with Thomas. He wrote on his Substack blog that a Dec. 4, 2020, email cited in the Post story merely shows her inviting him to speak about election litigation to Frontliners, a group which Thomas described as "grassroots state leaders."
There was also earlier debate within the Jan. 6 committee about whether to ask Thomas to testify following revelations in March that she had exchanged more than two dozen text messages with then-White House Chief of Staff Mark Meadows. Her messages urged Meadows to intensify his efforts to overturn Biden's election victory.
Thomas' involvement in efforts to overturn the 2020 election
"Help This Great President stand firm, Mark!!!" Thomas wrote to Meadows Nov. 10, 2020, three days after the Associated Press and Fox News had declared Biden the winner. "You are the leader, with him, who is standing for America's constitutional governance at the precipice. The majority knows Biden and the Left is attempting the greatest Heist of our History."
That's according to reporting by The Washington Post and CBS News. The news organizations obtained 29 text messages between Thomas and Meadows that were among more than 2,000 Meadows turned over to the Jan. 6 committee during its investigation.
The committee has not publicly released the texts.
On Nov. 19, Thomas texted Meadows about Sidney Powell, a lawyer who falsely claimed Trump won the election in a landslide and said electronic voting machines were made for changing election results. Thomas encouraged Meadows to continue working with Powell, who was part of the unsuccessful effort to file legal challenges to election results in states Trump lost.
"Sounds like Sidney and her team are getting inundated with evidence of fraud," Thomas wrote. "Make a plan. Release the Kraken and save us from the left taking America down."
The phrase "release the Kraken" had been adopted by election deniers to refer to false claims of election fraud they hoped would invalidate Biden's win. Many of Thomas' messages to Meadows contained this type of coded language used by promoters of baseless conspiracy theories.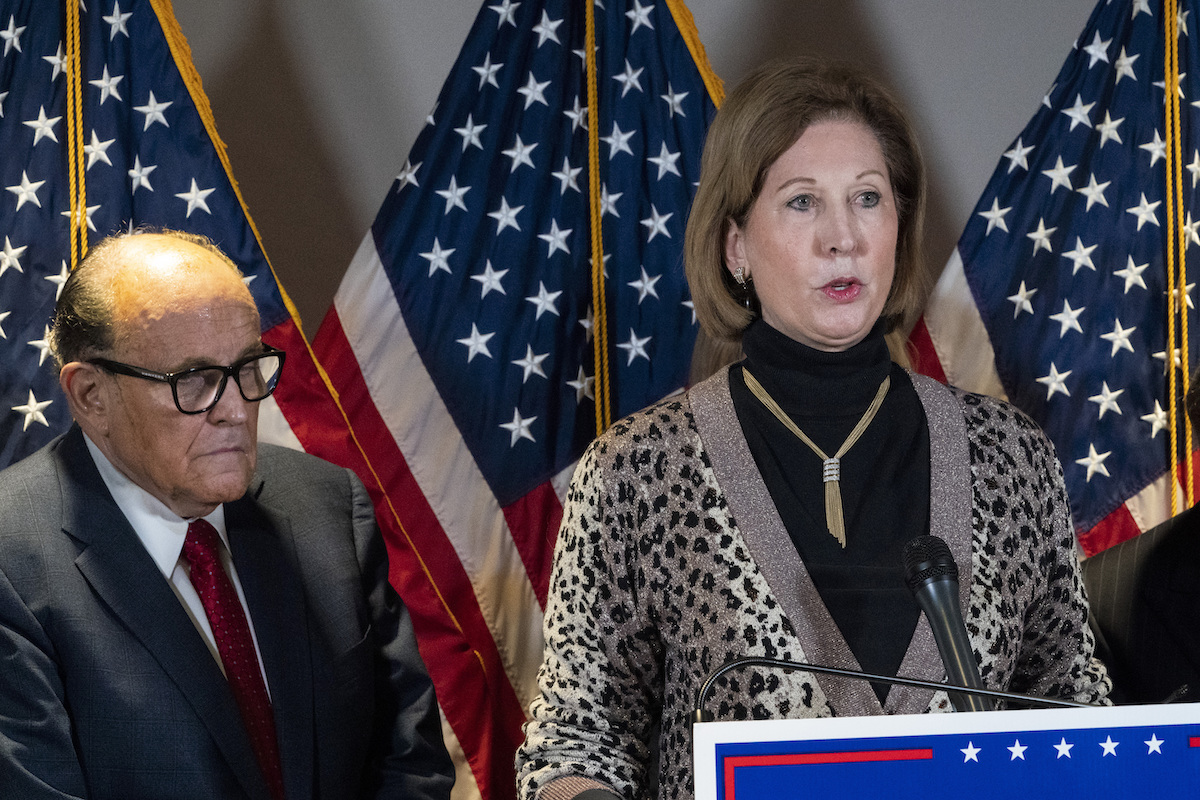 Sidney Powell, right, speaks next to former Mayor of New York Rudy Giuliani, as members of President Donald Trump's legal team, during a news conference at the Republican National Committee headquarters, Nov. 19, 2020, in Washington. (AP)
Thomas also implored lawmakers in battleground states to ignore the results of the election.
She sent emails encouraging 29 Republican lawmakers in Arizona and two Republican lawmakers in Wisconsin to set aside Biden's popular-vote victory in their states and instead select their own presidential electors, according to emails obtained by The Washington Post.
Thomas and the Jan. 6 rally
Thomas attended the pro-Trump rally at the Ellipse, but she told the Washington Free Beacon she got cold and left before Trump's speech and the Capitol attack that followed. Eastman and Rudy Giuliani, another Trump lawyer, both spoke at the rally before Trump took the stage at noon.
On the morning of Jan. 6, in Facebook posts that are no longer public, she expressed support for rally attendees. "Love MAGA people," she wrote in one all-caps post, and "God bless each of you for standing up or praying," she wrote in another, according to a Slate reporter's tweeted screenshots. She later amended the posts to clarify they were written before the violence, Slate reported.
On the morning of Jan. 6, Ginni Thomas—wife of Supreme Court Justice Clarence Thomas—endorsed the protest demanding that Congress overturn the election, then sent her "LOVE" to the demonstrators, who violently overtook the Capitol several hours later. She has not posted since. pic.twitter.com/378CHMkFN5

— Mark Joseph Stern (@mjs_DC) January 8, 2021
"I was disappointed and frustrated that there was violence that happened following a peaceful gathering of Trump supporters on the Ellipse on Jan. 6," she told the Free Beacon in March 2022.
Thomas has denied playing any role in planning the rally.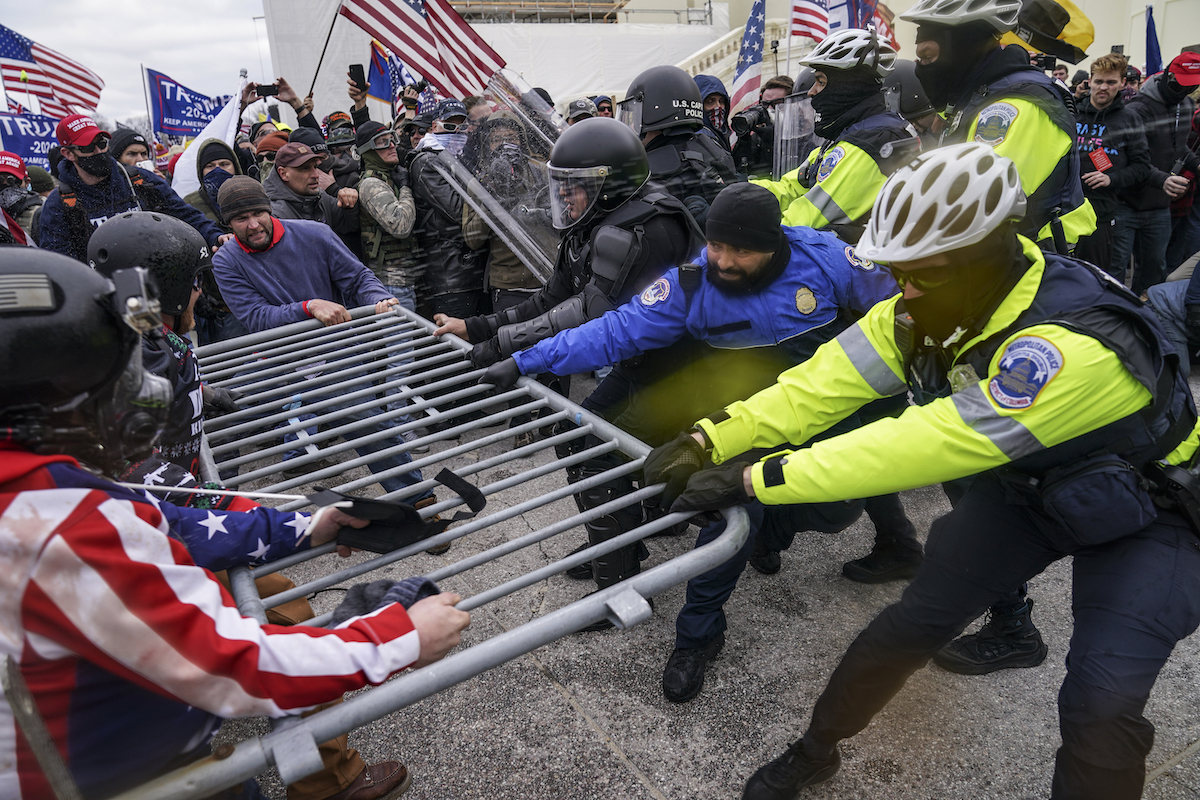 Rioters try to break through a police barrier at the Capitol in Washington on Jan. 6, 2021. (AP)
The New York Times Magazine reported in March that her role in the rally went deeper than she claims. The article quoted Dustin Stockton, an organizer with Women for America First, which held the permit for the rally. The article said Stockton was told by another organizer that Thomas played a role in mediating disputes "between feuding factions of rally organizers."
After that article was published, Kylie Jane Kremer, the executive director of Women for America First, issued a statement denying that Thomas had any role in planning the Jan. 6 rally, according to Times reporter Danny Hakim.
Thomas told the Free Beacon that she "played no role with those who were planning and leading the Jan. 6 events" and denied the allegation that she "mediated feuding factions of leaders for that day."
There were also unsubstantiated reports after the attack that she paid for buses to transport people to the rally, an allegation she denied in her interview with the Free Beacon.
RELATED: A fact-checker's guide to Ginni Thomas' texts to Trump's chief of staff
RELATED: ​​The facts of a fair US election have only gotten stronger since Capitol attack
RELATED: What's next for the Jan. 6 Committee?
Source: PolitiFact.