There are a lot of revelations coming out from a leaked report from CSIS reportedly showing that Don Valley North MP Han Dong may have connections, and or received assistance in elections, from the Chinese Communist Party's (CCP) network in Canada.
For the record, Han Dong does dispute the credibility of the information regarding him and released a statement about the matter on social media.
Please see my statement below.

Thank you. pic.twitter.com/5RADk5hDF7

— Han Dong (@handongontario) February 27, 2023
(A link to the Globe and Mail's overview story regarding CCP interference in Canadian elections is linked here)
Dong allegedly was assisted by the Chinese consulate in Toronto when he switched from Ontario provincial, after losing a reelection bid in 2018, and ran for the federal Liberal Party nomination for Don Valley North. CSIS also points to Liberal Markham-Unionville MPP, Michael Chan as being behind the ouster of former Don Valley North MP Geng Tan to make room for Dong to take the nomination going into the 2019 federal election.
The smear campaign run against Tan was based on fabricated allegations that surfaced on WeChat (a Chinese messaging platform) that he was having an affair with a staffer. Later the staffer in question accused Tan of not paying him child support. This was all frankly ridiculous, as Tan had acted only as a sperm donor in an in vitro fertilization procedure. Regardless, this momentary scandal damaged Tan's reputation enough that he did not feel able to run for reelection in 2019.
It should also be noted that back in 2018 both Han Dong and Michael Chan pressured Tan into not making a diplomatic visit to Taiwan, but allegedly, Tan's initial willingness to visit Taiwan was what motivated some in the CCP interference network to want him removed from public office.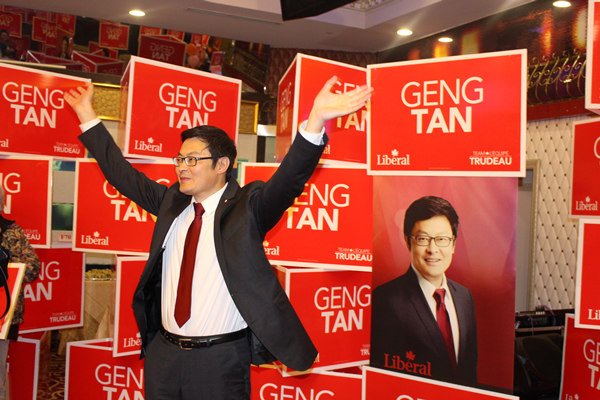 Now, this all sounds a lot like what happened to Independent MP Kevin Vuong.
The National Telegraph previously did an in-depth overview of the hollow sexual assault charge filed against Vuong, which seemed to have been used to prevent him from winning the riding of Spadina Fort-York in 2021.
Unlike Geng Tan, Vuong was lucky that when the Toronto Star attempted to destroy him over his undisclosed charge that it was too late to remove him as the Liberal candidate on the ballot, but Prime Minister Justin Trudeau still prevent Vuong from sitting as a Liberal in Parliament, which is why he currently sits as an Independent MP.
To a CCP influence peddler, Kevin Vuong would obviously be seen as a major threat to Beijing's interests if he were part of a Liberal government. He is a firm supporter of Taiwanese independence, a strong anti-communist (a son of South Vietnamese refugees), and a Sub-lieutenant in the Royal Canadian Navy. Vuong is not the type of person to take CCP interference lightly.
On top of that Vuong also appears to have potentially been in Han Dong's way. Although Dong was already the MP for Don Valley North, the federal riding that sat right overtop of his old provincial riding was Spadina-Fort York but because Adam Vaughan was still the MP of that riding in 2019, Dong had to settle for Geng Tan's ridings.
When Vaughan left office in 2021, he supported Kevin Vuong as his replacement, which led to Vuong being acclaimed as the Liberal nominee for Spadina-Fort York for that year's election. Dong may have wanted to switch ridings to Spadina-Fort York or at the least wanted to ensure a political ally was installed as the riding's representative.
One could envision that Dong and the CCP's interference network (described by CSIS) had sufficient personal and political motives to want Vuong removed from office. To be fair, until a full investigation can be made by CSIS or an independent inquiry one cannot conclude who may have been truly behind the smear campaign on Kevin Vuong.
At the very least the evidence currently out there paints a troubling picture of how broadly spread the CCP's influence may be in Canada.
As I said in my previous article about Kevin Vuong, it takes an extremely high level of corruption for Justin Trudeau's Liberal government to have potentially not just allowed CCP actors to help their candidates beat Conservatives in elections, but to also allow CCP actors to undermine Liberal candidates if they are not sufficiently permissive towards Beijing's political agenda.
Restoring trust in Canada's institutions will require deep investigations into the alleged CCP interference and involvement of government officials, and I hope (with low expectations) that Trudeau does the right thing and allows for an independent inquiry to be made into the matter.
Permalink