By Cailyn Derickson – The Charlotte Observer
Former Vice President Mike Pence met with supporters at a Rock Hill church Tuesday as part of his nationwide book tour. He also fueled speculation that he's laying the groundwork for a 2024 presidential run.
The former vice president's memoir, "So Help Me God," details Pence's life in politics, including his time in former President Donald Trump's administration. Pence has often hinted at a potential presidential bid after he publicly split from Trump over the former president's role in the Capitol riot on Jan. 6.
Last month, Trump announced he's running for president in 2024 on the same day Pence's book was released.
Meanwhile, Pence has continued to take steps to distance himself from Trump, and indicate he's prepping a White House bid of his own.
He spent the last year campaigning across the country for Republican candidates in the midterm election. And his political travels, especially to early-voting primary states, haven't stopped.
South Carolina is typically the first state in the South to hold a primary. And Pence's supporters pointed that out Tuesday at the Garden Sanctuary church in Rock Hill.
"Here you are," Pastor Patrick Conley said. "On this book tour…"
"In South Carolina," Pence chimed in.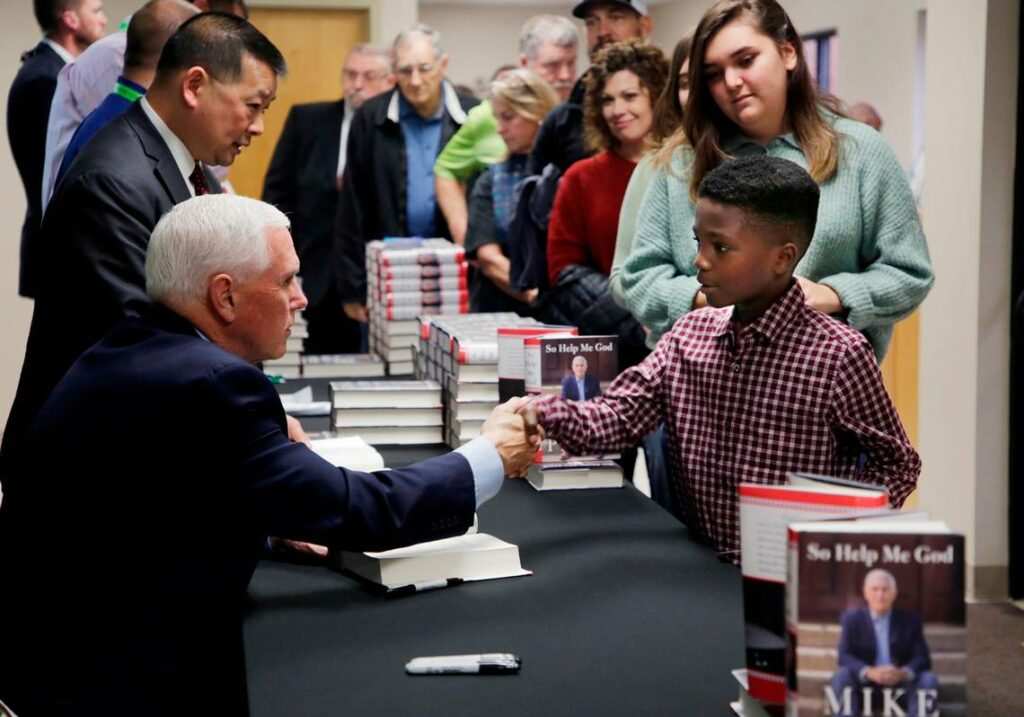 "In South Carolina," Conley repeated. "First in the South."
Dozens of supporters cheered.
"That being said … Is your mind on 1600 Pennsylvania Avenue?" Conley said.
The crowd was quiet.
"First of all, it's always humbling to be asked," Pence said.
"Over the last 20 years, it's always been our aspiration to wait to be called," he continued. "As we've traveled around the country over the last few years, we've gotten a lot of encouragement from people, including here in South Carolina."
And he's taking that encouragement into consideration. Pence said he's planning to spend time with his family over Christmas to ponder his decision.
"We're going to take some time, Karen (Pence) and I, to give prayerful consideration about where our next calling might lead," he said. "We're going to spend time with our kids. We're going to listen very intently, and I promise we'll go where we're called. And I promise to keep South Carolina posted."
Several in the crowd stood and clapped.
Push for anti-abortion law
Tuesday was Pence's second visit to Rock Hill in recent months. In May, he visited the city's Lakewood Baptist Church on National Day of Prayer. There, he praised a leaked draft of a Supreme Court opinion that would overturn the landmark decision in Roe v. Wade.
The decision, which guaranteed federal constitutional protections of abortion rights, was overturned in June.
The three justices appointed while Pence was in office — Neil Gorsuch, Brett Kavanaugh and Amy Coney Barrett — joined the majority opinion to reverse the precedent that had been in place for nearly 50 years.
And he pointed that out on Tuesday.
"I have tried to stand without apology for the sanctity of life throughout my career," Pence said. "I must admit to have been vice president in the administration that appointed three of the Supreme Court justices who gave America a new beginning…"
The crowd cheered loud enough to drown out the rest of Pence's words.
He said he's not finished advocating for anti-abortion legislation.
"I promise wherever the Lord leads our family, our family will be in the cause for life and we're going to continue to work our hearts out until the sanctity of life is restored at the center of American law," he said.
'As good as our people'
Despite his split from Trump, Pence still highlighted many of the policies put in place under the former administration and insisted many in the country want those back.
"The American people want to get back to the policies of the Trump-Pence administration," he told reporters. "The policies that rebuilt our military, revived our economy, secured our borders and strengthened the liberties by appointing conservatives to courts at every level."
But he still worked to differentiate himself from his former boss.
Pence acknowledged that although he believes American voters want the administration's old policies, they're looking for a leader who can also unify the country.
"Our politics are probably more divided than in any time in my lifetime, but I'm not sure the American people are as divided as our politics," Pence said. "I think they long for leadership, frankly, in both political parties that will be as good as our people, that would be as good to each other as the American people are every day."
'I hope you decide to run'
At the end of the event, Pence met dozens of his supporters and signed their copies of his new book.
Many of them thanked him for visiting the church. Pence shook hands with each one. He wrote "Merry Christmas" in several copies. And he often smiled and told the children: "If I sign it, you have to read it."
At the end of the line, Rock Hill resident Melinda Niday asked Pence to sign two copies. She planned to give one as a gift.
He asked her name and signed both.
As he handed the books back to her, she said: "I hope you decide to run."
He smiled back at her.
___
© 2022 The Charlotte Observer
Distributed by Tribune Content Agency, LLC.
Source: American Military News