Lyon 0-1 Chelsea: Women's Champions League quarter-final – live reaction | Women's Champions League
Key events
The players gather together before walking off the pitch and there are handshakes all round. That was certainly a competitive game, with both teams having a bash, and despite there only being one goal, there was plenty of goalmouth action.
If the kind people at DAZN show some reaction, I will bring it to you.
Full time! Lyon 0-1 Chelsea
Guru Reiten's goal wins it for Chelsea. Defensively, a superb effort from Chelsea, and they showed plenty in attack too, with Lauren James in particular showing her array of skills.
90 min +2: There will be three added minutes. Lyon win a corner … Chelsea snuff out the danger … and that's it!
"Even in the old days one away goal wouldn't have been much use (except in terms of winning the game) because in the event of a 0-1 in the first game it would only come into play if there was a 1-2 result in the second game, and then Lyon would have won," emails Peter. "Of more use in a 1-1 draw under that rule, strangely, because then 0-0 in the home leg would do for Chelsea."
I can't argue with any of that, but I was taking more in sweeping generalisations than mathematical permutations. For instance, if Chelsea scored again, or even a third time, then they'd have two, or even three away goals! If my maths is correct.
88 min: Lyon continue to toil but are struggling to find a way past this impressively solid Chelsea defence. Kaneryd breaks down the right for the visitors and has a sight of goal from a tight angle … she attempts a classy chip, but Endler is tall enough to grab it out of the air.
83 min: Johanna Rytting Kaneryd is about to come on for Chelsea.
Lyon win another corner. Reiten clears a low ball to the near post, but it cannons off the referee, who blows her whistle and gives a drop ball.
Lauren James goes off for Rytting Kaneryd. Perisset also goes off, for Maren Mjelde.
80 min: Into the final 10 minutes. As the commentator points out, the away goal isn't worth as much as it used to be: but this would still be a cracking win for Chelsea.
Van de Donk does brilliantly to cushion a ball across with a first touch for Lyon, and then she fires a shot back across goal, that flashes just wide!
It's corner, as I think Perisset got a touch on the shot. But nothing comes of that.
77 min: James is fouled by Bacha now. Just before that, James and shoved Bacha off the pitch when they were running to contest possession. A battle royale.
74 min: Lauren James is a class apart on this pitch. She really has everything, from pace, to vision, to incredible technique. This time, she's in a central area with the ball at her feet and defenders all around. She spots an angled run by Kerr from the left wing. James pings a perfect curling pass into the path of her teammate, who brings it down, runs in on goal and belts a shot wide. The offside flag was up anyway, but that was sheer class from James to create the chance.
71 min: Malard and Majri come on for Lyon. Cascarino and Dabritz go off.
Hayes, meanwhile, makes her first non-enforced change of the night, with the recently booked Cuthbert going off for Niamh Charles.
68 min: Lyon look increasingly frustrated at their lack of penetration but Chelsea will take that all day. Becho wastes the chance to cross from the Lyon left, trying to hang one up to the back stick, but only managing to send the ball on to the roof of the net.
67 min: Chelsea on the move yet again in attack. James looks for Kerr with an angled ball. Endler does well to rush out and smother it.
64 min: A very smart piece of link-up play by Kerr, up front for Chelsea, tees up Reiten who blasts a shot over the goal. That was quality from Kerr, making the most of possession despite being isolated. Classic forward play in an away-from-home European tie.
63 min: Cascarino keeps getting on the ball for Lyon and has been a constant threat in the second half.
Sorry, but we need a pic of the other famous footballing Cascarino, especially if it's black and white and has Graham Taylor in it.
60 min: Chelsea lose it at the back! Eriksson hits a woeful pass across her own goal which is snaffled by an opponent. Cascarino is teed up for a shot from close range that hits the post, I think via a good save by Berger. That would have been entirely self-inflicted by the visitors. Careless!
57 min: Morroni and Marozsan have both been taken off, for Lyon, with Danielle van der Donk, formerly of Arsenal fame, and Selma Bacha coming on.
56 min: Cuthbert is booked for a foul on Renard. A minute or two before that, Ingle also went in the book, for a challenge on Horan. A red card definitely not part of the plan for Hayes and Chelsea, so perhaps one or both of those players will be off before long.
55 min: Now it's Kerr making a nuisance of herself again, a cross coming over to the far post, but she is crowded out by Lyon defenders.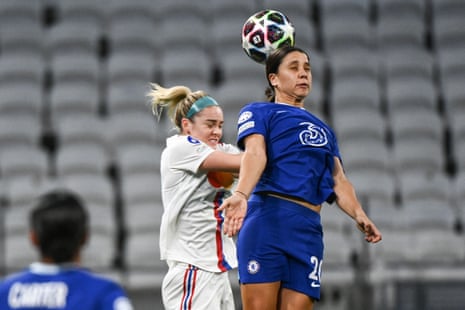 52 min: Chelsea threaten to double their lead again! Ingle cracks a shot from an angle that Endler does well to gather at the first attempt with Kerr in close attendance … Chelsea are really trying to put this tie to bed.
49 min: Having started the half with a bit of solid defending, Chelsea remind Lyon that they need to stay alert at the back, too. Sam Kerr is nearly through on goal, rushing towards a ball down the middle and nearly into the Lyon penalty area, but some last-ditch defending clears the danger.
46 min: Lyon start with a bit of possession in their opponents' half. Chelsea's defensive shape and pressing is really impressive though. They have two well-aligned banks of defenders and they rush into to close down the ball at the earliest opportunity when Lyon pass it around. It's testament to Hayes's tactical nous, not to mention her motivation skills, that the Blues are defending so resolutely.
Allez!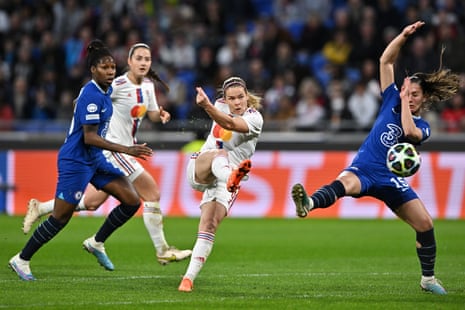 Half-time: Lyon 0-1 Chelsea
There is time for Kerr to blast a shot just wide for Chelsea, threatening to double the lead after ghosting away from her marker … but the Australian's effort flashes wide of Endler's far post. That's half-time. All good for Chelsea so far … See you in a few.
45 min + 2: Massive chance for Lyon! Morroni shows fantastic commitment to storm down left, and nick the ball past Perisset runing at full tilt. She sprints to the byline and manages to dig out an excellent cut-back towards the penalty spot. Lindsey Horan is there, in plenty of space, to meet the cross but she gets a first-time effort horribly wrong and misses it completely. A let-off for the Blues.
45 min: We will have five minutes of added time.
43 min: Bright goes off. The Sweden international Magdalena Eriksson comes off the bench to replace her, and assumes the captain's armband, too.
41 min: Strong work from Cascarino now on the Lyon right. She dances away from her marker and lifts an excellent ball into the danger zone … but Chelsea are able to clear.
Meanwhile, having been down injured a couple of moments ago following a tackle on Cascarino in an earlier passage of play, Millie Bright is now hobbling off the pitch alongside one of the medical team. It looks like her evening is over. Hayes looks on with concern from the technical area.
38 min: Nearly a leveller for Lyon! Dabritz does extremely well to buy a yard or two in a pocket of space on the edge of the area with several Chelsea defenders crowding around her. She curls a good left-footed shot from 20 yards that threatens to nestle in the corner but it's wide.
35 min: Marozsan clips a perceptive pass infield from the Lyon right, around halfway, but Leupolz is alert to the danger and nips in to intercept.
The home crowd won't be happy with how this is going: Chelsea look the more cohesive team at the moment, having weathered a bit of an early storm by Sonia Bompastor's side.
33 min: Lyon try to answer back with an intricate little move on the edge of the area but nothing comes of it. Chelsea move down to the other end of the pitch … and James cuts inside and curls a brilliant rasping shot against the base of Endler's right-hand post! Endler was well beaten there by a stunning effort by the Chelsea forward. The Blues are aiming for a knockout blow in this tie before they take it back to London!
Goal! 28 min: Lyon 0-1 Chelsea (Reiten)
What a top-class finish but what an assist by Cuthbert, too. Cuthbert battles with Carpenter, initially, and shows strength to turn away from her marker in midfield. She then nutmegs another would-be tackler and advances into space near the Lyon penalty area. Spotting Reiten to her left, she slides a diagonal ball into the box. Reiten has time to formulate a plan, and she wisely decides to hit the ball first-time, curling it right-footed beyond Endler and into the net. Somewhat against the run of play, but a tremendous goal.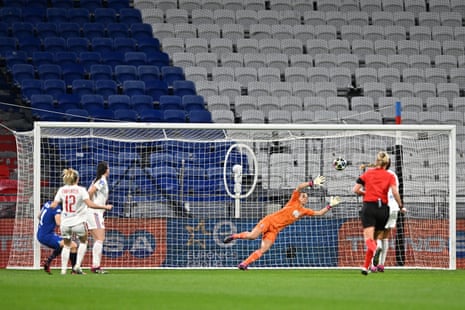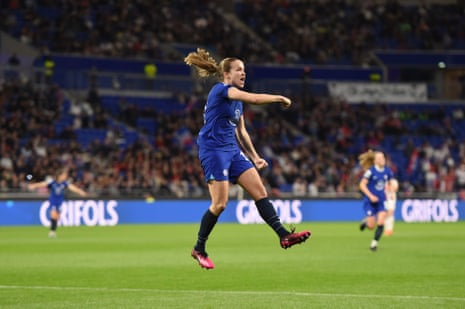 24 min: Chelsea are under more pressure after the corner. It is powered into the six-yard box again by Marozsan. Reiten can't clear it properly, and the ball bounces out for a 50-50 between Perisset and Marozsan just inside the penalty area. It looks as if Marozsan gets there first and is then clattered by Perisset. I would go as far as to say that that looks like a clear penalty to Lyon, to these eyes, but the referee and the VAR seem happy. Perisset needs a bit of treatment but she is OK and now we are under way again.
22 min: Ingle tries an expansive angled pass out of defence, looking for a run from Kerr, but it's off target. Now Morroni, charging down the left from her full-back position, wins a corner when her attempted cross is deflected out.
21 min: Another corner for Lyon is whacked into the mixer by Dabritz. Berger does well to come off her line and claim it authoritatively.
18 min: The pace remains high, both sides passing the ball positively. Carpenter chases on to a diagonal ball to the Lyon right, but she can't keep it in play.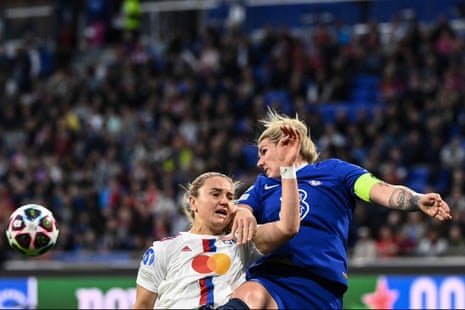 13 min: Lyon threaten again when Carpenter chips a good ball inside to Marozsan, and she helps it on to Le Sommer. Le Sommer tries a spectacular volley and hits it well enough, but not with enough power to trouble Berger, who flops down to her right and saves the low effort.
11 min: Better from Chelsea: Lauren James sprints into space through the middle, striding across halfway and all the way to the edge of the penalty area. The Lyon defence is struggling – James pokes a low ball to Kerr, who is lurking in the corner of the area. It looks like Kerr tries to play a one-two with James, but the ball breaks kindly for Lyon's defenders and they can clear. Plenty of attacking intent is being shown by both sides, anyway.
9 min: Suddenly, after a ball from the back by Renard, Marozsan flicks it through and Le Sommer is one-on-one with Berger in the Chelsea goal! She tries to lift the ball over the Chelsea goalie, staying calm and attempting to apply a cool finish rather than blasting it, but the ball bounces wide of the near post.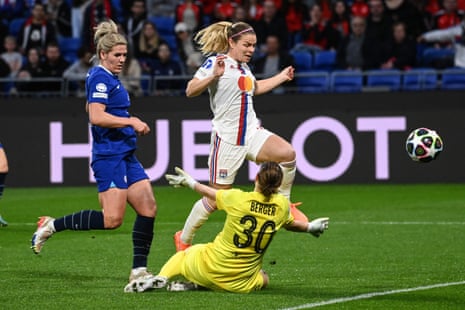 7 min: Marozsan now races on to a ball over the top down the Lyon right. But she can't catch up with it and it's out for a goal kick to Chelsea, who I should mention are indeed playing in their all-blue kit.
Lyon are in white with red and blue trim, so all present and correct. The home team are certainly on top here early doors – but they are yet to fashion a clear-cut chance.
5 min: Early scare for Chelsea. Lyon win a corner and it's pumped into the six-yard box. There's a little scramble close to the Blues' goal but Kerr helps with defensive duties and the visitors are able to clear their lines.
3 min: Not sure if it's the camera angle but this pitch looks absolutely massive. Do any football anoraks know if it's bigger than average? Merci.
1 min: Lyon kick things off. Wendie Renard brings the ball out of defence after Chelsea try to lump a ball into their left-hand channel. Then Sam Kerr is chasing on to a long ball over the top, but Endler comes out and deals with it comfortably.
The players take the knee, to demonstrate that there is no room for racism or discrimination … And we're off!
Here we go then. The two teams shake hands – or slap hands, more accurately, after lining up and we are ready to go. The referee is Tess Oloffsson of Sweden. VAR, or the VAR, if you prefer, will also be in action. That's Pol van Boekel of the Netherlands.
Ada Hegerberg, after a long spell on the sidelines, is back in the Lyon squad this evening and starts on the bench. It will be interesting to see if she gets on.
Lyon, incidentally, are unbeaten in 11 matches this calendar year, a period of time in which they have conceded a measly three goals.
Under 10 minutes until kick-off!
I fancy this is going to be less a cagey goalless draw and more an all-guns-blazing attempt to win it in the first leg from both sides.
I've torn it now, haven't I?
Eve Perisset of Chelsea, with her accreditation lanyard prominently positioned, takes a look at the pitch at the Groupama Stadium in the lead-up to kick-off.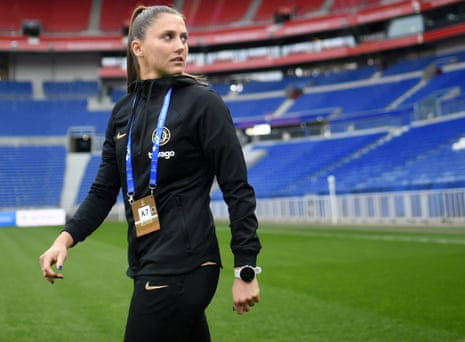 Hopes, dreams and fears for tonight?
Email me or tweet with your thoughts.
Quoted on the Chelsea website, Emma Hayes said: "We know Lyon are a top side. Earlier in the season [when they were beaten 5-1 by Arsenal] they were missing a lot of players. That's not the case now. They have a lot of their experienced players back.
"There are certainly things from Arsenal's performance that night that reminded us of some of the things we repeated in the pre-season game against Lyon, but this is a very different game and Lyon are at a very different stage than they were earlier in the season … "We understand there are no away goals,' added Hayes. "I'm an advocate of that. For us, we just have to keep producing performances like we have so far in Europe, and we're going to see two very good teams in Europe."
Last night, Arsenal fell to a 1-0 defeat by Bayern Munich, but it's all to play for in the second leg:
Elsewhere Barcelona beat Roma 1-0 in their first leg:
"They have amazing players, but we do as well."
Melanie Leupolz of Chelsea adds to the big-game atmosphere by chiming in with one of the great pre-match cliches.
"JOUR DE MATCH"
It just sounds better than match day, doesn't it?
Sarah Rendell reports for us before this one:
The Chelsea manager, Emma Hayes, has told her players they cannot win their Women's Champions League quarter-final in the first leg against Lyon at the Groupama Stadium on Wednesday, but they can "absolutely lose it".
No fewer than seven changes are made by Chelsea's Hayes following the weekend FA Cup win at Reading. One of those sees Erin Cuthbert, fit to start having missed the last three matches through injury, come back into the starting lineup for Jessie Fleming.
Lyon: Endler; Carpenter, Gilles, Renard, Morroni, Damaris, Horan, Däbritz, Marozsán, Le Sommer, Cascarino. Substitutes: Bacha, Majri, Hegerberg, Van de Donk, Sombath, Cayman, Bruun, Benyahia, Becho, Malard, Belhadj
Chelsea: Berger; Bright, Ingle, Carter, Leupolz, James; Reiten, Perisset, Kerr, Cuthbert, Buchanan. Substitutes: Musovic, Eriksson, Fleming, Mjelde, Johanna Kaneryd, Charles, Abdullina, Cankovic, Orman
"I don't spend my time thinking about revenge. I look at life as lessons and learnings."
The Chelsea manager, Emma Hayes, has said she is not aiming for retribution this evening following her team's Champions League semi-final exit at the hands of Lyon in 2019. A week is a long time in football, let alone four years, so it's easy to believe what Hayes says. Chelsea have come a long way since then, too, and have grown into a team with the kind of status and ability that has seen them lose just one match in all competitions this term.
Lyon are the defending champions but their progress to this stage of the competition has been somewhat less serene: it wasn't so long ago they suffered a 5-1 defeat by Arsenal in the group stage. But the show is very much back on the road now and the last time they failed to win a match, in fact, was the stalemate against Juventus at the end of that group stage in December. So both teams are in fine form.
Unstoppable force v immovable object? This could very well be a cracker.
Kick-off: 5.45pm