Even though clearing cache is not something you often need on an iPhone, there are times when an app starts malfunctioning, or you notice a slow-down of your iPhone, and a cache clear can be very helpful in such cases. Moreover, it can also help you restore some iPhone storage without having to offload apps or deleting documents and data off your iPhone. So, here is how to clear cache on iPhone easily.
5 Ways to Clear Cache on iPhone and iPad (2022)
Even though iOS lacks a system-wide scanner to scan through the entire device and show the total amount of cache files, there are some effective workarounds that allow you to remove cache files from your iPhone. Moreover, if you don't mind spending a few bucks in favor of a powerful storage cleaner, you can track down all the junk files and wipe them out with just a click. With that in mind, let's get started!
1. Restart Your iPhone or iPad to Clear Minor Cache
Many of you would be surprised to know that a simple restart can also clear cache on iPhone. Though the restart trick can only clear some lightweight cache, it comes in super handy when faced with miscellaneous issues like app freezing and touch unresponsiveness. That's why it's better to reboot your device once in a while in order to get rid of minor cache and also free up the memory.
Restart iPhone and iPad without Home Button
Press and hold the side/top button at once. Then, drag the power off slider to shut down your device.
Now, wait for 30 seconds and then hold down the side/top button to turn on your device.
Restart iPhone or iPad with Home Button
Press and hold the side/top button and then drag the power off slider to turn off your iPhone.
After waiting for a few seconds, hold down the side/top button again to restart your iDevice.
2. Clear Safari Cache on iPhone and iPad
When you browse the web on Safari (or any other browser), the web pages you visit store certain data on your iPhone, including cookies and other cache files. Fortunately, clearing Safari history and cache is a simple process. Plus, if you want to, you can just clear the cookies on iPhone as well instead of deleting all website data. That said, here's how to clear Safari cache on iPhone.
1. Open the Settings app on your iPhone. Scroll down and select Safari.
2. Now, tap Clear History and Website Data. A popup menu will show up from the bottom saying something like, "Clearing will remove history, cookies, and other browsing data. History will also be cleared from devices signed in to your iCloud account. " Tap on 'Clear History and Website Data' to clear browser cache and remove all website data as well.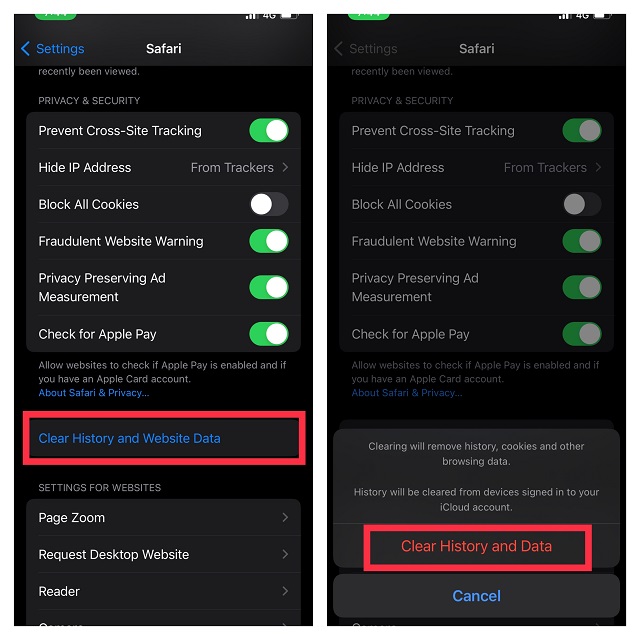 3. Clear Cache from App Settings on iPhone and iPad
Many apps like Chrome, Firefox, Spotify, Snapchat come with a setting to let you easily clear the related cache. Hence, many a time, you don't need to look anywhere else but an app's setting to remove the cache….
Read Full Story At: Beebom.