Garmin Instinct 2X Solar Edition Smartwatches Introduced In India
Garmin has introduced the new Instinct 2X Solar and the Solar Tactile Edition smartwatches in India as part of the Instinct 2x Solar series. The watches come with features like solar charging, GNSS navigation, and more. Find out more below.
Garmin Instinct 2X Solar Watches: Specs and Features
The 2X Solar is a rugged smartwatch that is built for the outdoors and extreme environments. It features a custom 1.1-inch circular two-window display that is protected by a scratch-resistant Power Glass lens. Both the bezels and the case are made out of fiber-reinforced polymer. The smartwatch is U.S. military standards (MIL-STD-810) certified.
The key USP of the Instinct 2X Solar is its capability to charge via solar energy. This allows the watch to provide unlimited battery life in smartwatch mode. The smartwatch comes with a single-tone built-in flashlight with adjustable intensity. A red light and adjustable white light allow enhanced visibility and environmental awareness. There is a dedicated strobe mode that switches between red and white and can match activity rhythms. The smartwatch is also water resistant up to 10 meters.
With the 2X Solar, you get access to a plethora of health and wellness facilities. There is 24/7 health and wellness tracking, sleep monitoring, respiration tracking, a built-in Pulse Oximeter, and more. There are multiple sports modes as well like running, swimming, cycling, and many more. Additionally, the smartwatch is capable to monitor HIIT workouts, Obstacle Course Racing, and displays Recovery Time after each workout session.
In terms of connectivity, the smartwatch offers smart notifications functionality, a dedicated calendar view, and more, accessible via the Garmin Connect App. The smartwatch offers multi-band frequency support via GNSS and navigation via ABS sensors.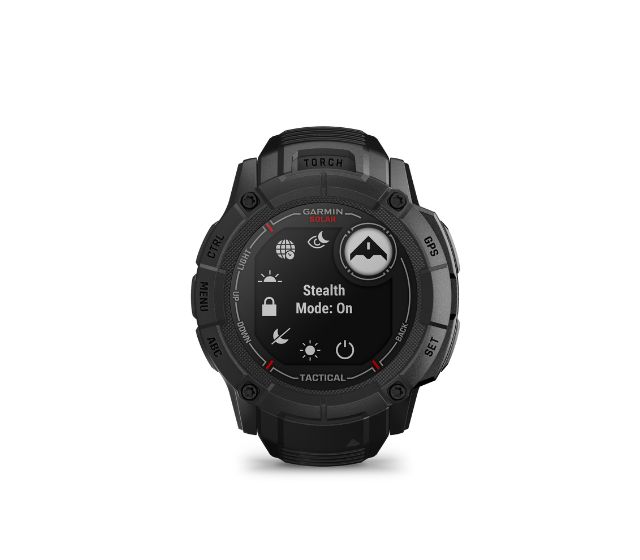 Garmin has also launched a Tactile Edition of the Instinct 2X smartwatch. This special edition packs all the features the Instinct 2X has to offer. The difference is that with the Tactile Edition, you get access to specialized features like Night Vision, Stealth Mode with disabled GPS and network connectivity, Jumpstart mode for parachute activities, and many more.
Price and Availability
The Instinct 2X Solar retails at Rs 50,490 and the 2X Solar tactile Edition is priced at Rs 55,990. The Instinct 2X Solar Series will be made available from 25th May via leading online retailers like Amazon, Tata Luxury & Tata CliQ, and offline watch retailers like Garmin Brand Stores, Helios, and more.