Fake: Zelensky's Fortune Estimated at $850 Million
There is absolutely no evidence that Ukrainian President Volodymyr Zelensky has a net worth of $850 million. According to several authoritative sources, Zelensky's combined fortune could amount to some $20-25 million.
Citing the Dutch right-wing populist Forum for Democracy party as their source, Russian media are claiming that Ukrainian President Volodymyr Zelensky may have a net worth of $850 million. Russian propagandist publications RIA Novosti, RT, Krasnaya Vesna, Argumenty I Fakty and others are all disseminating this story. Representatives of the Forum for Democracy Party who are close to the Kremlin are also claiming without any evidence, that Zelensky earned most of his money after becoming  president.
Claims about Volodymyr Zelensky's almost billion-dollar fortune are simply not true. The personal asset assessment website Celebrity Net Worth estimates Zelenskyy's total net worth at $25 million. In 2019, Zelenskyy reportedly had 37 million hryvnia ($1.5 million) in liquid assets and real estate. Zelensky also receives a monthly salary of 28,000 hryvnias ($930 per month or $11,200 per year) as President of Ukraine. His largest liquid asset has long been the 25% stake in 95 Kvartal, a television production company that mainly produces films. After he was elected President of Ukraine, Zelensky transferred his share in the business to his partners. It is believed that he will receive these shares back at the end of his term. Netflix aired the Servant of the People show produced by Kvartal 95 from 2017 to 2021 and bought the rights again in March 2022.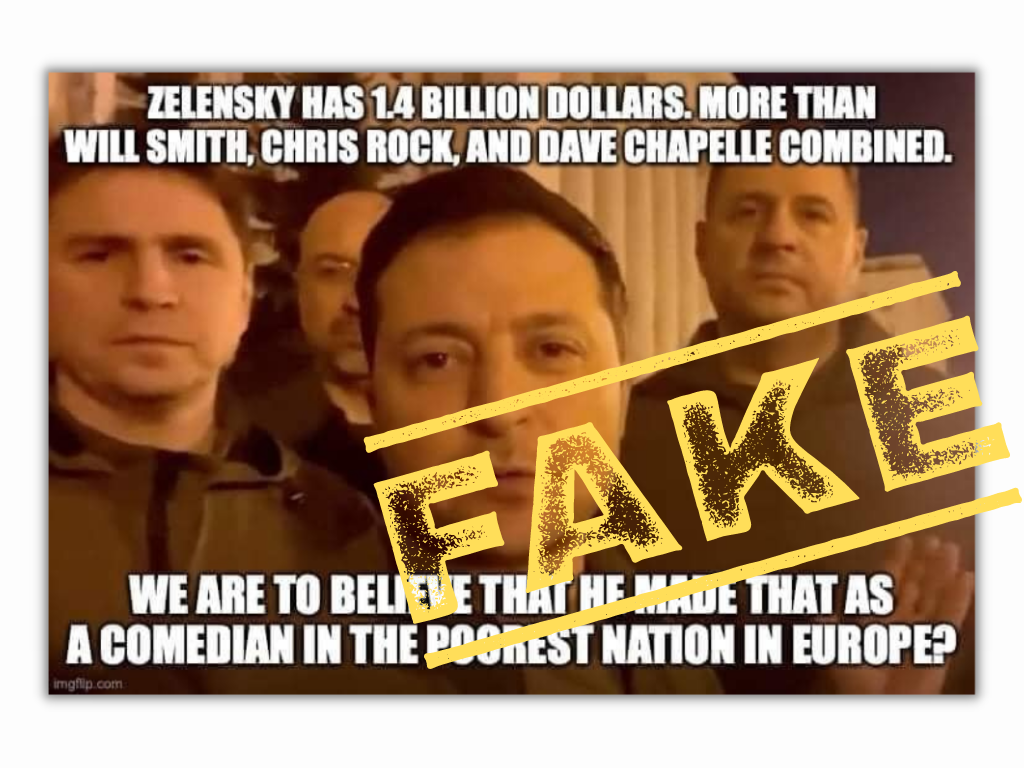 Forbes Ukraine also estimates Zelensky's current fortune to be at $20 million (US Forbes estimates his fortune to be less than $30 million). Russian media have increased the Ukrainian President's wealth by thirty times. Furthermore, according to Forbes Ukraine, Zelensky is not on the list of the 100 richest Ukrainians, nor on the Bloomberg Billionaire's Index.
Zelensky submitted his last wealth declaration to the National Agency for the Prevention of Corruption in Ukraine in 2020. The declaration shows that the Ukrainian President received a salary of 336,000 hryvnia, royalties in the amount of 4.6 million hryvnia, and 13.4 million hryvnia from the 2020 sale of a house and land plot. Zelensky's total income in 2020 was about $623,000.
In October 2021, the Organized Crime and Corruption Reporting Project, a network of investigative journalists, based on the published Pandora Papers, announced that Zelensky, along with business partners, could own offshore companies in the British Virgin Islands, Cyprus and Belize. But OCCRP investigative reporters found no direct evidence that Zelensky was openly involved in high-value real estate deals during his tenure as President of Ukraine. In addition, even this independent investigation did not turn up Zelensky's alleged billion-dollar fortune or any other sources of income that could be connected to him.
According to Forbes, Russian propagandists consistently claim that Zelensky owns five luxury yachts and three private jets, in addition to $60 million worth of shares in companies like Saudi Aramco and Tesla. However, there is absolutely no evidence that the President of Ukraine actually possesses these yachts, jets or shares. Forbes says that if Zelensky really does own shares in such companies, then their value cannot be $60 million.
Suspicions of Volodymyr Zelensky and his entourage illegally enriching themselves are often voiced to discredit Ukraine and the international assistance the international community provides to the country. The "corrupt authorities in Ukraine" motif is a staple of the Russian propaganda machine and their foreign agents of influence, including several European populist parties.
Source: StopFake.