The Norfolk Southern freight train that derailed and caught fire Feb. 3 near East Palestine, Ohio, had been transporting many materials including vinyl chloride, a hazardous chemical. 
On Feb. 6, to prevent combustible materials from triggering a large explosion, officials conducted a controlled burn of the train's vinyl chloride, releasing hydrogen chloride and phosgene into the air alongside a towering cloud of black smoke. 
As the incident unfolded, social media users searched the internet to learn more about the toxic chemicals aboard the train. Some people found the U.S. Centers for Disease Control and Prevention's vinyl chloride webpage and discovered a recent update that struck them as odd. 
"Just weeks before the massive vinyl chloride leak and burn-off that is currently poisoning East Palestine, Ohio, the CDC changed its toxicology report on vinyl chloride on its F.A.Q page for the first time in 17 years," read one Feb. 18 Facebook post. 
On Feb. 15, a California Republican with more than 185,000 followers tweeted: "I'm not a conspiracy theorist, but why did the CDC update their profile for vinyl chloride 11 DAYS before the train crash in Ohio?" 
These posts were flagged as part of Facebook's efforts to combat false news and misinformation on its News Feed. (Read more about our partnership with Meta, which owns Facebook and Instagram.)
Vinyl chloride is a flammable, colorless gas that is used primarily to make polyvinyl chloride, a hard plastic used to create polyvinyl chloride, or PVC, pipes, packaging materials and more.
The CDC posted an updated draft of its toxicological profile for vinyl chloride in February 2023, just after the train derailment in Ohio. 
Although the released draft says "January 2023," the CDC told PolitiFact it was actually released Feb. 9 as part of the normal process — not in connection with the emergency situation in Ohio. That date is corroborated by the profile's date stamp on www.regulations.gov, where the agency is soliciting public comment. 
The CDC said the profile was completed in January 2023, accounting for why the draft's label did not align with its release date. The agency said it takes time to get the toxicological profiles ready to publish in the Federal Register, and that standard process meant the draft wasn't released until February.
Still, that draft profile had been in development for many months, and there's no evidence to suggest a connection between the derailment and the update's timing.
Investigators said the train's derailment was linked to mechanical failures. The National Transportation Safety Board's preliminary report said the crew tried to stop the train before it derailed after receiving an alert about an overheating wheel bearing.
What is a toxicological profile?
A toxicological profile is "a unique compilation of toxicological information on a given hazardous substance," according to the CDC's Agency for Toxic Substances and Disease Registry. 
Profiles, which are peer-reviewed, provide an overview of substances' possible adverse health effects based on available research.
The profiles are developed in stages before they are finalized. The stages include peer review and a 90-day public comment period. The Agency for Toxic Substances and Disease Registry released a draft of the vinyl chloride profile Feb. 9, 2023. 
It remains open for public comment.
HEPACO workers place booms in a stream in East Palestine, Ohio, Feb. 9, 2023 as the cleanup continues after the derailment of a Norfolk Southern freight train on Feb. 3. (AP)
When are profiles updated?
It was not immediately clear what specific factors prompted the Agency for Toxic Substances and Disease Registry's recent update of the vinyl chloride profile.
In a statement, the CDC told PolitiFact that the Agency for Toxic Substances and Disease Registry had been working on a vinyl chloride profile update for the past year. The CDC said the draft's release was not related to the derailment in Ohio. 
The agency's 2023 draft profile includes a "version history," which — as social media users pointed out — shows that the toxicological profile for vinyl chloride was most recently finalized in July 2006, more than 15 years ago.

Screenshot from the 2023 draft vinyl chloride toxicological profile. (Agency for Toxic Substances and Disease Registry.)
But PolitiFact also found a 27-page Addendum to the Toxicological Profile for Vinyl Chloride from January 2016. The CDC said it contained new data published since 2006 and was meant to "supplement" the 2006 profile, but not replace it.
The agency employs a detailed process and complex formula to determine whether a toxicological profile needs updating. 
Detailed in a 15-page document available on the agency's website, the process involves examining the latest research and scoring studies based on how much they contribute to the understanding of the substance's toxicology and risk assessment. That review yields a score that is used to prioritize the list of profiles to update.
Developing a toxicological profile can take up to a year or more, depending on the chemical's complexity, the CDC said.
The vinyl chloride profile update began months before the Ohio train derailment, according to one expert.
PolitiFact got in touch with Dr. Ivan Rusyn, a K.C. Donnelly professor of veterinary physiology and pharmacology and chair of the Interdisciplinary Faculty of Toxicology program at Texas A&M University. Rusyn was one of three people listed as peer reviewers on the draft vinyl chloride profile.
He told PolitiFact that he believed questions about the update's timing were part of a "conspiracy theory that has no merit." 
Rusyn said the agency sent him the completed draft for review in December 2021, and he submitted his comments in January 2022.
It takes up to a year for officials to appropriately adjust the content based on external comments, conduct other internal checks and finalize the profile, Rusyn said.
"The timing of the document's release is consistent with the process as I understand it," he said. "It is purely coincidental with respect to this accident and, in fact, fortuitous as it provides information on 'minimal risk levels' for this chemical and other critical information for risk managers to evaluate the situation on the ground" and provide guidance about what is safe regarding measured levels of vinyl chloride.
Rusyn told PolitiFact that regulatory agencies routinely update assessments every 10 to 20 years or as staff determines additional informative research is available. He said he saw "absolutely nothing nefarious" about the update's timing.
What changed from 2006 to 2023?
Some social media users focused on alleged changes to the vinyl chloride toxicological profile.
One post claimed that just weeks before the Ohio derailment, the vinyl chloride profile update changed "the lethal exposure from 100 PPM to 100,000 PPM. What are the odds?"
Toxicological profiles do not establish lethal exposure levels, however.
Profiles primarily establish values called minimal risk levels, which are "an estimate of the amount of a chemical a person can eat, drink, or breathe each day without a detectable risk to health," according to the Agency for Toxic Substances and Disease Registry. Minimal risk levels are developed for different time periods: acute, about one to 14 days; intermediate, 15 to 364 days; and chronic, or exposure for more than 364 days.
The profiles also discuss health effects in animals and humans at different exposures. In some instances, the effects of exposure include death. In the case of the vinyl chloride profile draft, such details appear to have fed misleading claims that the CDC changed vinyl chloride's lethality.
Rusyn said the 2023 draft profile provides graphics that document, in a visual format, the range of health effects found in humans and animals following their exposure to vinyl chloride.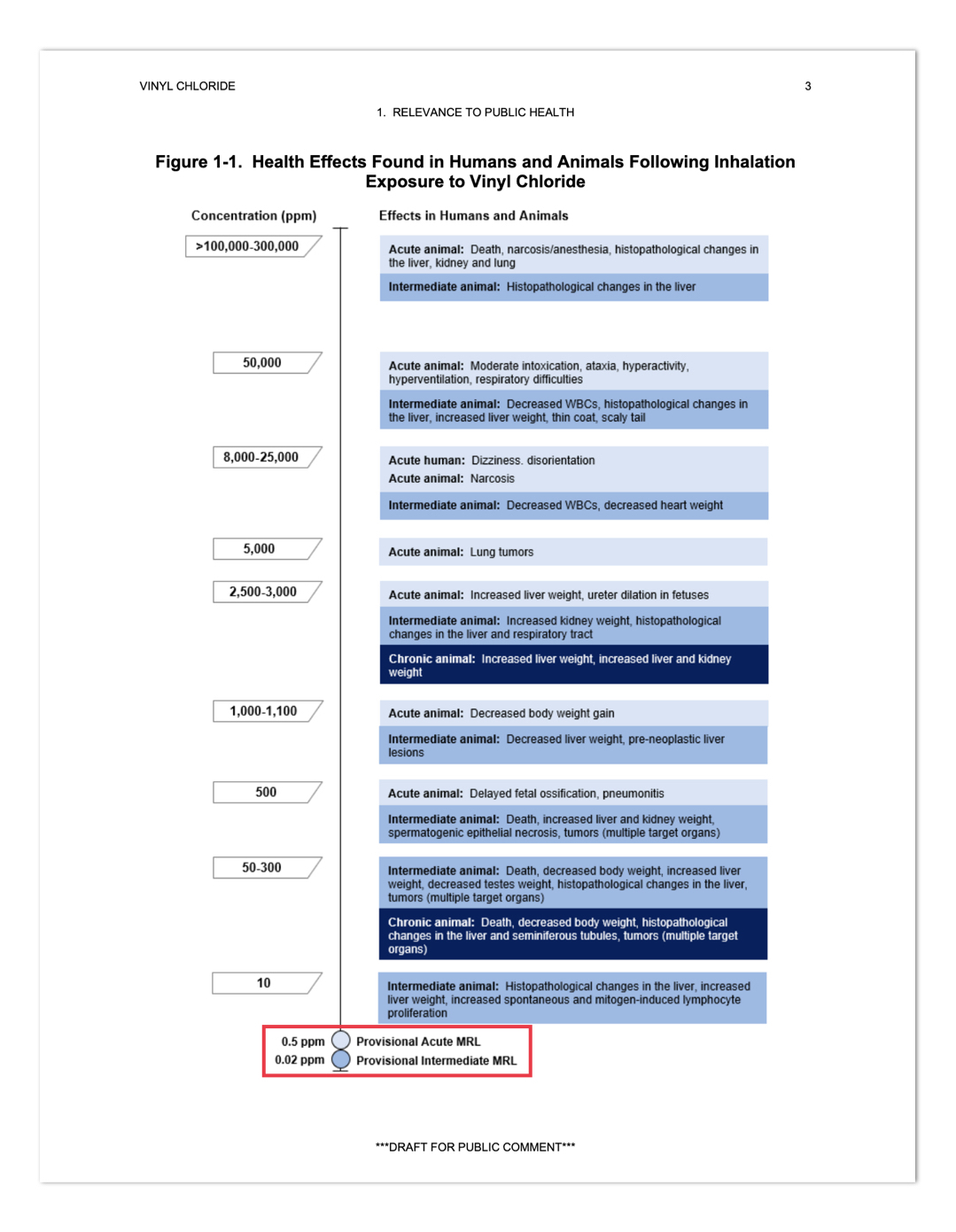 Screenshot from the 2023 draft vinyl chloride toxicological profile. (Agency for Toxic Substances and Disease Registry.)
Figure 1-1, which was included in many social media posts, established that different levels of exposure to inhaled vinyl chloride could cause death in animals.
Per the graphic, inhalation exposure to greater than 100,000 parts per million for one to 14 days can be lethal to animals, Rusyn said. Inhalation exposure to 50 to 500 ppm of vinyl chloride for 15 to 364 days can also be lethal. 
Only one human health effect was shown: that inhalation exposure to 8,000 to 25,000 ppm of vinyl chloride for one to 14 days can cause dizziness and disorientation.
Additionally, the provisional acute and intermediate minimum risk levels proposed by the Agency for Toxic Substances and Disease Registry are both well below the exposure concentration levels shown that cause health risks or death.
The 2023 proposed minimum risk levels differed only slightly from the 2006 values: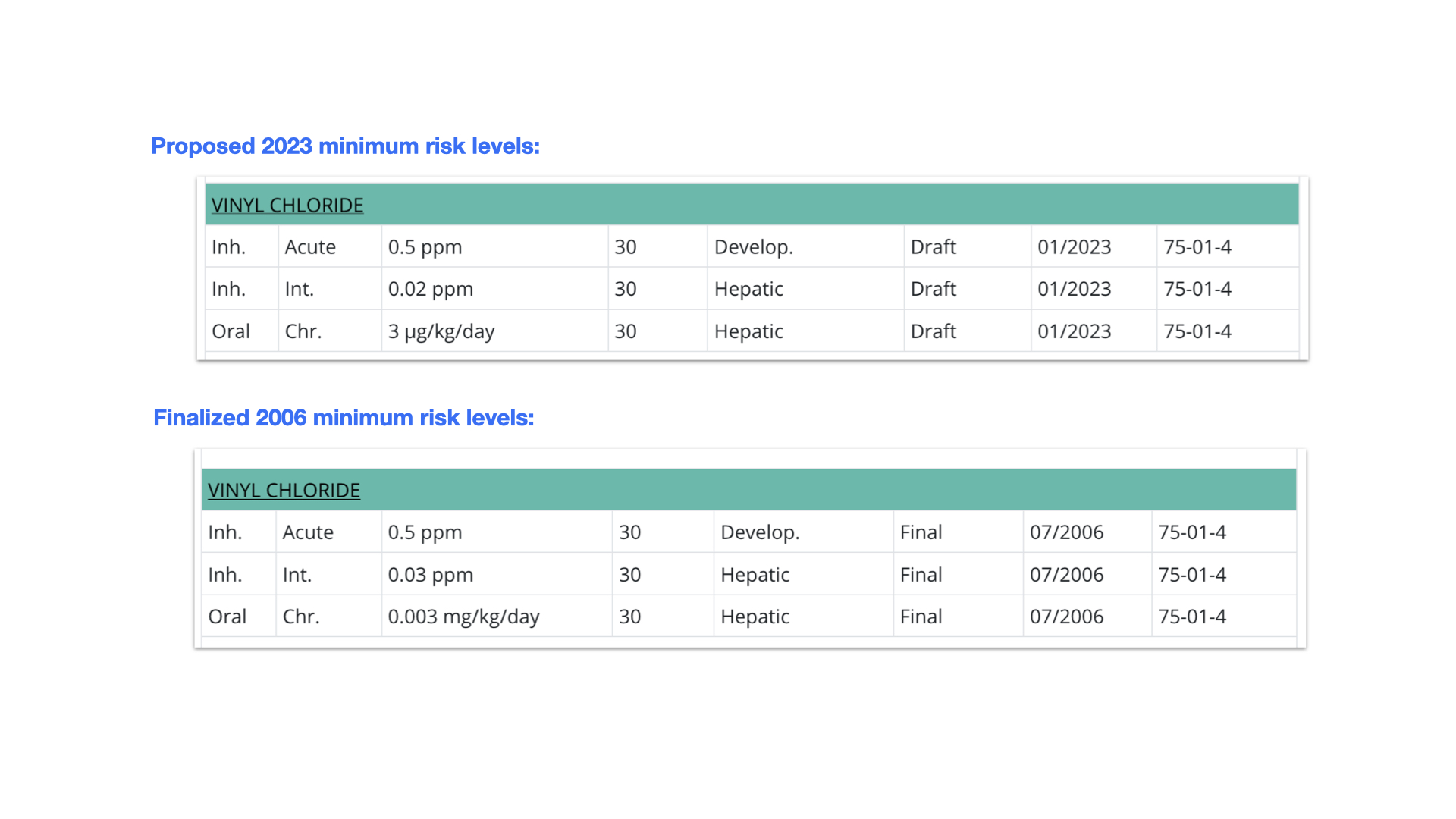 Screenshots of the minimum risk levels for vinyl chloride seen February 22, 2023, and March 18, 2021. Only the minimum risk level for intermediate-duration inhalation was changed in 2023. (Agency for Toxic Substances and Disease Registry.)
Other social media posts focused on changes to the CDC's vinyl chloride webpage, including updates to a frequently asked questions section known as ToxFAQs. People claimed that the changes made vinyl chloride look less dangerous and eliminated entries about the chemical's effect on children and its connection to cancer. 
A comparison of the February 2023 ToxFAQs to the same page archived in March 2021 shows many of the same answers, sometimes with slightly different formatting. Both versions say vinyl chloride is a known carcinogen and note that one way to protect family members from the risks of vinyl chloride exposure is to limit exposure to cigarette and cigar smoke.
The main change from the 2021 page was the removal of the question, "How can vinyl chloride affect children?"

Screenshot of the ToxFAQs for vinyl chloride, archived March 21, 2021.  (Agency for Toxic Substances and Disease Registry.)
The CDC told PolitiFact that the information about vinyl chloride's possible effects on children had not been removed from the site. The agency said that following the redesign of its ToxFAQ pages, the information can be found in another FAQ answer about how exposure can affect health.  
Elements of the children-focused answer were indeed incorporated there. It now reads, "Animal studies have shown that exposure to vinyl chloride during pregnancy can affect the growth and development of the fetus." 
The CDC also said that its conclusions about vinyl chloride's possible impacts on children did not change and more detailed information can be found in the toxicological profile's section on "children and other populations that are unusually susceptible."
Source: PolitiFact.