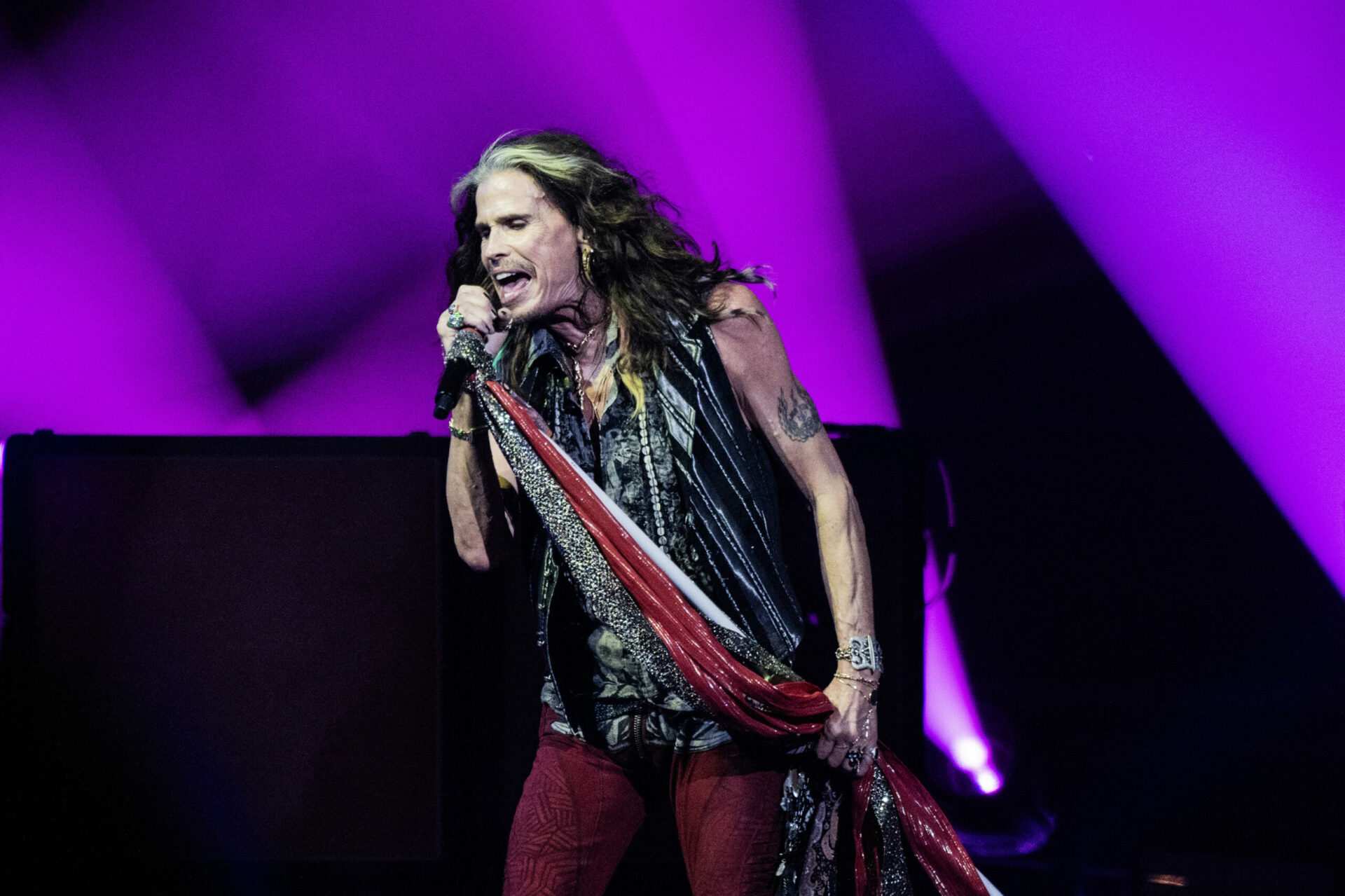 Aerosmith frontman Steven Tyler has fractured his larynx, forcing the band to postpone its remaining tour dates until next year.
"Unfortunately, Steven's vocal injury is more serious than initially thought," Aerosmith said in a statement posted to its Facebook account on Friday morning. "His doctor has confirmed that in addition to the damage to his vocal cords, he fractured his larynx which requires ongoing care."
Tyler, 75, had previously announced that he had injured his vocal cords during his last show with the band on Sept. 9 in Belmont, New York, preventing him from performing for the next 30 days. At the time, Aerosmith postponed six tour dates.
However, with Friday's health development, the band said in its statement it would postpone "all the currently scheduled Peace Out shows" until "sometime in 2024." Aerosmith assured fans that Tyler is "receiving the best medical treatment available to ensure his recovery is swift, but given the nature of a fracture, he is being told patience is essential."
"I am heartbroken to not be out there with Aerosmith, my brothers and the incredible Black Crowes, rocking with the best fans in the world," Tyler said in the Facebook statement, referring to the Atlanta rock band that had been touring with Aerosmith. "I promise we will be back as soon as we can!"
Aerosmith embarked on the 40-show trip, billed as its farewell tour, earlier this month, starting in Philadelphia's Wells Fargo Center. The tour was scheduled to run until Feb. 29.
The band was set to play a New Year's Eve concert in Boston, where Aerosmith formed in 1970. But Tyler's injury happened three shows into the tour.
Last December, Aerosmith abruptly cut short its Deuces Are Wild residency in Las Vegas after Tyler's undisclosed illness resulted in repeated cancellations.
Tyler also remains embroiled in a legal dispute with a woman who alleges that he sexually assaulted her in the 1970s when she was 16 and the singer was 25. The woman, Julia Misley, alleged in the lawsuit that Tyler had assaulted her several times throughout high school. The lawsuit also stated that she had become pregnant, and Tyler allegedly prevented her from seeking prenatal care and ultimately persuaded her to get an abortion in fall 1975. He has denied the allegations and filed a motion last May to have a portion of the sexual assault lawsuit dismissed.
___
© 2023 Los Angeles Times
Distributed by Tribune Content Agency, LLC.