While today's NYT Connections was quite easy, it won't hurt if you've studied the etymology of words. Join us as we slowly discuss all the hints, categories, and, finally, the answers for the NYT Connections for November 19. So, without further ado, let's begin.
Hint for Today's Connections Themes
We start by discussing a few subtle themes for the Connections themes today. So check them out below and see if you can guess some of them.
Yellow Category – Beginning of something
Green Category – Some things are just respected a lot
Blue Category – Walking has many forms
Purple Category – All these mean a day off
Additional Hint: How did the word 'August' come to be I wonder
We wish we could go into more detail in this section, but these hints are the best we can share. They are all related to the categories for the puzzle today, so think long and hard before you scroll below to see the exact names. However, if you still can't guess the themes, then maybe trying these tricks to solve NYT Connections could work.
Spoiler Warning #1: While this section included hints for the categories, the next section names them directly. Only proceed if you're sure.
Today's Connections Category Names
If you are still stuck with the categories, then maybe it's better if we just spill the beans in this section.
Yellow – ONSET
Green – VENERABLE
Blue – WALK
Purple – _ _ _ DAY HOLIDAYS
Spoiler Warning #2: We hope you can guess the words now. However, If you still can't, then it's time to scroll down. The next section includes the answer for today's puzzle; you will see all the answers in their categories. This is your final chance to scroll back up.
Connections Answer for November 19
Still can't solve the puzzle after all the help above? In that case, the answers to today's Connections puzzle are:
ONSET – Birth, Creation, Dawn, Start
VENERABLE – August, Grand, Noble, Regal
WALK – March, Step, Stride, Tread
_ _ _ DAY HOLIDAYS – Earth, Groundhog, Labor, May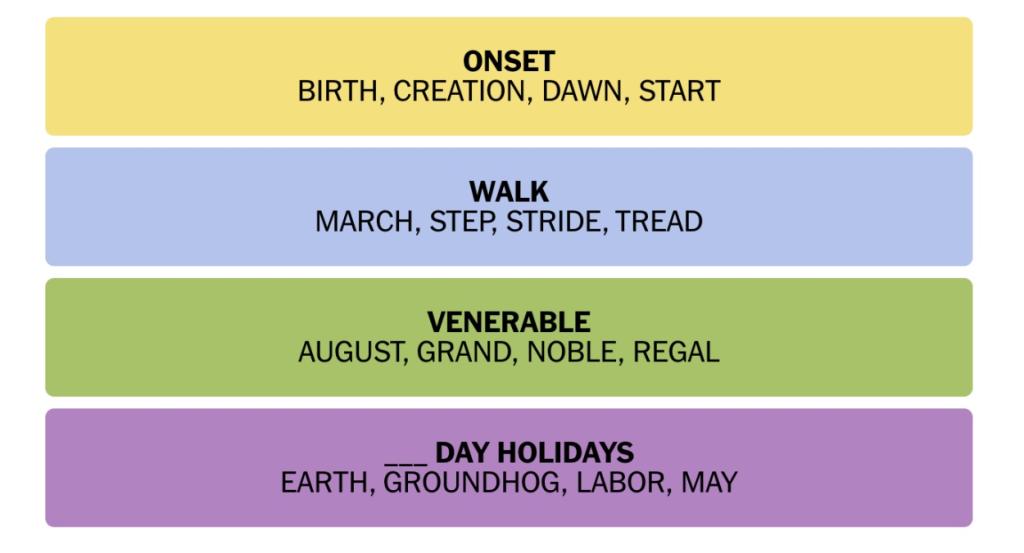 I am a big space enthusiast. And while the word Start doesn't connect to it, Birth and Creation sure do. That got me thinking about a relation between these, and I had the Yellow category for connections solved. Order would dictate I would go for the Green category next, but I am a chronic walker too, and hence, I connected all the words to it. That led to solving the blue category first.
It was then my minor interest in Latin got me thinking about the word August and how it came to be. Once I remembered that it actually means respect, I had a look at some related words. Sure as it was, I got Regal, Noble, and Grand and got the Green. With only four words left, I connected them all, got the Purple category, and solved the NYT Connections puzzle for November 19.
What about you? How was your experience with today's puzzle? Where did you get stuck if you did? Let us know in the comments below.