WhatsApp has started rolling out the much-anticipated multiple accounts feature to every device. With this feature, you can finally use two WhatsApp numbers on a single device. This feature will come in handy, especially if you use different WhatsApp accounts for personal and office work.
Previously, you would have to rely on a secondary phone, your Android device's app clone feature (if available), or a third-party app, which is not exactly secure. Now that we have an official solution, let's look at how you can use multiple WhatsApp accounts on a single phone.
How to Log into the Second WhatsApp Account
Right now, the WhatsApp multiple account feature is only available to Android users. Hopefully, iOS users will get it soon as well. So, to use the feature, follow the steps below:
1. Open WhatsApp and tap on the vertical three-dot icon in the top right corner of your screen.
2. Then, select the Settings option.
3. Here, at the very top, you will see a small down arrow beside your name. Tap on it.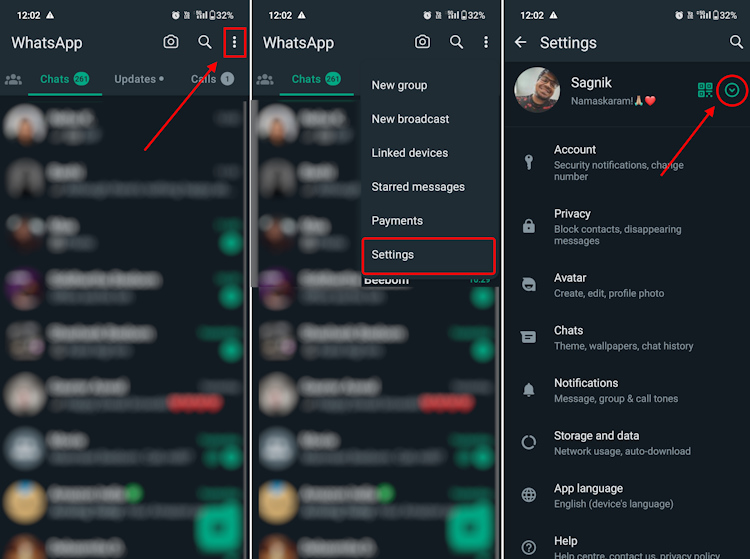 4. Upon tapping, you will see a small pop-up window at the bottom. Here, tap on Add account.
5. On the next page, tap on Agree and continue. Then, type in the number associated with your second WhatsApp account that you want to use on your primary phone.
6. You will now see the verify phone number page. Here, tap on Continue, and you will receive a call from WhatsApp for verification. Or, you can choose the "Verify another way" option to get the verification code via SMS.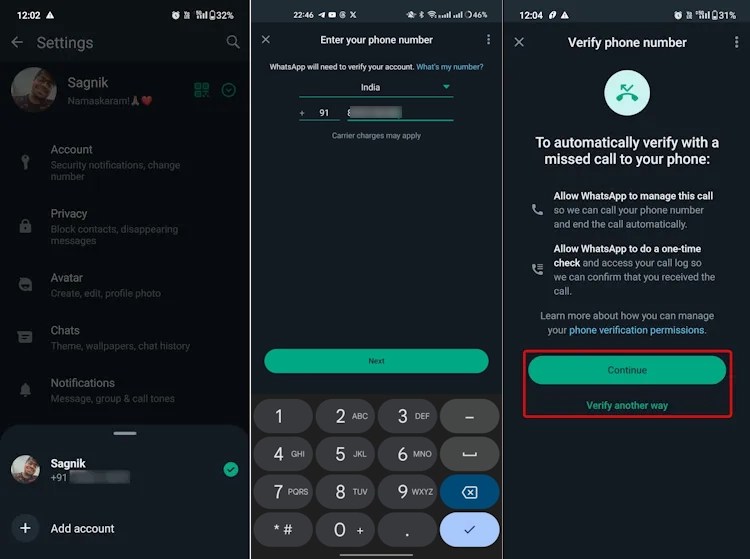 Note: In case you don't have a second SIM card in the device you plan on using the WhatsApp account, just type in the code you receive via SMS and WhatsApp will verify the number.
7. Then, type in the name, add a profile picture, and the usual things that you do when setting up a WhatsApp account, and hit Next
With that, your second WhatsApp account is now ready for use on the same phone as the first one. However, do note that you can only add two numbers using this feature. However, Android users very well know that the clone app feature will allow them to use four accounts on one phone. Can your iPhone do that?
How to Switch Between Whatsapp Accounts
Now that you know how to add a second number to your WhatsApp, you should also know how to switch between the two numbers with ease. Open WhatsApp and tap on the vertical three-dot icon. Then, select the Switch accounts option.
You will now the account switcher pop-up from the bottom. Select the other account here, and you are good to go. For switching accounts, you can follow the same steps that you did when adding a second WhatsApp account, but that's tedious. It guides you to the same account switcher.
Now, you must be wondering how notifications, be they messages or calls, are handled when using the multi-account feature on WhatsApp. As the company mentions on its official FAQ page, you "will receive notifications for new messages and calls," but you won't automatically be switched over to the respective account.
If you're using the first account and receive a notification on the second one, WhatsApp will show it but will ask you to switch accounts to see the message or answer the call. You will see the "Switch accounts" button in the notification. Once you do that, you can reply, accept the call, or perform any other function in the second account.
How to Remove the Second WhatsApp Account
In case you don't want to use the second WhatsApp account anymore or use it on a separate device, here's how you can easily remove it as well:
1. Firstly, switch to the account you want to remove and head over to the app's settings.
2. In the Settings, select the "Account -> Remove account" option.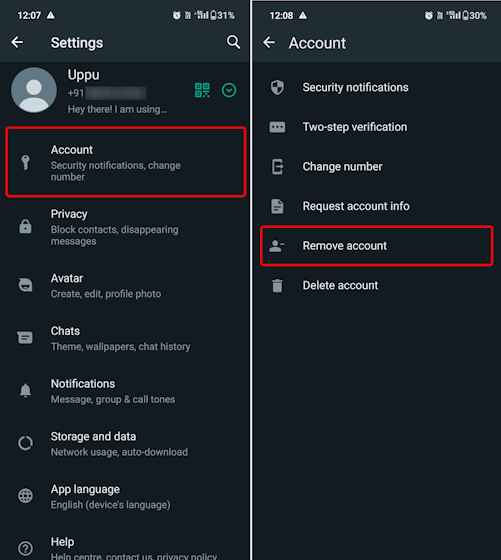 3. Next, tap on the "Remove account" button under the number associated with the account. Tap "Remove" in the small confirmation window that appears, and that's it.
That's how you can add and use two numbers in WhatsApp on your phone. This is a new and much-requested feature, which will prove to be beneficial for a lot of people in countries such as India, Brazil, and others. Furthermore, don't confuse it with using the same WhatsApp account on two phones. That's another handy feature.
Meanwhile, if you're unaware, you can now also share your screen on WhatsApp and organize voice chats in the messaging app, much like Discord. If you face any issues while setting up the multi-account feature, do let us know in the comments below.
Frequently Asked Questions
Q. Can I have 2 WhatsApp accounts on one phone?
Using the Multiple Accounts feature, you can add up to two numbers in WhatsApp on the same phone. This will come in handy in case you have two SIM cards that are being used on the same device. However, if the feature is not live for you, you can also clone WhatsApp on your Android device and add more than two numbers to one device.
Q. Can I use WhatsApp on 2 devices?
You can link up to 4 devices to your WhatsApp account and use them simultaneously on those devices using the Linked Devices feature.
Q. Can someone see my WhatsApp messages from another phone?
If you haven't linked your WhatsApp account to someone else's device, no one will be able to your messages. If you feel that a device that you may have linked to is being used by someone else, simply head over to WhatsApp and navigate to Linked Devices ->Tap on logged in devices and log out.