Although Snapchat's AI is a great conversationalist, and you can kill time effectively with it, the chatbot can never replace the "feel" of a real friend. However, it can come pretty close to that, thanks to the multiple personalization options Snapchat offers. That includes the ability to change its name. In this guide, we will show you how to change the Snapchat AI name.
Also, as the title mentions, we have included a list of cool and trendy Snapchat AI name ideas towards the end. So, let's hop right in!
Steps to Change Snapchat My AI Name
By default, the Snapchat AI chatbot is named MyAI. If you don't like this name, follow the steps below to change it right away:
1. First, open the My AI friendship profile by tapping on its name in the chat.
2. Then, tap on the three-dot icon at the top right corner of the screen.
3. From the menu that opens, tap the "Manage Friendship" option.
4. Next, tap on the "Edit display name" option to set your desired name for the Snapchat AI chatbot.
5. Once you're satisfied with your choice, tap on "Save" to confirm.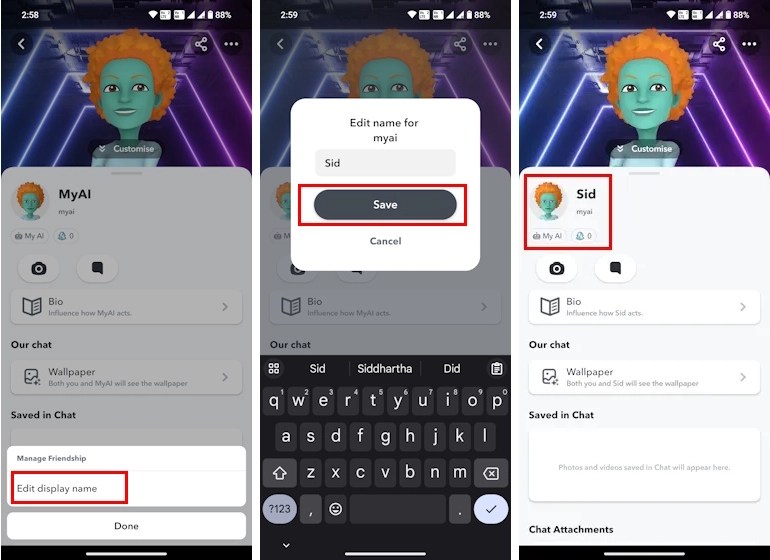 And it's done! You have successfully changed the name of your My AI chatbot. But that's not all, as you can even change the Snapchat AI's gender to bring it in line with your vision.
Creative and Cool Names for Snapchat AI
With that out of the way, let's discuss a couple of cool name ideas for Snapchat AI in case you are having some trouble with it. You can draw inspiration from your favorite TV shows and games to come up with a name for your AI that describes a part of you as well. But, in case you haven't found a name that hits the spot, these cool Snapchat AI name ideas should boost your imagination:
Bot-O-Rama
Bot of Rivia
Noobot
Bot Diary
Botpal
Shayne Botson
Chatmaster General
Bot-in-arms
Chateon
Chatmander
James Bot
Bot Peep
Bot Lightyear
Beebot
Mr. Bot
Chat Rex
Chatster
BotPool
Bot Ranger
Bot Parker
Bot-iful
Ro-Bot-ic
In-bot-nito
Botisstant
Botnet
Bot-Any
Botomatic
Botamer
AImbot
AI-opener
With that said, I hope this article was able to help you in changing the name of your AI chatbot in Snapchat on Android and iOS. Also, there is no limit on how many times you can change its name. So, go crazy. And in case you get bored of Snapchat's generative AI, you can choose to remove the My AI chatbot from your chat feed completely.