I will honestly say that when I first saw today's NYT Connections puzzle, my head was thrown for a loop. Without even asking, I can assure you that you will need help today. As is your luck, we've compiled all the hints, hidden categories, and answers you would need to solve the Connections puzzle for November 15. So, let's begin.
Hint for Today's Connections Themes
If you want to learn about what today's categories are based on but only through hints, check out these clues first.
Yellow Category – We are all repulsed from time to time
Green Category – Read a lot of magazines?
Blue Category – More than one way to say yes
Purple Category – A word might sound the same, but it might not mean it
Additional Hint: Word pronunciations can be misleading
We wish we could go into more detail in this section, but these hints are the best we can share for now. They are all closely related to the categories in question today, so think long and hard before you scroll below to see today's categories. Still stuck? Try these easy tricks to solve NYT Connections.
Spoiler Warning #1: While this section included hints for the categories, the next section names them directly. It will spoil the categories for today's Connections puzzle. Scroll down only if you're sure.
Today's Connections Category Names
Still stuck? In that case, here are the themes for today's categories for NYT Connections.
Yellow – "GROSS!"
Green – MAGAZINES
Blue – "YES" IN DIFFERENT LANGUAGES
Purple – HOMOPHONES
Spoiler Warning #2: We hope you can guess the words now. However, If you still can't, then it's time to scroll down. The next section includes the answer for today's puzzle; you will see all the answers in their categories. This is your final choice to solve the word puzzle by yourself.
Connections Answer for November 15
Have you finally given up and are ready for the solution? The answer to today's Connections puzzle are:
"GROSS!" – Ew, Ick, Pu, Ugh
MAGAZINES – O, OK, US, W 
"YES" IN DIFFERENT LANGUAGES – Hai, Ja, Si, Da
HOMOPHONES – Oui, We, Wee, WII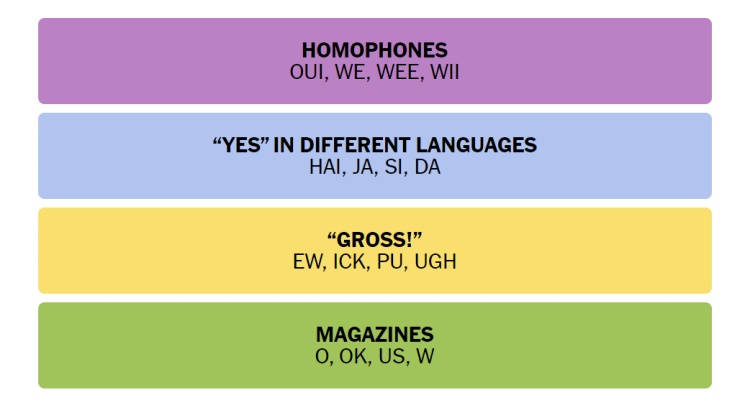 When I first saw the word grid for Connections today, I was equal parts confused and annoyed. However, after composing myself, I began wrestling with languages and how some of these might mean yes. And while I was almost there, Oui kept holding me back. That was when my colleague pointed out that it could be a homophone. Once we saw that, we collected all similar words and got the purple category first! Yeah, the purple category ().
Once Oui was out of the way, it was easy to club the other languages together and get the blue category. The Yellow one followed almost immediately, even though I had to stop and think (Google!) about what Pu meant. With only four words left again, I combined them to finally get the Green category and solved the NYT Connections for November 15.
What about you? How was your experience with today's puzzle? Where did you get stuck if you did? Let us know in the comments below.