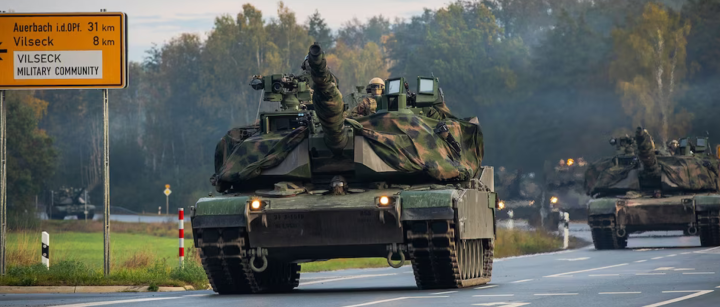 Former President Donald Trump has a new talking point in his rally speeches, claiming that the Biden administration is moving the military to all-electric-powered tanks. For Trump, the attack line is a trifecta: He's making President Joe Biden seem weak on defense and the military seem "woke," while mocking Biden's green energy efforts.
It's also false. The military currently has no plans for all-electric tanks.
The military is moving toward the electrification of its vehicle fleets, starting with light-duty, non-tactical vehicles, citing not only environmental benefits but cost savings and operational advantages. As part of the military's Climate Strategy released in 2022, the military also aspires to move to fully electric tactical vehicles by 2050. But even that doesn't include combat vehicles such as tanks.
Nonetheless, Trump has misleadingly seized on the military's effort by falsely focusing on the claim that a push to convert most military vehicles to electric would include tanks.
"And now we are a nation that wants to make our great Army tanks all-electric so that despite the fact that they will not be able to go very far, fewer pollutants will be released into the air of the territory that we are trying to conquer," Trump said at a campaign rally near Miami on Nov. 8 — the same night as a GOP presidential primary debate that he did not attend.
At a campaign event in Houston on Nov. 2, Trump made a similar claim.
"Army tanks have to go electric … because the tanks, if they're electric, they're going into a country blasting the hell out of it. But at least we're doing it in an environmentally friendly way," Trump told the crowd.
"The problem with the tanks, though — it's really a problem — that the battery source capacity, it's so big that the tank would have to pull something behind it that's much bigger than the tank. So, that's a little bit of a problem," Trump continued. "They can't seem to work that out. … They want to make our Army tanks all-electric for the environment."
But again, Trump's premise is inaccurate.
"While it may be true that an electric tank would have limited range, the Army is not planning on fielding or deploying an electric tank, though there have been prototypes of hybrid tanks," Fabian Villalobos, an associate engineer at the RAND Corporation and an expert in emerging technologies and the defense industrial base, told us in a phone interview.
But the military is moving toward electric vehicles. The Army's 2022 Climate Strategy talks about reducing national security risks posed by climate change, and sets as an objective an all-electric, light-duty, non-tactical vehicle fleet by 2027 and an all-electric, non-tactical vehicle fleet by 2035.
The plan also outlines the Army's goal of switching to "purpose-built hybrid-drive tactical vehicles by 2035 and fully electric tactical vehicles by 2050." Alongside that goal, the Army says it would "develop the charging capability to meet the needs of fully electric tactical vehicles by 2050."
Let's break that down and explain the different types of vehicles affected — none of which include tanks.
The Department of Defense had about 170,000 non-tactical vehicles in 2022, according to Deputy Secretary of Defense Kathleen Hicks. These are generally vehicles driven on military bases. And they are purchased not by the military, but the government's General Services Administration.
Light-duty, non-tactical vehicles — which the Climate Strategy said would be all-electric by 2027 — includes cars and sport utility vehicles.
"They are the vehicles you would drive around a military installation or base to get from one building to another," Villalobos said. They are not for use on the battlefield.
The rest of the non-tactical vehicles — which the plan calls for moving to all-electric by 2035 — includes things such as dump trucks, smaller trucks, and Class 3, 4 and 5 vehicles, such as some vans and pickup trucks, Villalobos said. They are also for use on base and not on the battlefield.
Switching to electric tactical vehicles will be more of a challenge, which is why the Climate Strategy calls for longer-term conversion of those fleets to hybrids by 2035 and all-electric by 2050. Tactical vehicles are used on the battlefield, typically in support roles. Those are different than combat vehicles, which are the ones that shoot at the enemy, Villalobos said.
"Tactical definitely does not mean tanks," he said.
According to an article written by Walker Mills and Ryan Wiechens, and published in December by the Modern War Institute at West Point, "the technology is not ready for tactical vehicles because it requires incredibly heavy and bulky infrastructure for power generation and charging," except for some "niche roles."
Mills is a nonresident fellow at Marine Corps University's Brute Krulak Center for Innovation and Future War and a nonresident fellow with the Irregular Warfare Initiative. Wiechens is a member of the technical staff in the energy systems group at the MIT Lincoln Laboratory, and he leads the laboratory's development of modular and scalable tactical microgrids, hybrid power systems and vehicle electrification.
In their article, they argue that conversion of the military's vehicles to electric has "obvious tactical and financial benefits."
"Shifting the military to electric and hybrid vehicles shouldn't be controversial; it will help make our forces more lethal and save the military money," they wrote. "Yes, it will also help address the climate crisis, but that is just one of the advantages, which also extend to helping wean US forces off their dependence on foreign oil."
Moving to electric fleets "absolutely does have its advantages" in military conflict, Villalobos said.
For example, he said, they are "more stealthy and harder to detect." They are particularly well-suited for "silent watch," those high-risk missions that are used to gather intelligence about an enemy without being detected. Electric vehicles are quieter than internal combustion engines and they don't emit smoke from a tailpipe.
Nonetheless, the military's plan to move to electric has raised concerns, particularly among some Republicans.
At a Senate Armed Services Committee hearing on April 26, Sen. Joni Ernst said Biden's "cheerleading for green tech … has harmed the DOD's operational energy approach."
As the military transitions its non-tactical fleet to electric, Ernst noted that "China controls mining and production for electric vehicle components."
Secretary of Energy Jennifer Granholm said the administration had taken steps to jump start "responsible extraction here," as well as to boost domestic battery pack manufacturing.
Granholm said she supported the move to electric non-tactical vehicles.
"I do think that reducing our reliance on the volatility of globally traded fossil fuels, where we know that global events, such as the war in Ukraine, can jack up prices for people back home … does not contribute to energy security," she said. "I think energy security is achieved when we have homegrown, clean energy that is abundant."
Ernst, who also raised concerns about cost and reliability, was not alone in her criticism of the move toward electric vehicles.
In an interview on Fox Business on April 28, Republican Sen. Markwayne Mullin warned that "one simple electric magnetic pulse" could "take out a whole unit of vehicles, of tanks, of up-armored vehicles."
"Besides that, we're going to be out on battlefields where they don't really have what you consider charging stations," Mullin said. "So, to charge the fleet, we're going to be pulling these huge diesel generators to charge the fleets. And when they go down, instead of just simply running up there and pouring fuel in them, we're going to have to sit there for hours while these batteries charge. And then one of our largest adversaries called China is the one that we're going to be reliant on to make our batteries. This makes zero sense. But in a woke president that you have in President Biden and his woke Cabinet, this is the kind of results and ridiculous comments that you have."
In an op-ed published by the Washington Examiner on June 22, Republican Rep. Mike Waltz warned that Biden's climate plan would "cripple the military's readiness for our next conflict." Of the plan to convert the non-tactical fleet to electric, Waltz said U.S. supply chains "aren't suited to sustain such an overwhelming transition."
And, he wrote, "How would we possibly be able to maintain an electric vehicle fleet in, say, the mountains of Afghanistan or deserts of Iraq? Last I checked, there aren't charging stations in the middle of battlefields."
Villalobos said the military is well aware of the need to develop field charging capabilities before electric vehicles could be used on the battlefield. He noted that the goal for electric tactical vehicles by 2050 also calls for developing "the charging capability to meet the needs of fully electric tactical vehicles by 2050."
"It's not like they are putting electric charging stations in the battlefield," said Villalobos, who noted, "there are no gas stations on the battlefield either."
As for the threat from electric magnetic pulses, Villalobos said petroleum-powered military vehicles already rely on electric devices and microchips. "It wouldn't increase or reduce the risk either way," he said.
In their article for the Modern War Institute, Mills and Wiechens acknowledge that "there are real challenges to electrification and hybridization of the military's ground vehicles."
"Batteries are obviously a critical component, and they are overwhelmingly manufactured outside the United States and rely on lithium, cobalt and other raw materials that are also largely sourced and refined outside the United States," they wrote. "This creates a weak and brittle supply chain in peacetime and could cut off the defense industrial base from critical supplies completely in a major conflict. Increasing production of consumer electric vehicles will reinforce the critical battery sector but could also compete with production for the military. Several new domestic battery manufacturing plants are projected to open over the next few years, which will be critical for supporting domestic electrification. Similarly, expanding sources of lithium and other key materials are crucial for supporting the electrification of the military's vehicles. The government needs to aggressively support these two essential industries to make electrification viable for the military."
We take no position on the ability of the U.S. to ramp up supply chains to accommodate the electrification of military vehicle fleets, or whether moving to electric vehicles is a good or bad idea. Trump doesn't address those points at all. Instead, he asserts that Biden is mandating the move to all-electric tanks for environmental reasons, and he mocks the feasibility of such a move. But that's not what the Army is planning to do.
---
Editor's note: FactCheck.org does not accept advertising. We rely on grants and individual donations from people like you. Please consider a donation. Credit card donations may be made through our "Donate" page. If you prefer to give by check, send to: FactCheck.org, Annenberg Public Policy Center, 202 S. 36th St., Philadelphia, PA 19104.