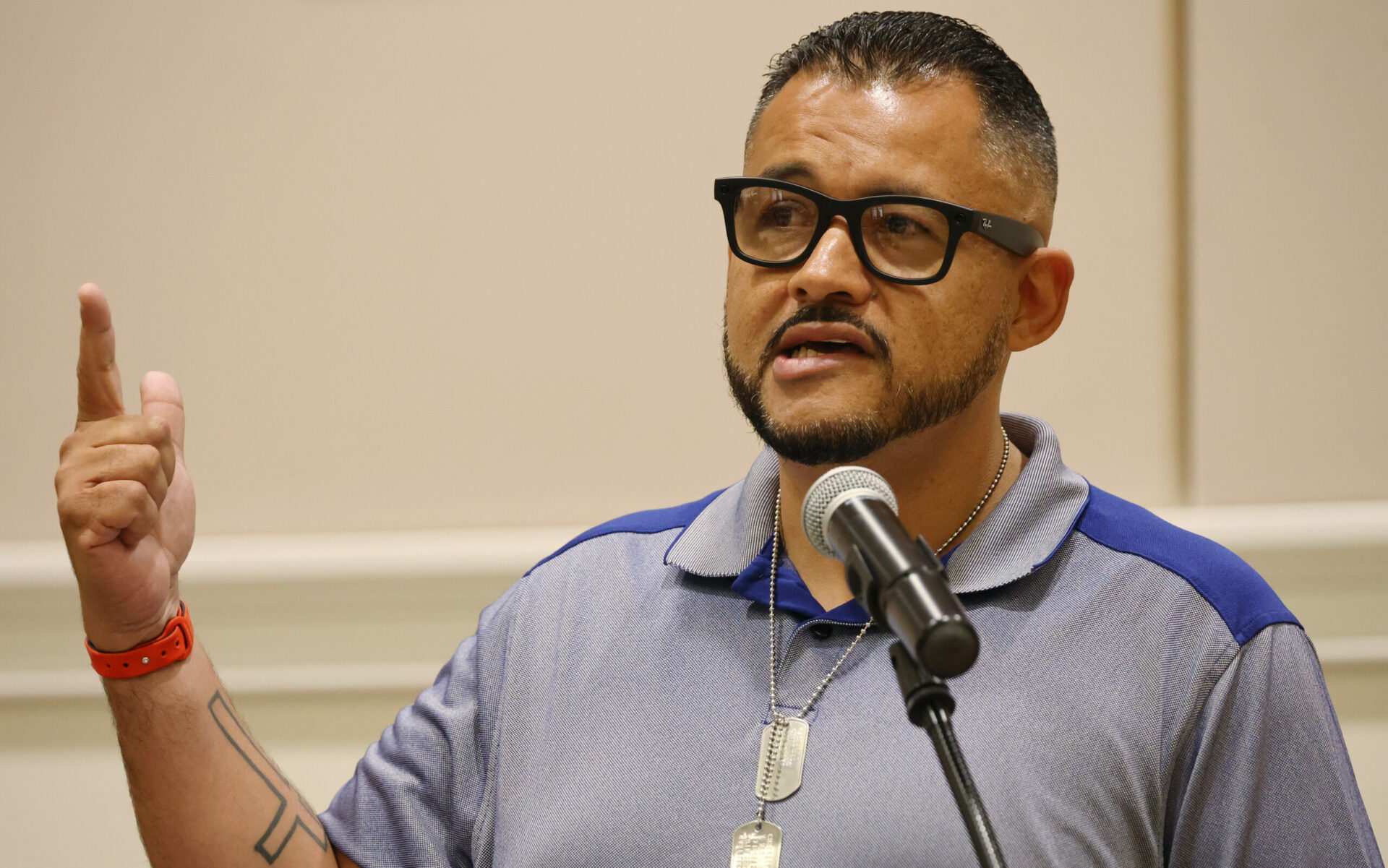 Iraqi war veteran Will Castillo's unlikely journey from battlefield amputee to the reigning para-bobsled World Cup champion followed a path more harrowing than the twisty, fast, ice track on which he races at speeds topping 80 mph.
The retired U.S. Army staff sergeant an Orlando resident since 2009, told his story Tuesday to about 200 people gathered at the Ocoee Lakeshore Center where he was featured speaker for the city's Veterans Day observance.
Castillo, who had enlisted in the wake of the 9/11 terror attacks, said he was in charge of Mad Dog 5, a quick-response Humvee in Fallujah, Iraq, on April 27, 2007, when his unit was summoned to clear an area for a helicopter.
"We did our job and got back on the road," he said.
Then suddenly, a flash of light erupted underneath the vehicle.
"It was a blink of an eye for me," Castillo said.
A bomb, known as an improvised explosive device or IED, blew up the Humvee.
When Castillo awoke four months later, his mouth was wired shut and more than half his left leg was gone.
"Worst of all, I realized I was the only survivor," he said.
The blast killed Army Pfc. David Kirkpatrick, 20, of Indiana, and Army Spc. Eddie Tamez, 21, of Texas.
"I felt like my soul got torn apart," Castillo said.
Castillo said he spent two years learning to walk and talk again, then was hired by Homeland Security.
"I was still going to be in the fight one way or another," he said.
But he couldn't shake depression, anxiety and survivor's guilt.
"So I did what most veterans do. I started to isolate myself. I started to use prescription drugs to try to cope with the internal pain and that just made things worse," Castillo said. "I just couldn't figure it out. I felt like a failure."
He credited prayer and a call to the Veterans Crisis Line — dial 988 then press 1— for helping him rebound.
A friend with similar injuries introduced Castillo in 2018 to Kim Seevers, who manages the USA para-bobsled program, an outdoor sport she persuaded the Department of Veterans Affairs to fund to help disabled veterans.
It seemed like a bad fit at first.
"I don't like cold or snow," said Castillo, who was born in South America.
Seevers said Castillo was overweight and struggling with personal issues.
"He came at a bad time in his life," she said.
Though he often left practices black and blue from head to toe from banging off walls, Seevers said, "he came back again and again and again, which kind of surprised me." She told him he had to get lighter if he wanted to compete.
He did.
"He got in the gym, lost weight and got super strong," Seevers said.
She said he is the first American to win the overall para World Cup for mono-bobs, or one-person bobsleds.
According to his website, Castillo is the top-ranked para bobsledder in the world.
He said he hopes he can serve as an example for other struggling veterans.
"I never imagined myself to be where I am, so there is hope," Castillo said after his speech in Ocoee. "We are warrior spirits inside and sometimes we just need a little help. Don't be afraid to reach for help and use the VA system. I know it's a struggle sometimes to get the paperwork in and all, but they're doing a better job, realizing how important mental health is."
___
© 2023 Orlando Sentinel
Distributed by Tribune Content Agency, LLC.