The Intel Core i5-14600K is the latest Intel processor released as part of the 14th Gen lineup. We already reviewed the top-of-the-line Core i9-14900K, and this time we are looking at one of the best mid-range CPUs available right now, the 14th-Gen Intel Core i5-14600K. We are directly comparing the i5-14600K to the i7-13700KF from the 13th Gen lineup, which is also a viable choice right now. Without further ado, let's dive into the i5-14600K benchmarks.
i5-14600K vs i7-13700KF Specs Comparision
The Intel Core 13th Gen and 14th Gen processors boast a hybrid performance architecture made up of E-cores focused on efficiency and P-cores focused on performance. Check out the specs comparison between the two processors here:
| CPU Spec | i5-14600K | i7-13700KF |
| --- | --- | --- |
| Total Core Count | 14 Cores (6 P-Cores + 8 E-Cores) | 16 Cores (8 P-Cores + 8 E-Cores) |
| Total Thread Count | 20 Threads | 24 Threads |
| Turbo Boost Max Technology 3.0 Frequency | N/A (unsupported) | 5.40GHz |
| Maximum Turbo Frequency | 5.30GHz | 5.30GHz |
| TDP (Maximum) | 181W | 253W |
| TDP (Base) | 125W | 125W |
i5-14600K vs i7-13700KF Benchmarks
Before we look at the benchmark results, we have listed the components of our testbench here:
CPU: 13th-Gen Intel Core i5-14600K
CPU Cooler: Lian Li Galahad 360 AIO ARGB CPU Liquid Cooler
Motherboard: ASUS ROG STRIX B760-I Gaming WiFi
RAM: 32GB (16GB x 2) HyperX FURY DDR5 5200MHz
GPU: ROG STRIX RTX 3070 Ti Gaming OC Edition
SSD: 1TB Samsung 860 QVO
PSU: 1000W Deepcool PQ1000M 80 Plus Gold Power Supply
Case: Cooler Master MasterFrame 700 Full Tower Case
Thermal Compound: Thermalright TF-7

Note: Consider the i7-13700K will be equivalent to the i7-13700KF in these benchmark comparison scores. The only difference between the two Core i7 CPUs is that the i7-13700K includes Intel integrated graphics, which is missing on the i7-13700KF.
Cinebench R23
Comparing the 14th-gen Core i5 and 13th-gen Core i7 in the Cinebench R23 Multi-Core benchmark, we can see the Core i7 being better. With a score of 30,015 pts, the i7-13700KF wins here and any associated workloads that take advantage of multiple threads will benefit from the i7 over the i5. However, the i5-14600K doesn't score bad at all.
The score of 22,955 pts is on par with the 12th Gen i7-12700K processor, in fact, it is slightly ahead. Plus, if you can take advantage of the K-Series chip and tune the i5-14600K's voltages, CPU frequencies, and power limits (on a compatible motherboard) you can get a score of 24,000+ pts with the i5-14600K.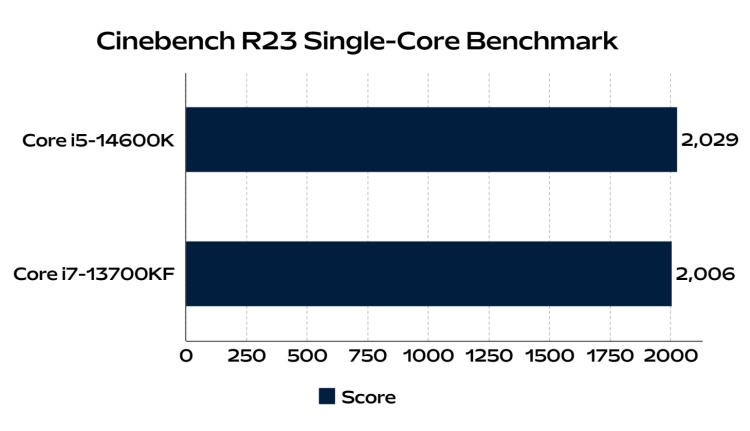 Let's check out the performance in the Cinebench R23 Single-Core benchmark. Both the i5-14600K and i7-13700KF go neck and neck against each other here. The i5-14600K has a very slight lead at 2029 pts, while the i7-13700KF reaches 2,0006 pts. Basically, when it comes to single-core performance, both can be considered as high-performance CPUs. They do not have a big difference between each other.
Geekbench 6
In the Geekbench 6 multi-core test, we can see the i7-13700KF pulling ahead of the i5 scoring 17,708 pts. The higher core and thread count helps it achieve this. Still, the i5-14600K is not too behind the i7-13700KF here having scored 16,344 pts.
Talking about the Geekbench 6 single-core scores of these CPUs, they are both essentially the same. The i7-13700KF scores 2,782 pts and the i5-14600K scores 2,758 pts. Just like how it was in Cinebench, we do not see any major difference here.
PCMark 10 Extended
PCMark 10 is an excellent software to test a system's responsiveness and overall performance in a variety of scenarios. This includes daily tasks, content creation, as well as tests on graphics and physics. We used the same GPU here, so the scores can be compared evenly. In the PCMark 10 benchmark, the i7-13700KF pulls ahead scoring 12,156 pts.
The Core i5-14600K scored 11,285 pts in this test, showing that it is not too far behind either. Both of these CPUs will give you excellent performance in day-to-day tasks. The PCMark 10 Extended benchmark shows that both CPUs show no signs of slowing down in any tested workload. These scores are well within the realm of a high-performance PC.
Content Creation Blender Benchmark
In the Blender CPU benchmark test, the processors are taken through their paces in three different Blender rendering scenarios (Monster, Junkshop, and Classroom). Given the higher core & thread count of the i7-13700KF (16 cores, 24 threads), we can see that it is better for content creation. If your professional use case demands a high-performance CPU, then getting the faster Core i7 processor will directly benefit you and save time during renders.
On a shorter budget though, the 14th-Gen Core i5-14600K is still a relatively good CPU for content creation. When we compare the scores above (measured in samples rendered per minute), the i5-14600K is ~25-30% slower in this Blender CPU Benchmark, as compared to the 13th Gen i7-13700KF.
i5-14600K vs i7-13700KF Gaming Performance
The gaming performance comparison results below show us that both the 14th Gen Core i5-14600K and 13th Gen Core i7-13700KF are excellent for gaming. Unless you regularly play games that heavily rely on the CPU for simulation-intensive workloads (such as Total War or Cities Skylines 2), the i5 and i7 are basically on par when it comes to gaming performance.
Cyberpunk 2077
In Cyberpunk 2077, we can see that the i5-14600K and i7-13700KF both perform quite well. The minimum FPS was slightly higher at 49.52 on the i5, as compared to 37.92, but we can boil that down to the error margin. In any of these benchmarks, if you see slight differences.
Both processors can output an average of 79FPS in this game at maxed out settings (No RT). Keep in mind that Cyberpunk 2077 2.0 has become more intensive as compared to the original game, so previous game benchmarks can't be compared directly.
Red Dead Redemption 2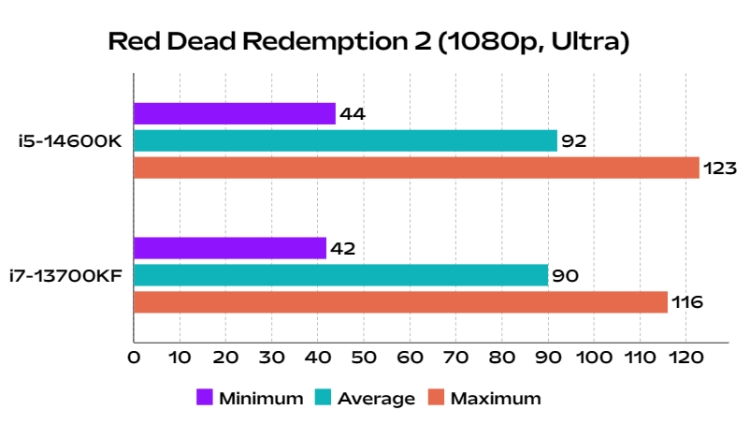 In Red Dead Redemption 2, we see extremely similar results from both processors again. The i7-13700KF got an average of 90FPS, while the i5-14600K got 92FPS. The gaming experience was smooth on both CPUs.
Counter-Strike 2
In Counter-Strike 2, we tested the i5-14600K and i7-13700KF on the "de_dust2" map during a deathmatch. Both the processors perform admirably on both low and high settings. The Core i5-14600K gets 290 FPS on low settings, while the Core i7-13700KF achieves 305 FPS. We can attribute the very slight increase in performance to the higher TVB 3.0 boost clock of the i7 (5.40GHz) vs that of the i5 (5.30GHz).
As long as you have a relatively modest GPU (we used the RTX 3070 Ti), it seems that turning up the settings in this game does not hinder performance too much either. On high settings, the i5-14600K got 276 FPS on average and the i7-13700KF got 291 FPS. By the way, check out the best CS2 settings for maximum performance and competitive viewability. You can play CS2 at the optimal 250+ FPS on both the 13th Gen Intel Core i7 and 14th Gen Intel Core i5 CPUs.
Apex Legends
In Apex Legends, there is a 300 FPS cap that does not go away despite removing the limitations with launch options (+fps_max unlimited). So, the testing shows how well both the processors can handle maintaining as close to 300FPS as possible. The results are impressive – we see a 286FPS average from the i5-14600K. The i7-13700KF was getting 290FPS average.
However, talking about the minimum FPS, we can see that during intense battles or when dropping to a busy location, the FPS tanks. Still, the i5-14600K maintained the performance above 207 FPS and so did the i7-13700KF at 215 FPS. The performance goes into the mid-200s on both CPUs when we use high settings. In either case, playing Apex Legends at a steady 200+FPS is possible on both i5 & i7 processors!
Power Consumption & Temperature Test
We ran both these CPUs in a Cinebench R23 10-minute throttling test. The 14th Gen Core i5-14600K had a maximum power consumption of 195W in our power consumption test. The TDP of this i5-14600K is 181W, so it only slightly exceeded its limits here. Talking about the 13th Gen i7-13700KF, the power consumption reached a maximum of 262W. The Core i7 processor has a 253W TDP. Intel has multiple turbo-boosting technologies in place, and the chips can slightly exceed their power consumption based on the thermal headroom available.
You can customize these power limits in your BIOS on Windows 11. Also, there are features such as Intel Adaptive Boost and Intel Thermal Velocity Boost, which can be turned on or off based on your preference. Plus, with voltage & CPU frequency optimization, you can also push the K-Series CPU beyond its power limits (overclock), or even tune it for better efficiency.
Tuning your K-Series CPU will be based entirely on your motherboard & CPU cooler, as well as your overclocking skills. Personally, I was able to tune the i5-14600K for maximum efficiency (-0.1V undervolted) and got 23,000 pts in Cinebench R23 Multi-Core at just 140W.
Talking about the temperatures, the i5-14600K went to 80 degrees Celcius and the i7-13700KF went to 88 degrees Celcius, cooled by our Lian Li Galahad 360 on the turbo profile. If your choice of a CPU cooler can effectively cool 250W of TDP, then a CPU like the i7-13700KF (or i7-13700K) can be used in your PC without any concerns. However, if your CPU cooling is limited below 200W, choose the i5-14600K instead.
Intel Core i5-14600K vs i7-13700KF: Which One to Buy?
The 13th-Gen Core i7-13700K costs $364.99 (Amazon), which is ~$35 higher than the 14th-Gen Core i5 processor. The KF variant costs pretty similar. The 14th-Gen Core i5-14600K costs $329 (Amazon) at the time of writing. Honestly, the current pricing for 13th Gen i7 has gone down and it makes it a compelling buy over the new i5 processor, given the increased core count. But keep on reading to understand what the Core i7 and i5 processors are good at.
In the end, it all boils down to what you value. Do not be fooled by the 'i5' naming of the i5-14600K. The multi-core performance this 14th Gen i5 offers is not too behind a 12th Gen i9 processor, especially if you tune it right. So, even for content creation tasks, you shouldn't feel that the i5 is not powerful by any means.
In most of the games people play, excluding simulation-based games, we can see both the Core i5-14600K and i7-13700KF perform quite admirably. So, if you want a processor for gaming, there is not much point in spending more on a CPU when the i5-14600K is already so good (performing on par with the i7).
Who should buy the Intel 13th Gen Core i7-13700K then? If you highly value the increase in multi-core workloads and can make use of it, then spending extra on the i7 does make sense. The i7-13700KF was 30% faster in the Blender benchmark for CPUs, as you can see in the content creation section.