Security agents suspected to be men from the Department of State Services (DSS) have arrested and whisked away to Abuja the suspended Dean of the Faculty of Law, Professor Cyril Ndifon said to be involved in a sex scandal.
Professor Ndifon and his wife were sighted at about 4.20 pm at the Margaret Ekpo International Airport, Calabar on an onward journey to Abuja for further interrogation.
Ndifon was picked up at about midnight on Wednesday by heavily armed men suspected to be from the DSS as he was taken straight to the DSS headquarters at Atimbo in Calabar.
An eyewitness said the team arrived at about midnight, scaled the fence of the house in Akpabuyo, started shooting sporadically and broke the door open and whisked him away.
The wife who was confused and worried followed the men until they drove inside the DSS premises but she was not allowed in that night.
Later this morning, she went back there with her lawyer and were allowed in and after series of interrogation, Ndifon was flown to Abuja from the Margaret Ekpo International Airport, Calabar for further interrogation.
When our reporter visited the state command office of the DSS in Calabar at about 10.32 am on Thursday, the operatives manning the entrance gate denied him entry into the office to confirm the arrest of Prof. Ndifon.
However, one of the operatives who pleaded not to be named, said he was not aware of the arrest, saying "if we have him here be rest assured that his relatives will be contacted. And you can also confirm from his family which of the security agency arrested him."
However, a press release dated October 5 at 3.52 pm from the DSS official Twitter handle by the Director, Public Relations & Strategic Communications Department of State Services National Headquarters Abuja, Dr. Peter Afunanya captioned, "ICPC Seeks DSS Collaboration On The UNICAL Sex Scandal Matter," confirmed his arrest.
The release reads, "The ICPC has sought the collaboration of the Department of State Services (DSS) on the University of Calabar (UNICAL) Sex Scandal matter involving Professor Cyril NDIFON, the erstwhile Dean of Faculty of Law of the Institution. The Commission had disclosed the refusal of NDIFON to honour its several invitations, thus his eventual arrest in Calabar, Cross River State, by its operatives on 4th October, 2023, based on a Court Order.
"However, following the Commission's request and in the spirit of interagency cooperation, the Service supported it for a successful operation.
"This is to guide public understanding of the latest developments on the matter."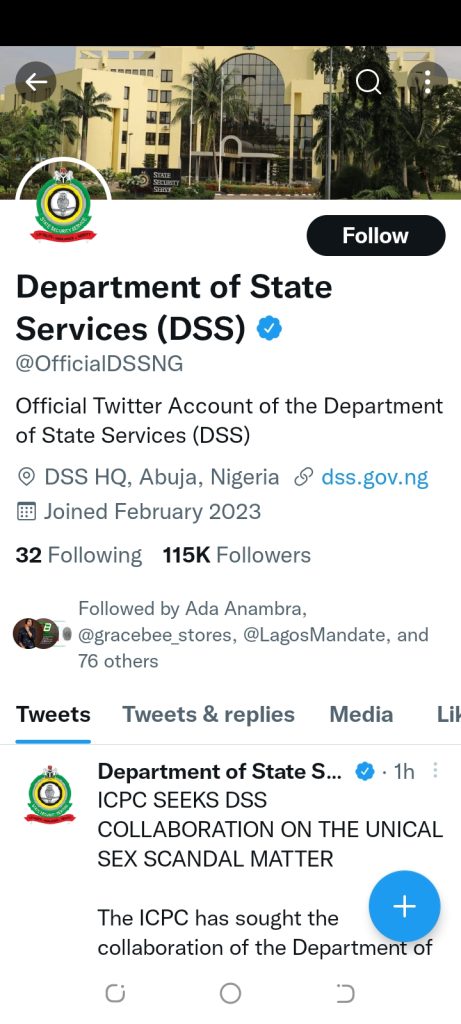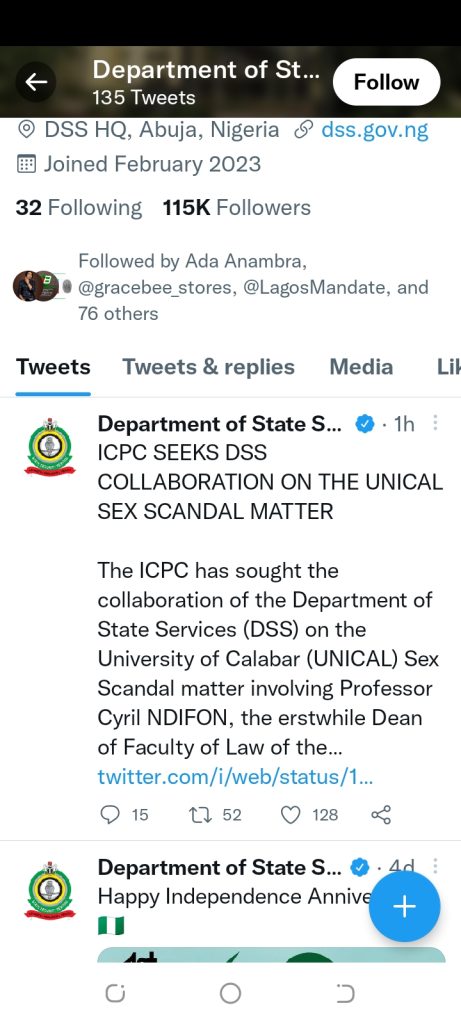 Recall that Prof. Ndifon had last week raised alarm over threat to his life, accusing the management of the University of Calabar of sending some men who disguised as security officials to kidnap him during church service in Calabar.
About two months ago, students of the Faculty of Law from the institution had staged a peaceful protest accusing Prof. Ndifon of sexual harassment and high-handedness.