By Kelvin Obambon
Gender And Development Action (GADA) has produced first batch of graduands from its School of Volunteerism and Community Service.
The ceremony which took place at GADA office in Calabar on Thursday, also had the close out of its School of Traditional Marriage and Relationship.
The special guest of honour, Bishop (Dr) Margaret Ene Ita, in her remarks, lauded GADA for the vision behind the founding of the school, which she said would restore society's lost values in marriage and relationship, community service and volunteerism.
Referring to the school, Bishop Ene Ita, who is Cross River's Commissioner for Social Welfare and Community Development, said "What you have here is more than gold. I am happy because it is in line with my ministry – the Ministry of Social Welfare and Community Development. How do you get the community develop when the youths are not impacted with values. And here we have this awesome initiative that has come up. All of us must embrace it.
Read Also: ICPC Deploys Operatives To Monitor Bayelsa, Imo, Kogi Elections, Warns Against Corruption
"We must see that more and more of our youths, our children, our church members, our in-laws, daughter in-laws come here. Most relationships are gone. They are no longer there. We can just carry phone and call our loved ones and think it's over. It shouldn't be so. Sometimes personal touch goes a long way. Seeing the person with your eyes goes a long way. Some people don't know how to keep relationship anymore. This institution here is what we need."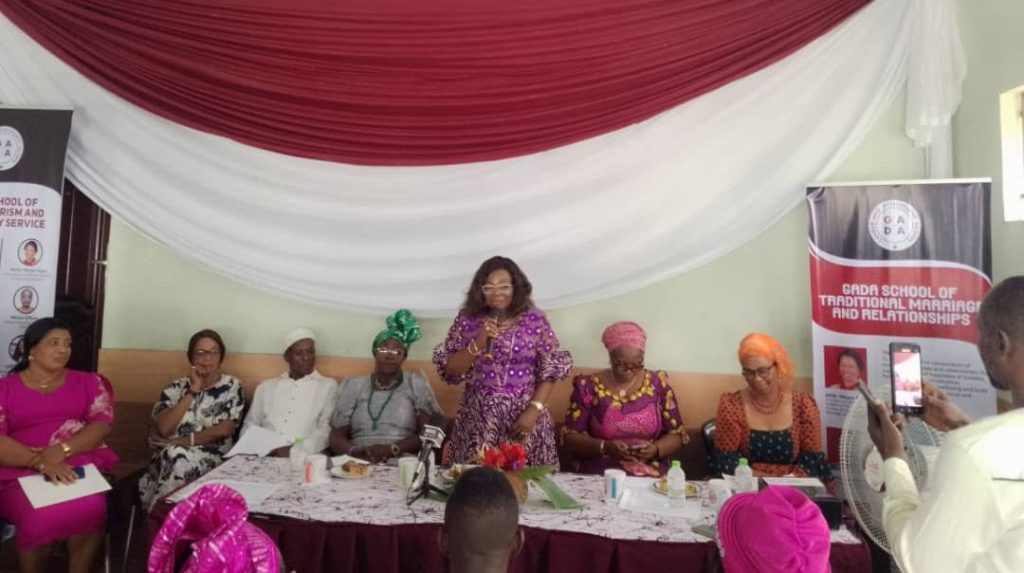 The Commissioner while expressing the readiness of her ministry to partner with GADA, said she is satisfied with the quality of graduands produced by the school.
"When I see these beautiful students stand up to express themselves, the teacher in me says give them excellence. I'm proud of you. I'm proud of your teachers. I'm proud of the registrar here. What is going on here is wonderful. All I can say is glory be to God. When somebody has a gift and she does not keep it for herself, she makes sure that she imparted to others – Your Excellency, you are excellent indeed. Thank you very much. Now we are going to have many more traditional marriage moderators. This is very great. The government will hear about this," she said.
Also speaking, the founder of GADA and Initiator of the School, Amb. Nkoyo Toyo, said the school came in furtherance of the desire to see behavioural changes and revival of societal values.
According to her, "young people are holding on to phones and they are seeing all kinds of value which are alien to our communities and they are imbibing it. They do not have a counter narrative. There's nobody telling them they can do anything different. All the things they know they are learning from the telephone. So we are looking for ways that we can use some of our cultural institutions. We look at the institution of marriage which is well established. Here in Calabar we used to have the 'fattening room' which was a finishing school.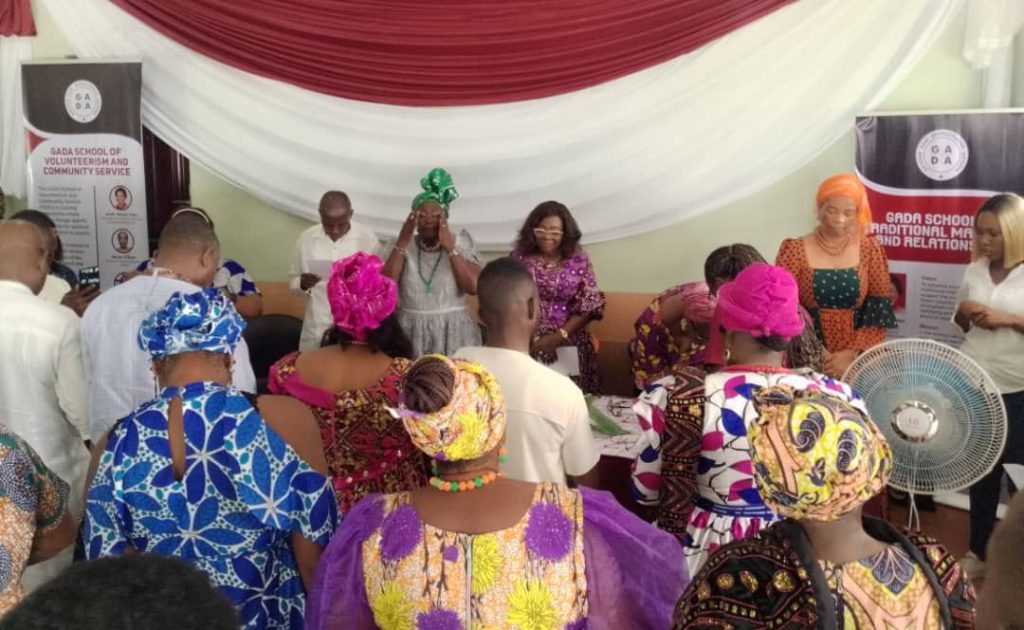 "We look at what we can learn, what we can revive, what we can strengthen and keep going as a counter narrative to some of the violent behaviours we are seeing particularly among young people in marriages. So we decided that somebody needs to communicate these values even if we know what the values are. Somebody needs to communicate them. We reached out to the 'Equados and Esuquas' which are the traditional marriage counsellors and facilitators and then through them we got a platform to talk about this. We have been talking about this for the last six months.
"We just finished a training where we have developed a curriculum for what we are going to train in the school, what kind of things we should talk about in the school, and we have a long range of things we want to talk about in the school. The school is open to church groups who want to talk about marriage. It's open to schools that want to look at how they can expose young people to marriage and relationship. It's also open to people who want to get married, not just from here, people from other cultures who want to get married and also want to make sure that they have a meaningful cohabitation in marriage. This is what the school is all about.
"Basically, our work is to see how we can work against gender based violence. In this school we taught about patriarchy and the implications of patriarchy on many families and relationships. We talk about things like gender, sex, human rights approach – how to use the human rights framework to discuss marriages and how marriages are conceived. A lot have gone into our thinking and engagement with the traditional marriage counsellors. We are hoping that they will become the champions of this change and re-enforcement of culture in this positive sense that we have put it out onto them."
Similarly, the Ag. Executive Director of GADA, Mrs Francisca Effiom, explained that the school aims to instill social behaviour change in the students in order to reduce gender based violence in Cross River and the south south region. She said GADA is working with the Ford Foundation to reduce gender based violence, hence the need to establish a school that will be use as a vehicle to drive the social behaviour change communication approach.
"We work with religious institutions too, but for this particular occasion, we are dealing with marriage counsellors and traditional leaders so that they can start to change the messages they give at traditional marriages," she said.
Also, Mr Tijah-Bolton Akpan, the Executive Director and founder of Policy Alert, gave a historically laden testimonial of Gender And Development Action, noting that he benefitted immensely as a volunteer in the organization some three decades ago. He urged youths to therefore see volunteerism as an opportunity to build and develop their capacity.
Some of the graduands of the school who shared their experiences said the one month training they received was quite intensive and that the teaching and learning was practical oriented. They mentioned some of the skills acquired to include proposal writing, effective communication skills, knowledge of how NGOs are run, community service and volunteerism, amateur journalism, amongst others.
Highpoint of the event was the presentation of certificates to graduands of the School of Volunteerism and Community Service and participants in the School of Traditional Marriage and Relationship.