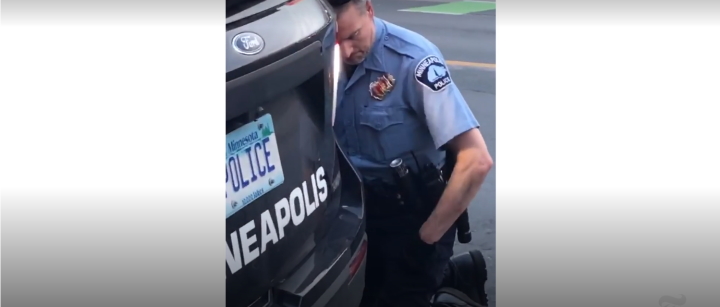 Para leer en español, vea esta traducción de Google Translate.
Quick Take
The police officer who kept his knee on George Floyd's neck for about nine minutes in 2020 was convicted of murder, and the medical examiner determined that police efforts to subdue Floyd caused his death. Nothing about the autopsy's findings have changed, but social media posts falsely claim new documents show Floyd died of a drug overdose or natural causes.
---
Full Story
George Floyd, a Black man, was killed on May 25, 2020, after a white police officer, Derek Chauvin, kneeled on Floyd's neck during an arrest in Minneapolis for about nine minutes while Floyd said repeatedly that he couldn't breathe. The incident sparked protests and riots across the country.
Chauvin was subsequently convicted of murdering Floyd.
The county medical examiner who conducted the autopsy listed Floyd's death as a homicide and determined that the cause was "cardiopulmonary arrest complicating law enforcement subdual, restraint, and neck compression."
This finding was highlighted in the first set of charges leveled against Chauvin in May 2020 and was explained in detail by the medical examiner, Dr. Andrew Baker, during Chauvin's trial.
"The top line of the cause of death is really what you think is the most important thing that precipitated the death. Other things that you think played a role in the death but were not direct causes get relegated to what's known as the 'other significant conditions' part of the death certificate," Baker said at the trial, explaining why Floyd's other health conditions weren't included in his cause of death.
"So, the other significant conditions are things that played a role in the death, but didn't directly cause the death," Baker said. "So, for example, Mr. Floyd's use of fentanyl did not cause the subdual or neck restraint; his heart disease did not cause the subdual or the neck restraint."
Nothing new has emerged in the medical examiner's findings.
But recently posts have been circulating on social media falsely claiming that new court documents show Floyd was not murdered and, instead, died of a drug overdose.
Former Fox News host Tucker Carlson also posted a video to his X account on Oct. 20 in which he says, "George Floyd, according to the official autopsy, was not murdered. He died instead of what we used to call natural causes, which in his case would include decades of drug use, as well as the fatal concentration of fentanyl that was in his system on his final day."
That's not true. Floyd's autopsy report hasn't changed. It shows Floyd had fentanyl in his system when he died, but determined his death was caused by action taken by police that resulted in cardiac arrest. The Hennepin County Medical Examiner's office confirmed to us in a phone interview on Nov. 3 that no changes have been made.
Experts at Chauvin's trial also said the evidence doesn't support the idea that he had died of an overdose, as USA Today reported.
Court Deposition Doesn't Say Floyd Died of Overdose
Misinformation pushers have been making claims similar to Carlson's since a website highlighted statements that were recently made public in an unrelated court case.
The website, called Alpha News, describes itself as an outlet focusing on Minnesota news that "mainstream media all too often refuses to report and routinely disregards." It doesn't disclose any kind of political affiliation, but the site was founded by Alex Kharam, who is the executive director of a nonprofit that "works to promote conservative ideals and free market principles." The nonprofit had an associated political action committee that spent more than $250,000 since the 2016 election cycle to support conservative politicians in Minnesota, according to data from the Federal Election Commission.
The person who wrote the story with the highlighted quotes, Liz Collin, published a book in October 2022 titled, "They're Lying: The Media, The Left, and The Death of George Floyd."
In her Oct. 17 story, Collin cited depositions that were made public in a sex discrimination lawsuit that a former prosecutor had brought against the Hennepin County attorney who was in office at the time of Floyd's death. The suit isn't related to Chauvin's case. But the prosecutor, Amy Sweasy, had worked on charging Chauvin early on, and some incidents in the county attorney's office at the time came up in her deposition.
Sweasy was clear in her deposition that she agreed with the decision to charge Chauvin in the death of Floyd, although she disagreed with the degree to which he should be charged and she did not support the decision to charge the other three officers who had assisted in Floyd's arrest. Two of those officers have since pleaded guilty to aiding and abetting second-degree manslaughter, and the third was found guilty on the same charge in a bench trial.
In her letter resigning from the case in early June 2020, Sweasy wrote:
"When I wrote and signed the complaint against Derek Chauvin, I believed in the charges and that there was sufficient admissible evidence to prove the elements of those crimes beyond reasonable doubt at trial; I still do. Unfortunately, the decision to add additional charges against former Officer Chauvin and to bring charges against the other involved officers is, in my opinion, clearly contrary to Rule 3.8(a). For this reason, I have resigned from this case and will have no further part of it.
"What I am unable to do right now is prosecute three men for failing to act and speak up when they saw something going horribly wrong and then do the same by failing to speak up myself. Thank you."
Sweasy's original complaint had charged Chauvin with third-degree murder and second-degree manslaughter. The final complaint added a third charge of second-degree murder, which is a higher level sometimes used for cases in which there was an intent to kill. A jury later found Chauvin guilty on all three charges.
None of this was included in Collin's story. Instead, that story quoted from a section of the deposition in which Sweasy recounted a phone conversation she said she had with the medical examiner on the day he performed Floyd's autopsy.
As Sweasy recalled in the deposition, "he told me that there were no medical findings that showed any injury to the vital structures of Mr. Floyd's neck. There were no medical indications of asphyxia or strangulation. He said to me, 'Amy, what happens when the actual evidence doesn't match up with the public narrative that everyone's already decided on?' And then he said, 'This is the kind of case that ends careers.'"
The issue of Floyd's manner of death was not the subject of the deposition. Rather, lawyers were focused on who had mentioned the phrase about ending careers, since Sweasy is alleging that her former boss had threatened her career and failed to promote her. So, there was no further context or explanation in the deposition about Baker's alleged statement to Sweasy.
As we explained, when he completed the final autopsy report, the medical examiner had determined that Floyd died of cardiac arrest due to the neck restraint carried out by police. He did not determine that Floyd died of asphyxia or strangulation, so there's nothing new that has been revealed.
We reached out to Sweasy for further explanation, but, through her lawyers, she declined to comment. "Unfortunately, because the lawsuit is still pending, we cannot comment or explain testimony given," her lawyer, Sonia Miller-Van Oort, told us in an email. "She may be able to provide clarifications to your questions in the future when the case is concluded."
The county medical examiner's office referred us to the county spokeswoman, Carolyn Marinan, when we asked about Sweasy's statement. "Dr. Baker cannot comment on statements made by other people in their depositions. He stands by the autopsy report and his televised testimony," Marinan said.
All that the deposition shows is that there was internal strife within the prosecutor's office and disagreement about which charges to level against Chauvin, not whether he should be charged.
And nothing at all has changed about the medical findings regarding Floyd's cause of death.
---
Sources
PBS NewsHour (@PBSNewsHour). "WATCH: Derek Chauvin found guilty of murdering George Floyd." YouTube. Apr 20 2021.
WCCO | CBS News Minnesota (@WCCO). "Fowler is now speaking on #GeorgeFloyd's death certificate, explaining the immediate and underlying causes of death." X. 14 Apr 2021.
MPR News (@MPR_News). "Chauvin trial: Medical examiner who ruled Floyd's death a homicide takes the stand." YouTube. 9 Apr 2021.
Hennepin County Medical Examiner's Office. Autopsy report: George Floyd. 26 May 2020.
Office of the Minnesota Secretary of State. Business Record Details: Alpha News. Filed 19 Feb 2015.
Department of the Treasury. Form 990: Freedom Club. 1 May 2023.
Federal Election Commission. FREEDOM CLUB FEDERAL PAC. Accessed 2 Nov 2023.
Minnesota District Court, Fourth Judicial District. Case no. 27-CV-22-16364. Amy Sweasy Tamburino v. Michael O. Freeman, Individually, and the County of Hennepin. 11 Oct 2023.
Minnesota District Court, Fourth Judicial District. Case. no. 27-CR-20-12646. State of Minnesota v. Derek Michael Chauvin. 29 May 2020.
Minnesota District Court, Fourth Judicial District. Case. no. 27-CR-20-12646. State of Minnesota v. Derek Michael Chauvin. 3 Jun 2020.
Miller-Van Oort, Sonia. Lawyer for Amy Sweasy. Email to FactCheck.org. 3 Nov 2023.
Marinan, Carolyn. Spokeswoman, Hennepin County. Text message to FactCheck.org. 3 Nov 2023.