There are days when I am happy to be in the tech field. Fortunately, today's NYT's Connections puzzle was right up my alley because of it. However, I do know not if everyone will have the same level of familiarity. To ease your digital suffering, in this guide, we discuss what the answer to November 7th's NYT Connections is, along with category names to help you out. So, without further delay, let's jump in.
Hint for Today's Connections Themes
If you want to learn about what today's categories are based on but only through hints and synonyms, check these out first.
Yellow Category – Your phone lights up when this happens
Green Category – Nobody likes a tattletale
Blue Category – It's good to have an inner circle
Purple Category – Products by a good company in Redmond, WA
Additional Hint: We sure hope you're a Windows user
We wish we could go into more detail here, but the hints in this section are the best we can do. They are closely related to the categories in question today, so think long and hard before you scroll below.
Spoiler Warning #1: While this section included hints for the categories, the next section names them directly. It will spoil the four categories for today's Connections puzzle, so proceed with caution.
Today's Connections Category Names
If you are tired of us beating around the bush, here are the themes for today's categories for the NYT Connections game.
Yellow – DIGITAL NOTIFICATION SOUNDS
Green – TATTLE
Blue – GROUP WITHIN A GROUP
Purple – MICROSOFT PRODUCTS
As you can tell yourself, all categories are related to the digital world this time around. However, even the most skilled might not be able to connect all the dots. Perhaps knowing the best tricks to solve NYT Connections might help though. However, if you're still unable to figure out the answer, it's time to scroll down.
Spoiler Warning #2: The next section includes the answer for today's puzzle, and you will find all the words in their exact categories. This is your final warning.
Connections Answer for November 7
Have you finally given up and are ready for the answer? The answer to today's Connections puzzle are:
DIGITAL NOTIFICATION SOUNDS – Chime, Ding, Ping, Ring
TATTLE – Rat, Sing, Snitch, Squeal
GROUP WITHIN A GROUP – Camp, Division, Faction, Wing
MICROSOFT WORDS – Bing, Edge, Surface, Word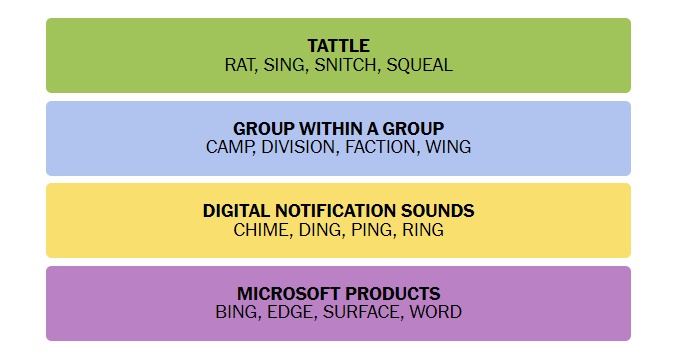 I could lie and say today was a difficult day, but if I'm honest, it was easy as pie to solve NYT's Connections this time. This was mostly because of my fair level of knowledge in technology. I mean, if I still can't recognize Bing after writing about it, what kind of journalist am I? So, thankfully, I got the purple one the first. The green category was just as easy due to my love of Mafia movies and Far Cry.
Tech made a comeback once again in the Yellow category, but as before, I solved it on the first try. Once that was done, it was just a matter of choosing the last four words, forming the final category, and solving NYT Connections for November 7.
What about you? How was your experience with this elusive word puzzle today? Where did you get stuck if you did? Do let us know in the comments below.