By Anne Lim
5fish, the free phone and tablet app developed 10 years ago by Global Recordings Network (GRN), has a problem. It has a user interface available in an extraordinary 31 languages with eight more being developed.
This means that people who speak these languages can use 5fish and the information and instructions in their own language. A Spanish speaker can easily navigate the app to find a gospel message in any of the 6700 languages and speech varieties (dialects). A Persian speaker can operate 5fish in Persian, and so on.
Sounds great, right? But the problem GRN faces is how to get Christians who speak those 31 languages to get the word out about the app, and understand how they can use the app to tell the story of Jesus.
"Any Christian in Australia should see a need to have 5fish on their phones … " – Christine Platt, CEO of GRN Australia
"The big challenge has been getting the user interface available in different languages, and now we want to tell Christians in Cambodia they can now use 5fish in Khmer," says CEO of GRN Australia Christine Platt.
"You can't do a Facebook campaign in a country where you don't have anyone who speaks the language because you can't answer any questions, which is not very helpful. So getting the word out is a challenge."
GRN's overseas centres are informing their local churches, but they would love to let more people know.
"Do you know Christians who speak these languages? Or do you know missionaries working in countries where any of these languages are spoken? If you do, please contact them and let them know about 5fish and that they can use it in their local language," Platt implores.
"We say we want to make 5fish available in over 40 different languages by the end of the year. Really that's not the full story. We want lots of people who speak those 40 different languages using 5fish to tell the story of Jesus to their neighbours in their neighbours' own languages. So, we need to get the word out. Out to Vietnam! To Nepal! To India! Out to a lot of other countries too."
Platt was speaking to Eternity after hosting a 10th-anniversary dinner for 5fish in Sydney on Saturday, July 16, which was attended by nearly 200 people.
"It was a fantastic night. One of our volunteers is a writer and he did a poem about GRN and put film clips with it, which was a spectacular way to start. We had a few testimony videos and one on how to use it. Kevin Murray from Australian Presbyterian World Mission gave a Bible talk on the parable of the four soils, which underlined the importance of the 5fish materials to tell the story of Jesus.
"I reckon any Christian in Australia should see a need to have 5fish on their phones because even in a country town, there's going to be a group of immigrants who don't have a lot of English, so you can play the gospel for them in their own language," says Platt.
"It's a really easy way to evangelise – my phone will speak your language in a non-threatening, easy conversation. I think all Christians in Australia should at least know about it and be able to tell people about it and just understand why it's useful – because they don't."
GRN would like to make 5fish available in other major world languages. Its high-priority list is: Gujarati, Kannada, Khmer, Marathi, Punjabi and Urdu, but there are other languages they would also happily include.
"Do you, or someone you know, speak a major or official language not available on 5fish? For example, Tetun is the official language of Timor Leste. Not a huge number of people speak it, but it would be worth including on 5fish so 5fish can be easily used in Timor Leste. Would you help us translate the 5fish user interface into that language? Or would you ask your friend who can?" asks Platt.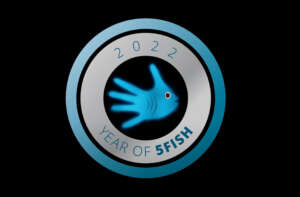 For more information and to download the 5fish app, visit globalrecordings.net/en/au-year-of-5fish.
Source: Eternity News.