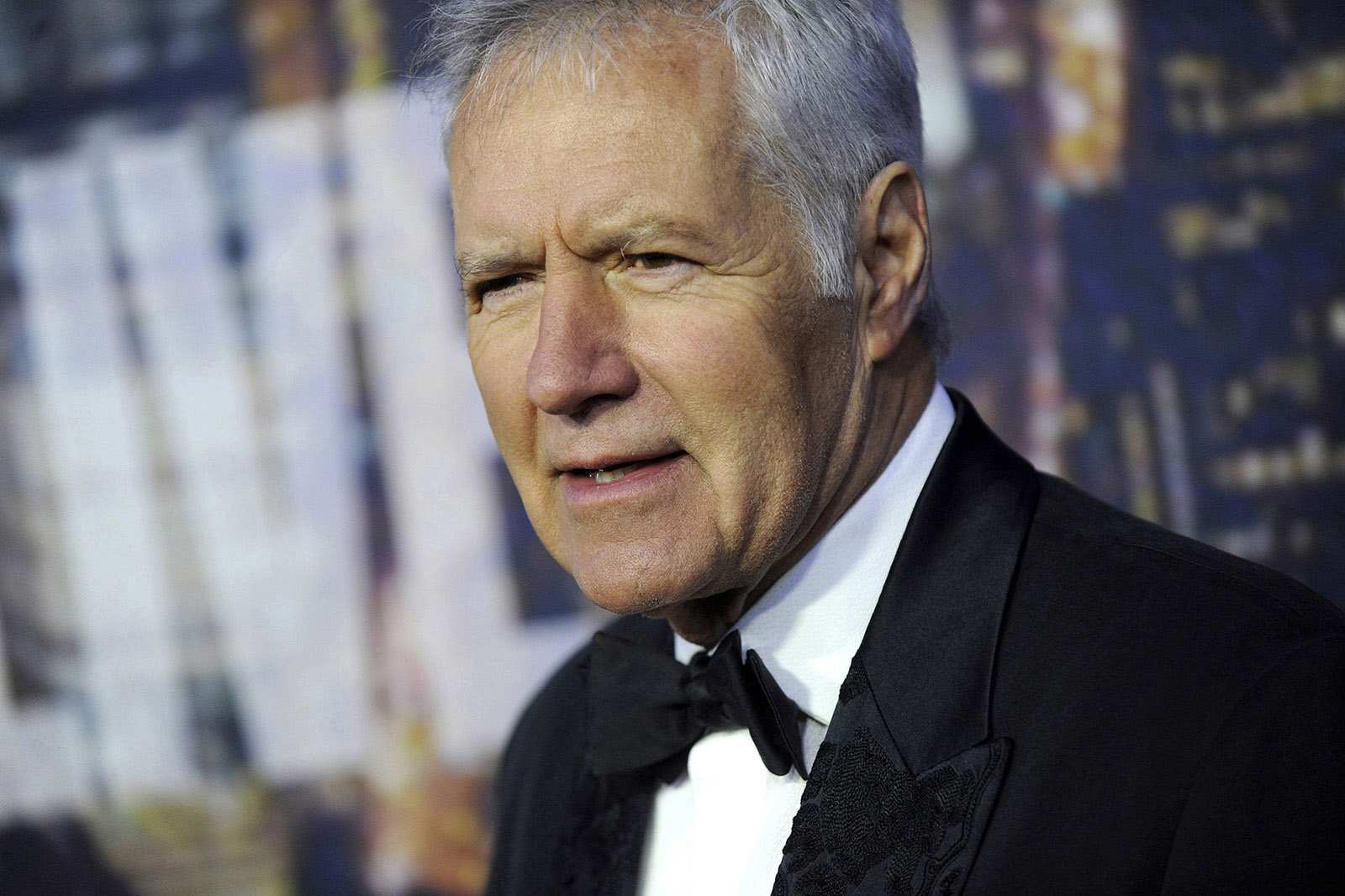 The Alex Trebek Fund launched Wednesday to support research into pancreatic cancer, the type of cancer the longtime "Jeopardy" host died from in 2020.
The fund is run through Stand Up to Cancer, Katie Couric's charity known for its star-studded telethon fundraisers and, on Monday night, its presence at the World Series. Alex's wife, Jean Trebek, and the estate of Barbara Hanania, a former Hollywood cinematographer, kicked off the fund with a $1 million donation, according to a statement from the charity.
"Alex knew that knowledge equaled power. He was a man that really loved to know things and stayed very curious," Jean Trebek said in the statement. "Since Alex was all about the right answer, I think it's very fitting that this fund is now established in his name. It's a way for the community that loved him to put resources directly into the hands of scientists working tirelessly to fight a disease shrouded by many unknowns."
Fundraising for the Trebek Fund will continue throughout November, which is Pancreatic Cancer Awareness Month. Proceeds will support the work of the American Assn. for Cancer Research and Nobel Prize-winning scientist Phillip A. Sharp.
Alex Trebek died on Nov. 8, 2020, at age 80. The previous year, the game show host had announced that he was diagnosed with Stage 4 pancreatic cancer and vowed to fight it. Trebek, who had hosted "Jeopardy" since 1984 and was a fixture of American pop culture, continued working while receiving treatment. His final episode, which aired in January 2021, was taped just 10 days prior to his death. Since then, former contestant Ken Jennings and actor Mayim Bialik have split hosting duties.
"It has been certainly a transition for us," Jean Trebek, 60, said Wednesday morning on "Today." "I think Alex represented such a great structure for our family and just re-creating ourselves without this fabulous presence that really guided us a lot."
She said the opportunity to help with the fund has aided her healing and thanked Couric, who joined Trebek as a guest on the NBC morning talk show she once co-hosted. Couric, 66, who in 2021 became the first woman to guest host "Jeopardy," lost her sister, Virginia politician Emily Couric, to pancreatic cancer in 2001 at age 54, and her husband, Jay Monahan, a legal analyst, to colon cancer in 1998 at age 42. Couric was diagnosed with breast cancer in 2022.
"I think that it is very cathartic when you experience a tremendous loss and feel so powerless in the face of a disease like this," Couric said, "to channel your energies into supporting science that will prevent it from happening to other families hopefully one day."
The chance of a person living in the United States getting diagnosed with pancreatic cancer in their lifetime is about one in 64, according to the American Cancer Society. This year, an estimated 64,050 people will be diagnosed with pancreatic cancer and 50,550 people will die from it.
Cancer remains the second-leading cause of death in the U.S. after heart disease, the society said. Pancreatic cancer, which can evade blood tests, is among the most lethal forms of the disease, leaving patients with a five-year survival rate of about 5%-10%, according to Johns Hopkins Medicine. Those with Stage 4 pancreatic cancer have a 1% five-year survival rate.
Despite the grim prognosis, 2023 marked the first year in half a decade in which pancreatic cancer survival rates went up, Stand Up to Cancer said in its statement, attributing the improvement to progress in research.
TV host Jerry Springer, died of pancreatic cancer, a diagnosis he kept private, in April at age 79. Other celebrities and public figures who have died of that type of cancer include Aretha Franklin., Alan Rickman, Patrick Swayze, Ruth Bader Ginsberg and Steve Jobs.
___
© 2023 Los Angeles Times
Distributed by Tribune Content Agency, LLC.