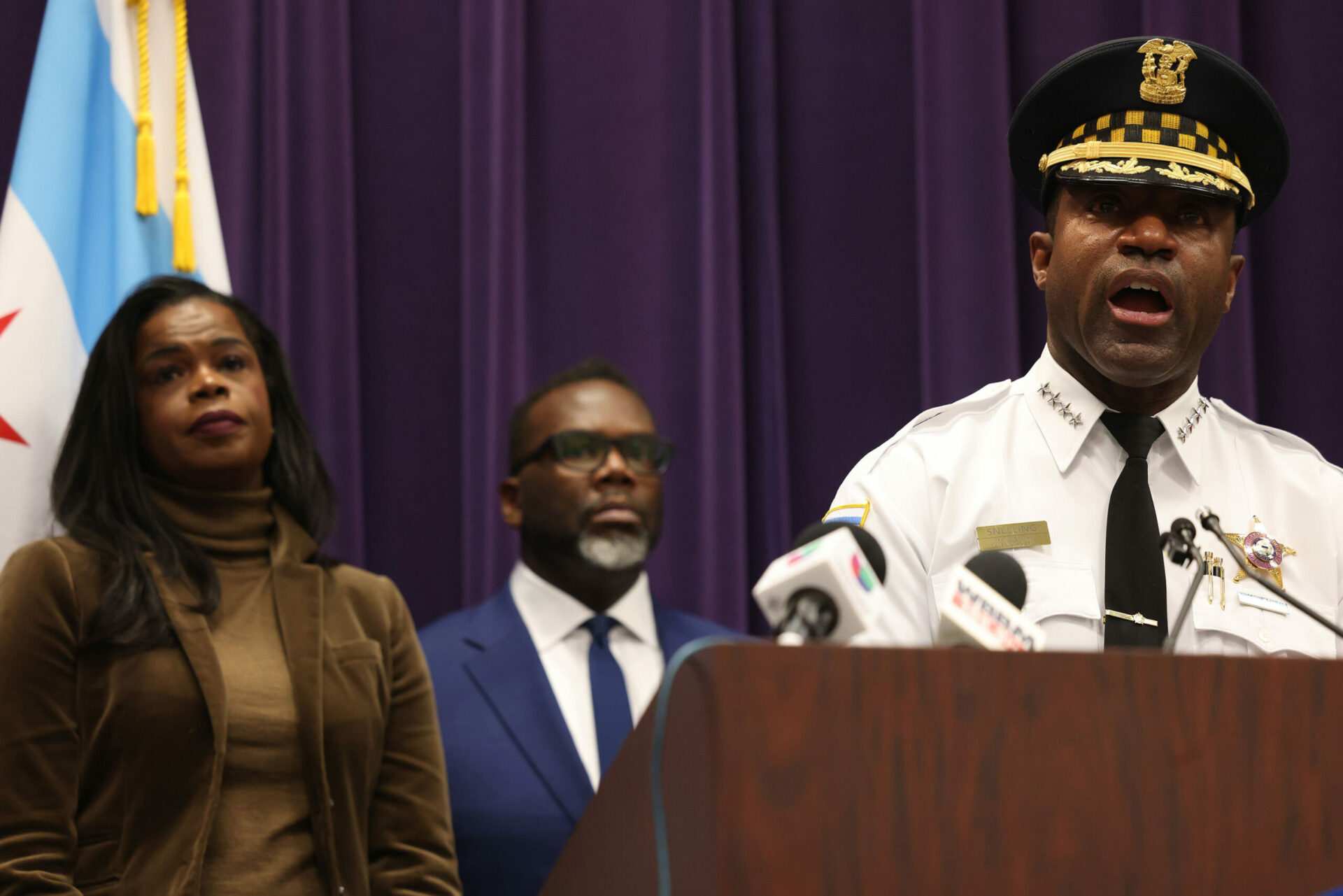 Law enforcement officials on Tuesday announced dozens of criminal charges against a man who police and prosecutors say fired a gun into a Halloween party in North Lawndale over the weekend, leaving 15 people wounded by gunfire.
William Groves, 48, was charged with 15 counts of attempted murder, 15 counts of aggravated battery with a firearm, aggravated unlawful use of a weapon and aggravated discharge of a firearm into an occupied building. He is scheduled to make his first court appearance Tuesday afternoon.
The shooting took place at about 1 a.m. Sunday in a building on the 1200 block of South Pulaski Road. Police said Groves fired into the party of about 100 people shortly after he had been kicked out of the gathering.
Police said Groves fled, but officers quickly arrested him with help from attendees and found a gun in his possession.
Tuesday morning, Chicago police Superintendent Larry Snelling was joined by Mayor Brandon Johnson, Cook County State's Attorney Kim Foxx, Ald. Monique Scott, 24th, and U.S. Rep. Danny Davis in announcing the charges against Groves.
"Though this arrest brings a measure of justice to the 15 victims and all those who witnessed this violence that night, the trauma remains," Snelling said. "I want to focus — and we need to focus — on the victims and support for them moving forward. Everyone affected by the shooting, and our North Lawndale neighbors, we're standing with you."
Though two of the 15 victims were initially listed in critical condition, their conditions have been upgraded and all are expected to survive, Chief of Detectives Antoinette Ursitti said.
Groves' arrest report, meanwhile, says that he was arrested in possession of a .357 handgun, and the weapon's serial number was defaced.
"He's a convicted felon who shouldn't have had a gun," Snelling said.
Cook County court records show Groves was charged and later acquitted in a 1995 murder in the Uptown neighborhood. In 2008, he pleaded guilty to attempted murder in connection with a shooting in the Englewood neighborhood, and was sentenced to 13 years in prison.
Records show Groves has also been convicted of several weapons and narcotics offenses since the mid-1990s.
"As a mother, I can't imagine the horror of that phone call that a child or a loved one has been shot," Scott told reporters. "The thought of that call, that your community (members) are victims of a mass shooting is beyond comprehensible, and as a human being I truly, deeply feel saddened for the families affected and the trauma that will be left behind. I'm also reminded of the anniversary of a mass shooting in East Garfield (Park) where 14 victims were shot and one was killed. Somehow, this has become a routine. This shouldn't be normal to any one of us."
The attack early Sunday represented the most victims wounded in a Chicago shooting since March 2021 when 15 people were shot at a party in Park Manor and the 39th shooting in the city in which four or more people were shot since Oct. 31 last year, according to the Gun Violence Archive.
The day of the shooting, police officials told reporters that the suspect was thrown out of a Halloween party hosted at the unlicensed venue. The suspect then returned with a gun and opened fire, according to Ogden District Cmdr. William Betancourt.
Records from the city's Department of Buildings show that inspectors cited the property in June 2021 for operating as an event venue without a license.
"There are tables and chairs in both the 1st and 2nd floor spaces with DJ sound booths set up on both floors, alcohol is being served/sold and admission (tickets) are being sold online as evidenced by numerous social media postings for this venue online," inspectors wrote. "There are no plans or permits for the current use of this space as an unlicensed small assembly/public place of assembly. The current license states this is an 'art gallery,' yet there is no artwork whatsoever. Also a 2-story rear porch has been constructed without plans or permit."
Snelling said the business where the shooting occurred — ostensibly an art gallery space — has been a problem in the area for years, and Foxx said prosecutors' investigation of the building owner remained ongoing.
Signs taped to the building Monday by police ordered the business that operates there, Studio 1258, closed.
On Monday afternoon, few people walked outside the building where the shooting took place. Several hundred children were in class at the pre-K through eighth grade school on the same block, said Mike Trout, executive director of YMEN, a nonprofit located across the street.
Police planned to operate an emergency assistance center at YMEN's gymnasium Tuesday, he said. Officers handed out flyers advertising the center to passerby.
"What we do as a community to respond to instances of tragedy is our job," Trout said. "This is why we're here."
Trout said people would be able to connect with therapists and apply for the state crime victim compensation program at the temporary center. He described the less material offerings — the opportunity to share painful stories, make lasting connection and form friendship — as also critically important.
His organization has long sought to fight violence in the community, with a goal of making "a college education more accessible than accessing a firearm." There are a lot of promises made to people harmed by major shootings, he said.
"Sometimes, when the cameras are gone, or it's no longer on the front page, those things die down," Trout said.
___
© 2023 Chicago Tribune
Distributed by Tribune Content Agency, LLC.