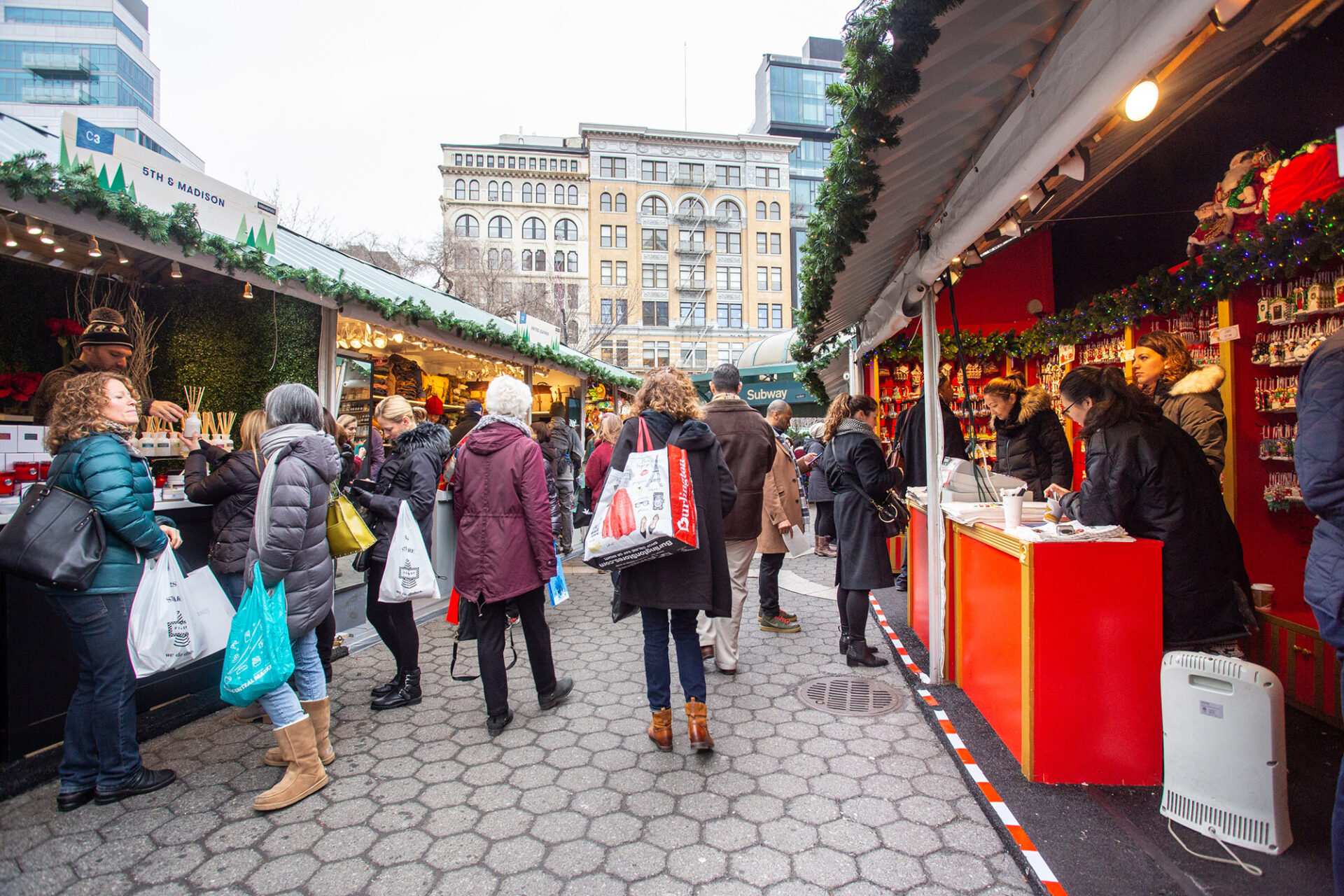 The holidays are hectic enough without worrying about money, too. Amid high prices this holiday season, 87% of holiday shoppers plan to use at least one money-saving strategy, according to Bankrate.
Specifically, 42% of holiday shoppers plan to buy fewer items to save money; 41% plan to seek out more coupons, discounts or sales; 30% have started shopping earlier and 20% plan to buy cheaper brands.
Holiday shopping can be anxiety-inducing, but changing your spending habits during the holidays doesn't have to be joyless. Making a budget, taking care of your needs and allowing yourself peace of mind can be the biggest gifts you give yourself during the holidays.
Key Bankrate holiday stress insights
You're not alone: Nearly 1 in 4 people feel financially burdened by the holidays
Americans are no longer facing inflation as high as during the 2022 winter holidays, but they're not expected to spend any less this holiday season.
American consumers will spend an average of $1,530 this season for gifts, travel and entertainment — 7% higher than in 2022, according to PWC's 2023 Holiday Outlook. Households with an income of $120,000 or more are expected to spend an average of $3,000. Nearly 40% of consumers will spend more overall than in 2022.
But people might not have the money readily available in their checking accounts to afford holiday expenses. One in four (25%) of holiday shoppers feel stressed over costs, according to Bankrate. Additionally, 23% say the holiday shopping season will place a strain on their budget and 13% feel pressured to spend more than they're comfortable with.
"Inflation is squeezing consumers and putting them in a frugal holiday mood," Bankrate Senior Industry Analyst Ted Rossman says. "Retailers seem to be acknowledging this, because Black Friday essentially starts in October now. Amazon, Target, Walmart and others rolled out deep discounts in early October and I expect the deals will remain strong through the holidays."
Lower-income households (households making under $50,000 a year) may be facing more money-related stress this holiday season. More than one-fourth (27%) of lower-income holiday shoppers say the upcoming holiday season will place a strain on their budget and 29% say they're stressed about the cost of holiday shopping. Additionally, 14% will feel pressured to spend more than they're comfortable with:
We asked: Thinking about the upcoming holiday shopping season, which, if any, of the following do you expect to apply to you?Household incomeI'm stressed about the cost of holiday shoppingIt will place a strain on my budgetI will feel pressured to spend more than I am comfortable with
| | | | |
| --- | --- | --- | --- |
| Under $50,000 a year | 29% | 27% | 14% |
| $50,000-$79,999 | 24% | 24% | 11% |
| $80,000-$99,999 | 24% | 21% | 11% |
| $100,000 a year or more | 21% | 17% | 13% |
However, shoppers with a six-figure income may also feel pressure this year to "keep up with the Joneses," because 13% said they feel pressured to spend more than they're comfortable with this holiday season — a similar percentage to the lowest-income shoppers (14%).
How to manage your finances and destress during the upcoming holidays
Anyone, regardless of income, can feel financial stress during the holidays. Read on for ways to celebrate the holidays and spend time with your loved ones, without facing extra financial stress.
1. Discuss low-cost ways to celebrate with family and friends
"If the holidays give you financial stress and anxiety, talk with your loved ones about an alternative format to holiday spending and gift-giving this year that takes the pressure off of everyone," says Ilian Georgiev, CEO and co-founder of Charlie, a personal finance app.
When discussing, Georgiev suggests mentioning the following ideas:
•Reduce spending by setting spending limits.
•Skip the gift exchange altogether and focus on celebrating with your loved ones.
While you may feel like a grinch suggesting these types of ideas, your loved ones will hopefully understand and may even empathize with you. Due to inflation and rising interest rates, your family and friends may also be looking to cut their budgets this holiday season.
"Always remember, you are absolutely not the only one who is having a difficult time with the holidays this year," says Dr. Georgia Gaveras, chief psychiatrist and co-founder of Talkiatry, a New York-based mental health service provider. "Try managing your anxiety through transparency and planning. You may end up being a hero this holiday season if you propose limiting the number of gifts everyone buys."
2. Get comfortable saying no to additional spending
Although the holidays encourage generosity, that doesn't mean you should ignore your own needs. If you feel pressured to spend more on gifts or lavish parties than you feel comfortable with, give yourself permission to just tell people "No."
Have an honest conversation with your loved ones ahead of the holidays. Explain that you will be setting a budget and are setting boundaries around how much you will be spending. And then stick to it — no one knows your budget better than you do, and you are your best advocate for yourself.
If you still find yourself becoming overwhelmed, see where you can cut back on what is less important to you in order to spend your resources on what is.
3. Establish a realistic holiday spending budget
Unexpected expenses can add up quickly during the holidays if you're not sure how much you plan on spending. Making a budget can help you know how much you want to spend and how you want to spend it.
Sit down with your budget and consider how much money you want to allocate for the holidays. This will vary from person to person, and there's no "right" amount that fits people across the board. Consider how much you spent on the holidays last year, based on your bank statement, and ask yourself if this year's priorities are similar to last year's budgeting priorities.
Choose your total budget amount based on the holiday savings or general discretionary funds that you have. Try to avoid using emergency savings for the holidays.
Then, consider categories. Not every category will be given equal weight. If your favorite part of the holidays is hosting dinner at your house, then consider prioritizing decorations, food and activities in your budget instead of spending more on gifts.
Avoid inflating your budget out of a sense of obligation. The holidays can be a great way to relax and reward yourself after a busy year, but it may feel less relaxing if you're still paying it off months later.
Here's an example of how a holiday budget may look:
Holiday budget spending exampleCategoryMinimum spending
| | |
| --- | --- |
| Travel | $500 |
| Gifts for others | $400 |
| Gift-wrapping materials and cards | $60 |
| Shipping costs | $60 |
| Home decorations | $80 |
| Hosting dinner at my home | $120 |
| Outings/activities with loved ones | $100 |
| Charitable donations | $80 |
| Total | $1,400 |
4. Make shopping lists and stay organized
A shopping list can help you keep track of your food shopping, gift shopping and more — while making sure you're sticking to your budget.
To make your lists, write down everything where it can be viewed at a glance. For gift lists, you can break down your spending per person, what you plan to buy for each person, where you plan to buy from — either in person or online — and any discounts you find. For food shopping, consider if you need to buy an ingredient ahead of time, like a frozen turkey.
5. Download apps for rewards, discounts and/or cash back
You may know to take advantage of credit card rewards, but check out apps and browser extensions that also allow you to receive rewards and cashback. Cash-back sites can also allow you to check prices for the best deals on popular items.
"To save money, aim to stack discounts," Rossman says. "As in, combine a store promotion with a rewards credit card (which you hopefully pay in full to avoid interest) and an online shopping portal such as Rakuten or Shop Through Chase. A lot of the big airlines have these, too. Also, take advantage of unused gift cards (about half of Americans have them and the average value is close to $200)."
Popular cash-back apps include:
•Rakuten, which offers both online and in-store deals at stores like Walmart and Nike, and has special savings for the holidays.
•Ibotta, which includes big deals on grocery items and lets you connect grocery loyalty accounts.
•Dosh, which allows you to book hotels and offers up to 40% cash back, among other deals.
6. Practice mindfulness when you're feeling stressed
It's a stressful time of year, and sometimes taking the time to pause and recognize just that can be helpful in and of itself.
If you're worried about inflation and other financial pressures, be sure to give yourself some grace and take the time to understand your feelings so that you can deal with them, breathe, reset and reframe the situation.
"If you find yourself feeling overwhelmed, take a step back and practice mindfulness by bringing your attention to the present moment," says Jolie Weingeroff, a clinical psychologist who sees clients in New York and Rhode Island.
Two techniques Weingeroff suggests include:
•Box breathing: Trace the outline of a rectangle — like a window — and inhale along one edge, exhale along the next, and repeat.
•See three things, hear three things, feel three things: Cycle through and identify things in your environment that you see, hear and can feel.
7. Find some joy and practice self-care
When feeling stressed out, it's easy to forget about treating yourself — especially when the stress is financial and holiday related. But treating yourself doesn't have to mean buying yourself a material item; it can also mean taking a walk or letting yourself take a break.
Take a step back from the chaos and do something that brings you joy. Maybe it's coloring or taking a long, hot shower. Whatever it may be, don't forget that you can and should treat yourself.
After all, the holidays are also meant to be a time for relaxing and recouping.
Learn more:
•11 ways to save money at the holidays
•Navigating the holidays if you took a financial hit this year
•7 ways to manage financial stress during trying times
Methodology
Bankrate.com commissioned YouGov Plc to conduct a survey on winter holiday shopping. All figures, unless otherwise stated, are from YouGov Plc. The total sample size was 2,415 adults, including 1,813 winter holiday shoppers. Fieldwork was undertaken between August 17–19, 2022. The survey was carried out online and meets rigorous quality standards. It employed a nonprobability-based sample using quotas upfront during collection and then a weighting scheme on the back end designed and proven to provide nationally representative results.
___
© 2023 Bankrate.com.
Distributed by Tribune Content Agency, LLC.