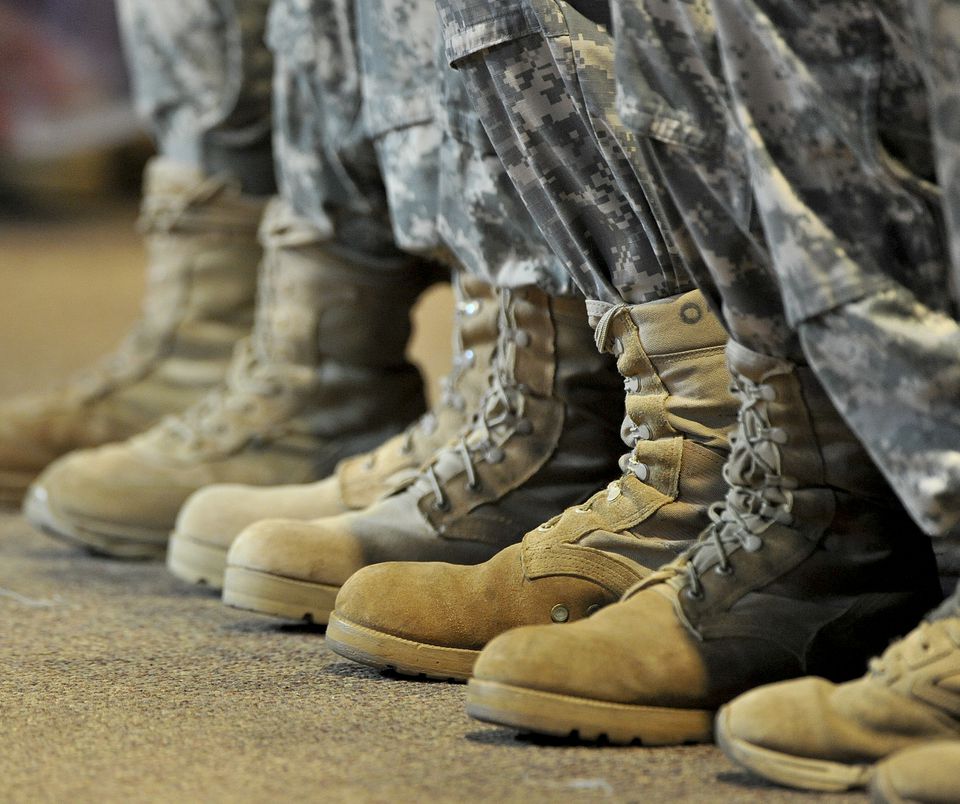 It's been going on for decades.
Every few years, a southern Illinois congressman sends out a news release, announcing that Belleville Shoe Manufacturing Co. has been awarded a multimillion-dollar government contract to make boots for the military. The size of orders vary, along with boot types — jungle or desert, lightweight or waterproof, assault or training.
The announcements always describe the company as the "oldest and leading manufacturer of boots for the U.S. military," and they always tout the potential for jobs and other economic impacts.
"I've worked on a bipartisan basis to support domestic military equipment manufacturing, and I look forward to continuing to support the important work happening in Belleville," U.S. Rep. Nikki Budzinski, a Democrat from Illinois' 13th District, stated last month when announcing a new $7.8 million contract.
Boot orders from the U.S. Department of Defense have helped keep Belleville Shoe in business since at least World War II. How much do those contracts benefit the city of Belleville today, given that the company has two other factories in Arkansas and one in Missouri?
Belleville Shoe, rebranded as Belleville Boot Co. in recent years, is the city's fourth-largest employer, according to the business data-gathering organization Intersect Illinois. That's after Memorial Hospital, Southwestern Illinois College, which is just outside city limits; and Allsup.
Yvonne Coffey, Belleville Shoe's director of human resources, said about 200 of the company's 700 employees now work in Belleville. That compares to 250 at its factory in DeWitt, Arkansas, and 125 each at factories in Forrest City, Arkansas, and Carthage, Missouri.
"We fluctuate so much," Coffey said, noting that workforce size at any one time is dictated by military contracts.
The company also contributes to the economy by paying St. Clair County property taxes. Its bill came to $144,821 this year for a 155,488-square-foot metal factory building and land on Premier Drive, county records show.
All of that tax money goes to the city of Belleville because the property is in the TIF 3 tax-increment-financing district, said Jamie Maitret, director of finance.
Eric Schauster, assistant director of economic development, planning and zoning, noted that Belleville Shoe is an anchor for Belle Valley Industrial Park, off Illinois 158, on the east side of town.
"It helps our employment rate, and it also helps with Belleville's diversity in terms of what's available here," he said. "We're not just an industrial hub. We're not just a retail center. We're not just a bedroom community. We've got all of those things, (and that) helps us get through some of those tougher times, when you have a downturn in the economy."
Starting with boys shoes
William Weidmann, son of German immigrants, co-founded Belleville Shoe in 1904 after persuading four friends to invest in the company. He was unemployed after manufacturing farm machinery and serving as assistant postmaster, according to a history prepared by his grandson, the late Homer W. "Bill" Weidmann, for "The History of St. Clair County, Illinois, Vol. II," published in 1992.
William Weidmann had apparently met a Massachusetts visitor who thought a shoe factory would be a successful operation in Belleville due to good transportation, a favorable labor market and proximity to raw materials, such as leather from Chicago and Wisconsin tanneries.
The other four investors were Adolph Knobeloch, Henry E. Leunig, Joseph B. Reis and James Rentchler. The company incorporated with $15,000 in capital stock. It leased the former Rentchler machine shop at the northeast corner of East B Street and Delmar Avenue.
"It was just a time when it didn't take a lot to establish a manufacturing operation," said Bob Brunkow, historian for Belleville Historical Society.
The company bought the burned-out Jordan Shoe Co. site at Main and Walnut streets in 1909 to build a new factory. It added men's footwear during World War I and sent shoes to relief agencies in Chicago, New York and Los Angeles during the Great Depression.
The company got its first contract to produce shoes for the military in 1940, according to Homer Weidmann's history.
"Out of 96 factories which made military shoes during WWII, Belleville Shoe was one of only three installations awarded the Army-Navy 'E' for Excellence, and the only factory never late in delivery to the Armed Forces," he wrote.
A video on the Belleville Shoe website and many publications have referenced military contracts during World War I, but Brunkow and Will Shannon, curator for St. Clair County Historical Society, haven't found documentation through news clippings or other records.
In 1953, Rawlings Sporting Goods Co. of St. Louis contracted with the company for baseball, football, soccer, track and golf shoes, boosting shoe and boot production to 2,500 pairs a day. Legend has it that St. Louis Cardinals Hall of Famer Stan Musial was a regular customer.
In the decades that followed, the U.S. market experienced a "massive penetration" of imported footwear, leading to the closing of domestic factories and prompting Belleville Shoe to focus almost exclusively on equipping the military, according to Homer Weidmann's history.
The factory in Belle Valley Industrial Park opened in 1986. The company had about 1,300 employees (650 in Belleville and 650 in DeWitt) at the time of its 100th anniversary in 2004, when it was turning out 8,000 pairs of boots a day.
Members of the Weidmann family managed the operation until the 2010 retirement of the late Eric Weidmann, William Weidmann's great-grandson. That's when current President Mark Ferguson took the reigns.
Today, Belleville Shoe remains a private company whose shareholders are descendants of William Weidmann.
"We've all been very proud of the company's contribution to military supplies," said Carolyn "DeDe" Farquhar, William Weidmann's great-granddaughter. "But it is the men and women who are working and have worked at Belleville Shoe who deserve the credit for the excellent product they produce."
Worldwide name recognition
Beyond economic factors, Belleville Shoe has made the city's name part of daily life for men and women in all branches of the U.S. military throughout the world. The company stamps it on many of its more than 50 styles of military and tactical boots. Some soldiers call them "Bellevilles" for short.
Boot boxes feature a logo patterned off the American flag that incorporates the letter "B," as well as the company's slogan, "Arm Your Feet," and a reference to its founding in 1904.
"Belleville Boots are tough, strong and perform in any environment — just like the men and women we're proud to supply," the website states. "At Belleville, we invite you to walk a mile in our boots, actually walk fifty miles, and you'll discover what footwear with a purpose feels like."
Boots can be purchased by law enforcement and the general public at www.bellevilleboots.com. Prices range from $90 to $319.
At least one pair of the company's boots are displayed in a museum. Tan leather desert combat boots worn by U.S. National Guardsman Andre Jones during the Iraq War are part of an exhibit at the National Museum of African American History & Culture in Washington, D.C.
In 2000, Belleville Shoe did $30 million in sales, Eric Weidmann told the BND at the time. This month, the company declined to provide a comparable figure for current sales.
The contract announced by Congresswoman Budzinski in September is an order for 5,634 to 56,340 pairs of temperate-weather combat boots for the U.S. Army with a maximum dollar value of $7.8 million and a two-year ordering period, according to Mikia Muhammad, spokeswoman for the Defense Logistics Agency, which buys supplies for the U.S. Department of Defense.
"They will all come through Belleville (for at least part of the production process)," Coffey said.
The most recent contract is one of six active contracts between Belleville Shoe and the Defense Logistics Agency, awarded in the past 18 months. Muhammad listed the other five:
—A contract for 10,938 to 164,034 pairs of temperate-weather boots for the U.S. Air Force with a maximum dollar value of $23.6 million and a three-year ordering period, awarded in August 2023.
—A contract for 17,196 to 310,386 pairs of hot-weather combat boots for the U.S. Army with a maximum dollar value of $26.9 million and a three-year ordering period, awarded in June 2023.
—A contract for 10,000 to 100,000 pairs of cold-weather combat boots for the U.S. Army with a maximum dollar value of $29.1 million and a three-year ordering period, awarded in September 2022.
—A contract for 10,152 to 119,520 pairs of hot-weather steel-toe boots for the U.S. Air Force with a maximum dollar value of $17.6 million and a three-year ordering period, awarded in August 2022.
—A contract for up to 88,826 pairs of I-5 steel-toe boots (plus two option periods for up to 73,200 pairs) for the U.S. Navy with a maximum dollar value of $31 million, awarded in April 2022.
Belleville only unionized plant
Belleville Shoe's three out-of-state locations occupy former shoe or apparel factories that the company leased or bought after they closed.
The first expansion to DeWitt, Arkansas, in 2002 resulted from increased demand for military supplies and equipment following the 9-11 terrorist attacks, Coffey said. That factory is known as Belleville Boot South. Belleville Boot Mid-South opened in 2008 in Forrest City, Arkansas, and Belleville Boot Carthage opened in 2020 in Carthage, Missouri.
The Belleville location is the company's only unionized factory. Production employees are represented by United Food and Commercial Workers Union Local 655, based in St. Louis.
In 2005, when Belleville Shoe announced it was laying off 40% of its workforce due to the end of two military contracts, some Belleville employees blamed it on the DeWitt expansion.
"I think it's a little bit of both — the contracts ending and jobs going down South," one employee said at the time. "Some of the boots we've been doing here have been going down there. I know they've been taking some of our machines down South, too."
The following year, the company hired back about 100 of the 260 people it had laid off, thanks to a new $25.6 million contract to make 445,000 pairs of desert combat boots for the Army National Guard.
At times, Belleville Shoe has struggled to find people to work at its Belleville factory because of other metro-east job opportunities, according to Local 655 President David Cook.
"Shoe-manufacturing jobs are not the highest-paid jobs in the world," he said. "With the intense competition from overseas, the wages are not spectacular."
The average wage for shoe and leather workers and repairers in the United States was $34,600 a year in May 2022, according to the U.S. Bureau of Labor Statistics. Cook noted that it's one of the few industries where many employees still get paid a per-piece rate.
The current labor contract for Belleville Shoe employees expires next month.
Union officials are always happy when the company gets a new military contract, even if some of the work is completed in out-of-state, non-unionized factories, Cook said.
"It will allow them to continue making high-quality military boots in Belleville with good union labor. It will ensure employment, jobs and a stable workforce for the future," he said.
___
(c) 2023 the Belleville News
Distributed by Tribune Content Agency, LLC.