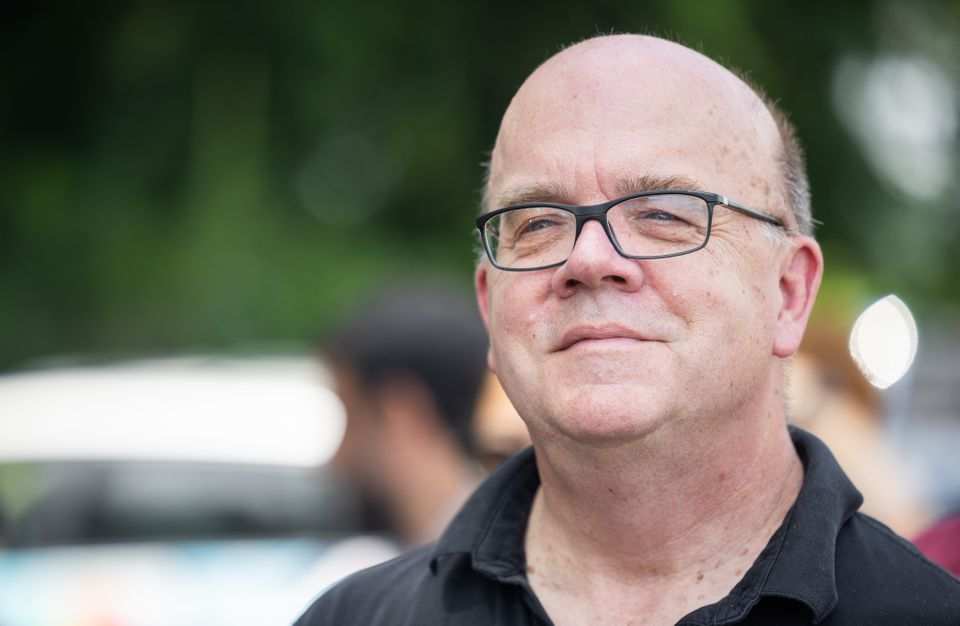 As the conflict between Israel and Hamas has escalated, raising the number of civilian casualties counted in the thousands, Worcester Congressman Jim McGovern has been increasingly alarmed at the U.S. State Department's lack of progress getting American citizens out of Gaza.
"I'm deeply concerned and also frustrated," McGovern, D-2nd District, said Wednesday. "There hasn't been a day gone by we haven't been on the phone with the State Department trying to advocate for them and push the administration to do everything humanly possible to get them out."
Among McGovern's constituents are a Medway family — Abood Okal, Wafaa Abuzayda, and their 1-year-old son Yousef Okal — who were visiting relatives in Gaza when Hamas attacked Israel on Oct. 7. The family has endured an increasingly dangerous and dire situation sheltering in the southern community of Rafah as airstrikes have escalated and supplies including food and water have diminished.
Okal, who has communicated with MassLive primarily through the texting app WhatsApp, has described being forced to wean his son off of milk and his efforts to soothe his child amid explosions at night.
"Today is day 18 of the war and we're still stranded in Gaza," Okal said in a three-minute voice recording published by MassLive speaking of his family's experiences. "We've been trying to stay strong but it hasn't been easy."
Okal has described being told by the State Department that the border crossing between Gaza and Egypt would be open on three occasions and each time not being allowed through.
For McGovern, who has been in contact with Deputy Assistant Secretary of State Joshua Harris and U.S. Agency for International Development administrator Samantha Power, he doesn't understand why the family hasn't been able to leave yet.
"For the many days we have been advocating for this family we've heard all kinds of reasons why it is challenging," McGovern said.
At first, McGovern said the State Department had indicated that Egypt didn't want to open the passage because they were afraid of a large influx of people. Once that was resolved, the State Department said Israel had to agree not to perform military action in the area. After that, he was told there was no assurance that Hamas wouldn't interfere.
"I don't even know what it is today," McGovern said. "I don't know what the reason is why this hasn't happened."
In a press conference on Monday, State Department spokesperson Matthew Miller said that negotiations have been ongoing about both getting aid into Gaza from Egypt through the Rafah crossing between the two countries, as well as getting U.S. citizens and other foreign nationals out.
"We were in conversation with the Government of Egypt, as we have been for some time, about being able to process those American citizens if they were able to get through the Gaza side and to the Egyptian side of the crossing. None of them were able to because the reports we were given on the ground is that Hamas was there blocking anyone from coming through the gate from the Gaza side out to the Egyptian side," Miller said.
In a statement to MassLive, a State Department spokesperson provided a statement that the department "has no higher priority than the safety and security of U.S. citizens overseas."
"We have made thousands of phone calls and sent thousands of emails to U.S. citizens in Gaza, their immediate family members, and their loved ones who are inquiring with us on their behalf. We continue to work urgently in partnership with Egypt and Israel to facilitate the ability of U.S. citizens and their immediate family members to exit Gaza safely and travel via Egypt to their final destinations. We are providing the best information we have about shifting conditions to allow U.S. citizens to make their own decisions regarding their safety and security in an incredibly difficult and fluid situation," the statement read.
The spokesperson said they could not confirm exactly how many Americans are trapped in Gaza. McGovern said the number was in the hundreds.
McGovern said he was particularly worried that if Americans were not allowed to leave soon, it would become more difficult to get them out if Israel executes a ground invasion of Gaza, something they have threatened to do.
While State Department officials had previously indicated that citizens would have to find their own way from the border to Cairo — a five-hour drive away — McGovern said the most recent information he's heard is that there would be transportation from the border to Cairo available to American citizens.
McGovern is among the small group in Congress that has pushed for a ceasefire in the region. Last week, McGovern joined fellow Congresspeople Pramila Jayapal of Washington, Greg Casar of Texas, Barbara Lee of California, Joaquin Castro of Texas, Veronica Escobar of Texas and Jesús G. "Chuy" García of Illinois in calling for an "immediate ceasefire, or at minimum a temporary cessation of all hostilities in Israel and Gaza to save civilian lives."
"I get that Israel has a right to defend itself, but we're now at a point where the humanitarian crisis demands a ceasefire," McGovern said Wednesday. "The bombing needs to stop and again we need t ofocus on getting all the Americans out of Gaza safely."
More than a dozen Congresspeople have joined the call for a ceasefire — including Massachusetts Rep. Ayanna Pressley.
Massachusetts' two U.S. Senators — Elizabeth Warren and Ed Markey — have not signed on to the effort to call for a ceasefire.
Markey had previously called for "de-escalation" at a pro-Israel rally earlier this month, and was booed by those in attendance following that remark.
In a statement sent to MassLive, Warren addressed the situation at the Rafah border crossing.
"Humanitarian aid is beginning to trickle into Gaza, and the situation on the ground remains dire. I continue to actively work with the State Department to help American citizens come home as soon as possible, including the Medway family," Warren wrote in the statement.
McGovern said his office is "not going to rest" until the Medway family is safely back in the United States.
"My heart aches for them," McGovern said. "They have a little baby, and we heard about the baby having a fever at one point…. We are pressuring our government as strongly as we can to get them out now, whatever it takes."
___
© 2023 Advance Local Media LLC
Distributed by Tribune Content Agency, LLC.