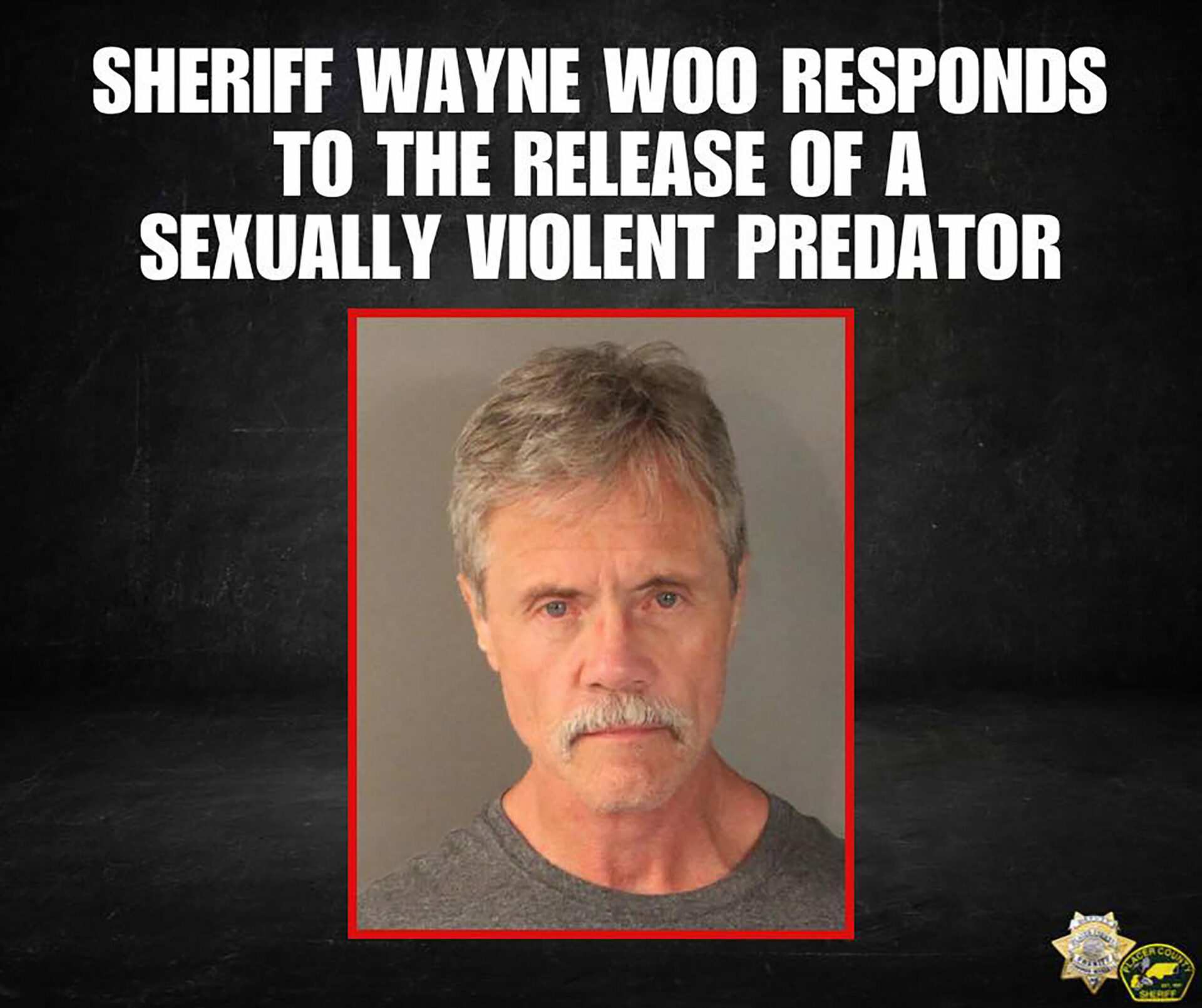 A few dozen residents and local officials sat inside a Placer County conference room last week hoping to hear an update on the possible release of a man into their community with a sexually violent past.
Yet when the time came for representatives from a state agency, and its contractor, to discuss the housing search for William Stephenson, they did so behind closed doors. A small committee of county delegates were allowed to attend the briefing, but it was considered confidential.
Such secretiveness is not necessary, says Placer County District Attorney Morgan Gire. He says it's caused by the Department of State Hospitals, and Liberty Healthcare, misinterpreting a new state law.
A goal of the act, which went into effect this year, was to bring greater transparency to the controversial practice of releasing people deemed sexually violent predators back into communities. Instead, Gire argues, it is having the opposite effect because of how it has been implemented.
"At this point," he said, "it has not been productive."
State hospitals officials did not make anyone available for an interview. In an emailed statement, an unidentified department spokesperson said the closed session occurred because the agency "must discuss individual patient health information and risk factors, which is subject to federal and state privacy protections." Beyond that, the response said, the private conversation is allowed under state open meeting law.
Gire, though, believes agency members can provide an update to the public on their housing search without disclosing protected information.
The disagreement is the latest rift over where to place Stephenson, who was granted a conditional release by a judge almost two years ago. And is another source of conflict in an already often contentious process.
The new law was intended to help situations like his. It requires local officials to be on a committee and assist the state in finding housing for patients with sexually violent histories who are set to be released with restrictions.
But tension has accompanied the change in Placer County.
At the recent meeting, Sheriff Wayne Woo said he was surprised to hear from an official at another county department, and not from Liberty Healthcare directly, that the contractor was exploring the idea of placing Stephenson in a temporary homeless encampment. Like Gire, Woo has a representative on the recently-created housing committee.
"Those lines of communication, this kind of behavior," Woo said during a public comment period, "is why there is this mistrust."
Few given conditional release
Under California law, people are labeled sexually violent predators if they are convicted of certain offenses and diagnosed with a behavioral condition that makes them a danger to the safety of others.
Stephenson, 67, began exposing himself in public in the 1980s, according to details contained in an opinion from the state's Third District Court of Appeal.
He was later accused of assaulting two women at a nude beach, including forcing one to perform oral sex on him, which led to his arrest and eventual conviction. He was sentenced to 31 years in prison.
A jury determined he was a sexually violent predator before he was set to be released. And in 2009, he was transferred to a state hospital in Fresno County. He is one of roughly 1,030 people committed under the predator law since 1996, when it went into effect.
Those patients are sent to a state hospital for an undetermined amount of time. Treatment there is voluntary and includes help with substance abuse and education as well as assessments of sexual arousal. Their behavioral conditions are evaluated at least once a year.
A judge later granted Stephenson's release, with conditions. In 2014, he was placed in a home in Roseville, because he has legal ties to Placer County.
But in 2017, Stephenson was arrested and accused of possessing child pornography, installing software designed to mask his online activity and accessing the internet without permission, according to details in another Third District Court of Appeal opinion. He was ordered back to a state hospital.
As of last week, 55 patients with sexually violent histories have received conditional releases statewide since 1996. Stephenson is one of 17 who later had that arrangement revoked.
In January 2022, a judge once more granted Stephenson a restricted release. The search for housing in Placer County started again.
'Needs to know'
Finding a place to live for a person committed as a sexually violent predator is a challenge.
There are limits on where they can stay and residents and officials are usually resistant to having them in their communities. But the search can't last forever; the patients have a legal right to be released.
The state hospitals department contracts with Liberty Healthcare to work on the housing hunt, as well as provide monitoring and treatment when the person is let out.
When patients are granted conditional releases, a game of hot potato can ensue with county officials trying to push them onto other communities.
The new state law — which passed last year as Senate Bill 1034 — created a formal process that must occur before a person is sent to another county. It requires the offices of the sheriff or local police chief, county counsel and district attorney to help the state find housing in their own region. The patient's lawyer is also on the committee. Public defender Brad Whatcott, who is representing Stephenson, declined to comment.
So far, the state hospitals agency has held two meetings with Placer County committee members and Liberty Healthcare officials. They have included a public comment period. But conversations about the search for Stephenson's housing have only occurred in private.
The department declined to comment on Stephenson's case, citing privacy laws. Liberty Healthcare representatives did not respond to email and phone messages requesting comment.
"They need to say: 'Here's where we're at, here's what we're doing,' said Gire, the district attorney. "Because I think the general public needs to know that."
What's more, Gire said his own representative on the housing committee, a lawyer in his office, is not supposed to share with him what is discussed because it is treated as confidential.
Still, the district attorney said he is able to glean more information about the housing search through court documents and hearings. A judge is scheduled to hear an update on Stephenson's case Wednesday at 1 p.m. and the proceeding is open to the public.
Gire's frustrations are not universally held.
"It just gives us a greater opportunity to participate in findings and decisions in regard to placement," Dawn Bladet, an assistant chief deputy with the Sacramento County District Attorney's Office, said of the new law.
Sacramento County currently has one person, William Rahar, being evaluated for housing as part of a conditional release. He was convicted of lewd or lascivious acts with a child under 14 years old, according to a state sex offender database.
When asked about the concerns Placer County officials have about the sharing of information, Bladet said: "We haven't encountered that yet."
Only a handful of other counties have had committee meetings under the new law this year.
'Underwhelming'
The boiling frustration in Placer County was evident at its latest meeting last week.
Supervisor Shanti Landon, during the public comment period, said "the communication, or lack thereof," with the housing committee and residents was "unacceptable."
Others were upset that state and Liberty Healthcare officials appeared via a video call and not in person.
"It's very challenging to respect the process when you're not here with us, working with us, to solve a community problem," said Supervisor Cindy Gustafson.
It was the first of four housing committee meetings the state was holding in two days.
A short while later, state and Liberty Healthcare representatives moved to a private space to consult with housing committee members.
When the closed session ended about 50 minutes later, a state hospital official said no action, only a discussion, had taken place. Shortly after, the official said the hearing was over.
"What?" an audience member said, before others grumbled incredulously. The video feed showing the state and Liberty Healthcare officials ended.
"Oh my God," said another attendee.
Moments later, Gire made his way to the front of the meeting room.
"I'll fill the void here since that was, sort of, very underwhelming," he said. "All this build up for that."
He then stayed up there, answering the many questions residents still had on their minds. At least the ones he could.
___
© 2023 The Sacramento Bee
Distributed by Tribune Content Agency, LLC.