A Baltimore judge sentenced a teen to 15 years in prison Monday for fatally shooting a man who confronted his group of squeegee workers downtown with a baseball bat in 2022.
Circuit Judge Jennifer B. Schiffer suspended an additional 20 years' incarceration and ordered five years of supervised probation upon the 16-year-old's release.
Before imposing the punishment, Schiffer denied a request from the teen's lawyers to have him sentenced to the custody of the Maryland Department of Juvenile Services. That agency loses jurisdiction over a person once they turn 21, which Schiffer said was "unacceptable" given the facts of the fatal shooting.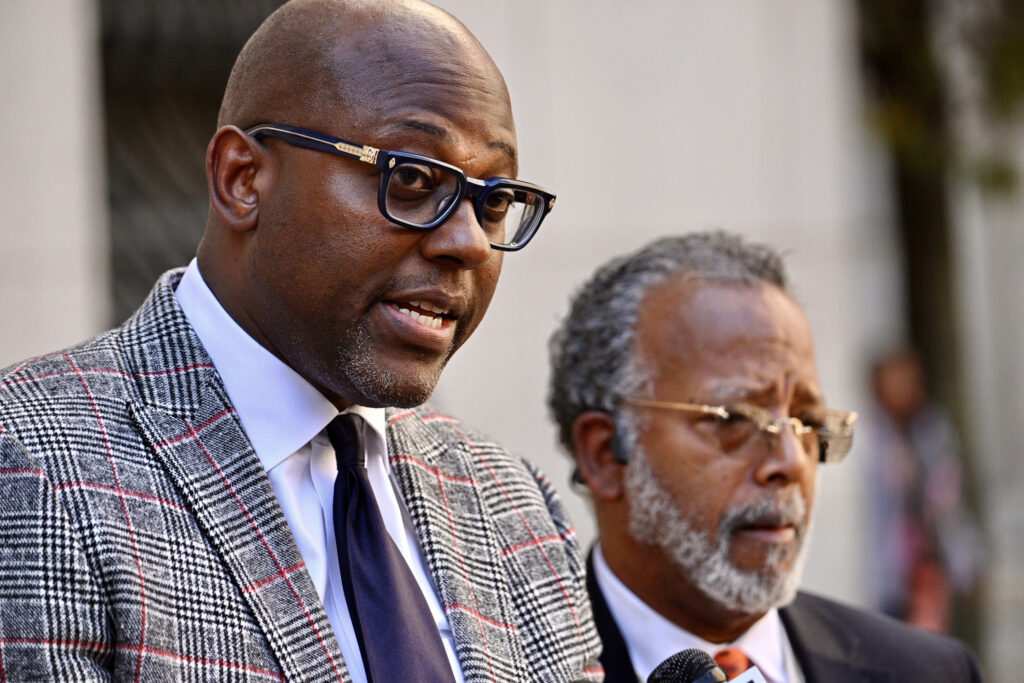 She instead recommended the teen for the Patuxent Youth Program, a treatment program in a maximum-security prison that helps address problems that may have led a person to commit a crime. Part of the state Department of Public Safety and Correctional Services, that program can't accept someone until they turn 18. That means the 16-year-old will remain at the Youth Detention Center in Baltimore for about two more years.
Schiffer said her decision recognized two realities: Her ruling couldn't bring back Timothy Reynolds, the 48-year-old who was gunned down at the intersection of East Conway and Light streets, and that no matter what sentence she imposed — the maximum allowable by law was 35 years — the teen who shot him dead would be released into the community.
"There are no winners here," Schiffer said.
The Baltimore Sun is not identifying the teen because of his age.
The punishment came at the end of a tense and emotional hearing that spanned nearly five hours and struck a balance between requests from prosecutors, who asked for the maximum penalty, and defense attorneys, who advocated for a handful of years' incarceration for their client. In Maryland, people convicted of felony crimes are eligible for parole after serving 50% of the sentence.
Following a three-day trial in July, a jury found the teen guilty of voluntary manslaughter, using a firearm in the commission of a crime of violence and handling a handgun as a minor.
The panel acquitted the teen of first- and second-degree murder, finding that his actions were somewhat justified by self-defense or the defense of others. Had the teen — who was 14 when he shot Reynolds and turned 15 the next day — been charged only with the crimes he was convicted of, his case never would have made it to adult court.
Cameras captured much of the deadly encounter in the afternoon of July 7, 2022, at the bustling downtown intersection adjacent to the Inner Harbor. Prosecutors played the video at trial.
The footage showed window washers ducking in and out of traffic looking for customers long before Reynolds pulled up to the stoplight in a Volkswagen SUV. The teen defendant leaned against Reynolds' car shortly after he arrived.
As Reynolds drove away when the light turned green, the teen, who was wearing a pink shirt, ran to grab a crossbody bag sitting on the curb. Police later recovered a gun from the bag.
Reynolds drove through the intersection, parked, retrieved a metal bat from his car and walked across approximately 10 lanes of traffic to confront the teens.
After back-and-forth aggressions, Reynolds swung the bat in the direction of a squeegee worker. Almost simultaneously, another worker threw an object at Reynolds, hitting him in the head. He appeared to stumble. That's when the teen shot Reynolds five times, striking Reynolds' face, neck and back. The husband and father of three died at a hospital.
"My heart goes out to the family of Timothy Reynolds," Schiffer said before announcing the sentence. "I realize your sorrow is unfathomable."
Reynolds' relatives testified in court Monday about the impacts of his loss on their lives. They remember him as a loving father, brother, son, friend and community member. Infectiously funny and intelligent, he loved Baltimore sports and was a nerd for Marvel comics and the card game Magic: The Gathering, family members said.
Reynolds' widow, Shannon, said their children would feel his absence at baseball games, college graduations and family dinners.
"There is a void that is glaring for these kids," Shannon Reynolds said.
The youngest was "sad more often than not" and had changed in the aftermath of her father's killing.
"She is terrified to leave me and misses daddy so much she struggles to get out of bed sometimes," she said.
Shannon Reynolds said she developed "extreme anxiety," suffering from short-term memory loss and panic attacks sometimes triggered by loud noises. She recalled the calm joy of lying in bed with her husband the night before the shooting listening to music being replaced by the chaos of learning of his death and informing the children and other relatives.
"He was everything to me," she said. "I was supposed to grow old with him."
Reynolds said she believed there was no justification for the teen's actions, saying "he got off easy at trial." She pointed to evidence of premeditation that prosecutors cited in greater detail.
The teen grabbed the gun bag before Reynolds confronted the group of squeegee workers. He pulled a ski mask over his face before opening fire. He got rid of the gun and the pink shirt he was wearing during the shooting.
Assistant State's Attorney Cynthia Banks said she watched video of the shooting "over and over and over" in hopes of finding an explanation. Instead of justification, she found facts affirming her office's decision to pursue murder charges against the teen.
"You didn't have to do it. You didn't, but you chose to," Banks said of the teen, asking Schiffer for a sentence that provided the "impact, consequences and accountability of a killing."
Addressing comments from the defense that Reynolds instigated the violence, Banks said, "he paid with his life for getting out of that car with a baseball bat."
Banks introduced into evidence a report from investigators with the Baltimore Police Department's gang unit, who reviewed photos from the teen's phone and came to the conclusion that he was a member of the Crips gang. She also introduced three reports of infractions from the detention center where the teen was being held based on altercations.
On the other side of the attorney table, the teen's lawyers highlighted how his grades had improved dramatically during incarceration and touted treatment potentially available through juvenile services, which evaluated the teen ahead of a hearing in November to determine whether he would be tried in adult or juvenile court.
According to a report by the Department of Juvenile Services, the teen witnessed a friend get killed, lived much of his life with his father incarcerated and struggled with truancy. Psychologists with the department found that the teen would benefit from its programs, including individual therapy, potential medication assistance and continuing education.
"I don't think you need to discard him to improve public safety. I say you adopt him," defense attorney Warren Brown said.
Brown contended that the shooting was not a "senseless" act of violence.
"There is a reason why this happened," Brown said. "He's a boy and he's confronted by a damn man with a baseball bat."
Brown and co-counsel J. Wyndal Gordon said after court that they believed Schiffer imposed a fair sentence, while saying they planned to appeal the ruling by Circuit Judge Charles Dorsey keeping the case in adult court.
During the hearing, the teen's grandmother, Tonia McClain, told Schiffer that she was dismayed that he was being made out to be a "menace" or a "beast."
"He is teachable," McClain said.
Attorneys read aloud statements from the teen's mother and mentor before giving their client the last opportunity to address the judge.
"To the Reynolds family, I am sorry for your loss and send my condolences," the teen said.
He added that he had worked on developing healthy habits while incarcerated in hopes of reversing the course of his life. No matter the judge's sentence, he said, he wanted to serve as an example for "true change" and to help others in the future.
"Although there is no going back in time," he said, "I am determined to turn my life around."
___
© 2023 The Baltimore Sun
Distributed by Tribune Content Agency, LLC.