Qualcomm recently introduced the much-anticipated Snapdragon 8 Gen 3 mobile platform with over 30% performance improvements. Now, MediaTek is all set to launch its direct rival at an event scheduled for November. Here are the details.
MediaTek, via a recent Weibo, has announced that it will introduce its next-gen flagship chipset on November 6 in China. This will happen at 7:00 pm China time (4:30 pm IST) and will most likely be live-streamed too. The post doesn't mention the chipset's name but it is pretty obvious that it's the Dimensity 9300.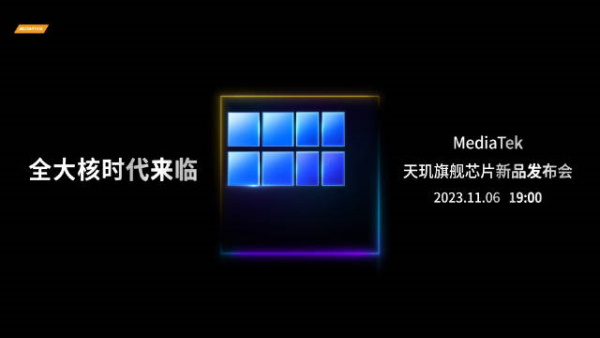 The chipset will succeed the Dimensity 9200 SoC from last year and is expected to introduce a number of upgrades. A previous leak suggested that the chipset will have a maximum clock speed of 3.5GHz, which is higher than the 3.3GHz clock speed of the Snapdragon 8 Gen 3 chipset. MediaTek's offering is expected to comprise a '1+3+4' CPU structure with one ARM Cortex X4 Prime core. The composition is said to have three ARM Cortex X4 cores and four ARM Cortex A720 cores.
To recall, the Snapdragon 8 Gen 3 comes with a '1+(3+2)+2' structure with a Cortex-X4 prime core, three Cortex-A720 cores, two Cortex-A720 cores, and finally two Cortex-A520 cores. As compared to the Snapdragon Gen 3, the Dimensity 9300 may get more X4 cores but this could also result in easy throttling. There's no word on the chipset's thermal management, camera capabilities, and more. But we do expect the addition of the Immortalis G720 MC12 GPU. Plus, the MediaTek Dimensity 9300 chipset could also be based on the 4nm process, much like the Snapdragon 8 Gen 3.
It also remains to be seen how this will compete with Qualcomm's option. It did secure a pretty high AnTuTu score recently but we are yet to see how this will really translate. We shall get all concrete details soon, so, it would make sense to wait. Do share your thoughts on this in the comments in the meantime and we will send all the official updates your way!