In what may qualify as a double musical grand slam for Petco Park, Rock & Roll Hall of Famers Billy Joel and Sting are teaming up to perform a joint concert at the downtown San Diego ballpark next spring.
Their April 13 concert here is one of only two joint U.S. concerts by the two music legends scheduled for next year, at least so far. The other is Feb. 24 in Florida at Tampa's Raymond James Stadium.
The announcement of their San Diego performance was made at a Thursday morning press conference held on the field, near first base, at Petco Park.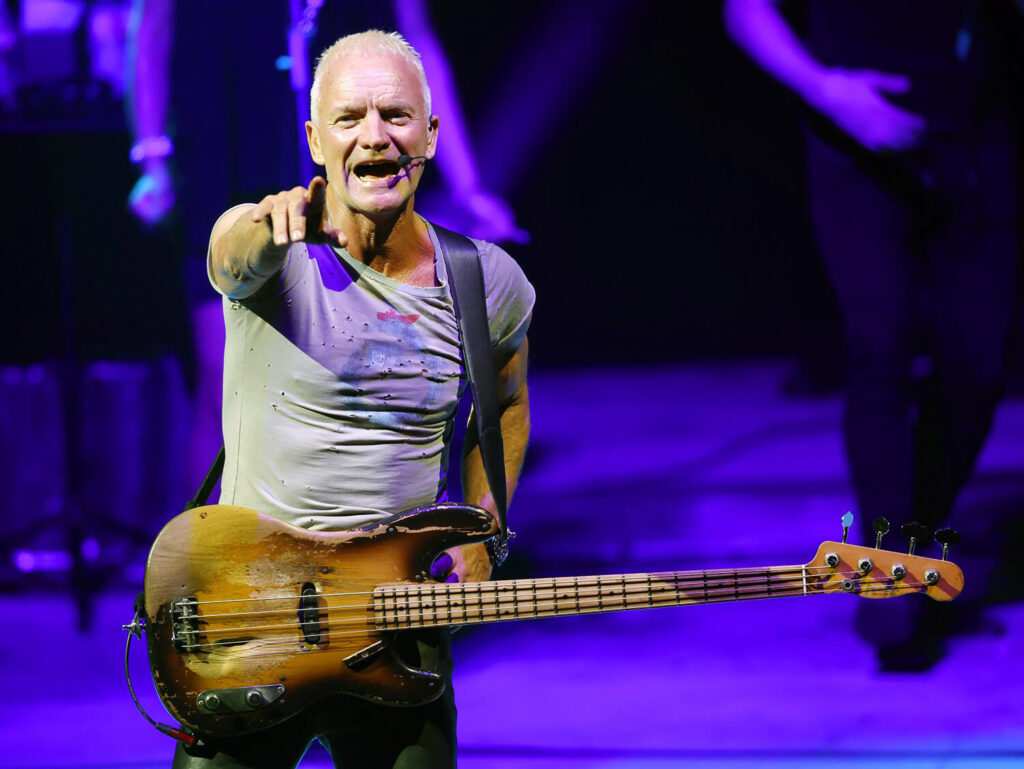 The concert is one of two major music events announced at the ballpark so far for 2024 (the Foo Fighters' Aug. 7 show is the other). Both will take place during the 20th anniversary year of the ballpark, which is the home of the San Diego Padres baseball team.
"When we opened 20 years ago we promised that Petco Park would be more than a ball park with 82 (home) games a year, and we have fulfilled that promise," Padres CEO Erik Greupner said, at a press conference Thursday announcing the Joel-Sting event.
Joel and Sting's concert is being produced in collaboration with Live Nation, the world's largest promoter of concerts and live events. The company has been instrumental in securing many top attractions for Petco Park, including Bad Bunny for two shows last year and Zach Bryan, who will headline the Dec. 30 Wild Horses festival.
"We are extremely proud to partner with the Padres and Petco Park," said Live Nation California Region President Geni Lincoln on Thursday.
Also on hand for the announcement was retired Padres relief pitcher Trevor Hoffman.
In an onfield chat with the Union-Tribune, Hoffman cited a Van Halen/Stryper double-bill at The Forum in Los Angeles as his first concert. And he explained why the date of Joel and Sting's upcoming Petco Park show is especially meaningful for him.
"April 13 would have been my dad's 113th birthday," Hoffman said. "My dad was a singer in the group The Royal Guards, which is how he met my mother in England. So, it will be really nice for me to celebrate him at a concert here on that day."
This will be Joel's first San Diego concert since his sold-out 2016 concert here, which was also held at Petco Park and drew a capacity audience of 42,000. His ongoing 2023 tour with Fleetwood Mac alum Stevie Nicks includes a November date in Minnesota and a December date in Phoenix.
Sting has performed twice here in the past 10 months, first at a private corporate event held last December at The Rady Shell at Jacobs Park. The veteran solo star and former leader of The Police returned for a sold-out show Oct. 4 concert at SDSU's Cal Coast Credit Union Open Air Theatre. That is the same venue where Sting, the co-founder of the band The Police, launched his first solo tour in 1985.
Joel, 74, was inducted into the Rock & Roll Hall of Fame in 1999 and has won five Grammy Awards. Sting, 72, was inducted in 2003 as a member of The Police and has won 17 Grammys. His first Grammy came in 1980 as a member of the Police, while his first as a solo artist came in 1985.
Fans wanting to attend Joel and Sting's San Diego concert may want to act quickly when tickets go on sale.
Joel's 2016 Petco Park concert — which clocked in at two hours and 22 minutes without an opening act — sold out in a record 45 seconds. That was faster than concerts at the same stadium by Paul McCartney, Taylor Swift, the Rolling Stones and Madonna.
Tickets prices for Joel and Sting's April 13 concert here range from $74.50 to $354.50, plus service fees. They will go on sale — following a series of pre-sales — to the general public at 10 a.m. Oct. 27 through mlb.com.padres/tickets/concerts.
The first presale, for Citi members, runs from 10 a.m. Monday until 10 a.m. Thursday. A Verizon presale will run from 10 p.m. Tuesday until 10 p.m. Thursday. A Sting fan club presale will run from 10 a.m. Wednesday until 10 p.m. Thursday. And a Live Nation and Petco Park presale will run from 10 a.m. Wednesday until 10 p.m. Thursday.
___
© 2023 The San Diego Union-Tribune
Distributed by Tribune Content Agency, LLC.