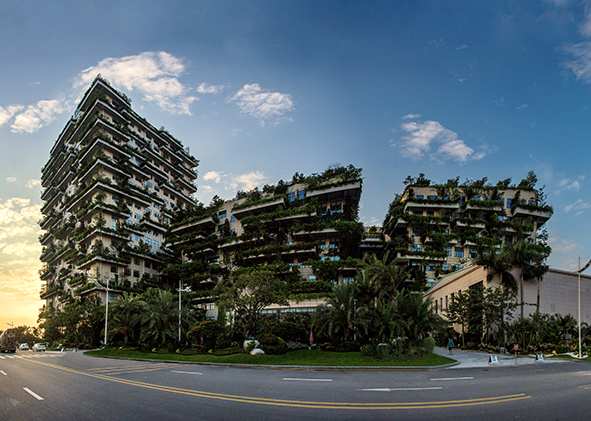 This article was originally published by Radio Free Asia and is reprinted with permission.
As China's economic miracle has unraveled over the past several years, property giant Country Garden Holdings appeared to be an unassailable fortress redoubt.
Rival Evergrande tried to restructure its debt, failed, and now its founder, Hui Ka Yan, once the richest man in China, is under house arrest. But Country Garden, until very recently, was considered safe as houses.
On Tuesday the walls of the Country Garden redoubt crumbled, as the property giant missed a HK$470 million (US$60 million) loan repayment and issued a statement on the Hong Kong Stock Exchange warning that it wasn't going to be able to repay all of its creditors – not even those that had extended it a grace period.
The company has about US$200 billion in liabilities and close to US$10 billion in debt, it said in the Tuesday statement.
"I think it's not so much 'final straw' as 'high profile symbol' of the structural reversal in China's property market bust. But it's also possible that because of that, confidence in this fragile market will be further undermined," said George Magnus, research associate at the China Centre, Oxford University, and the School of African and Oriental Studies in London.
"The knock-on effects of a property bust in a market that's as big as China's are going to be remarkable," added Magnus.
"There simply isn't anything that can compensate [for the problem] because nothing – least of all Xi's new productive forces – is sufficiently big. It'll keep the Chinese economy on a low-growth path with all the attendant consequences for unemployment, absent a major program of market reforms, which Xi is opposed to."
Chinese President Xi Jinping is famously opposed to "welfarism," which he reportedly equates with laziness.
Markets have found some solace in announcements emanating out of Beijing, suggesting that stimulus is on the way, but analysts are skeptical even though Hong Kong and Shanghai stocks rallied on Thursday, after China's investment fund had bought a stake in the country's banking giants.
Bill Bishop of the widely read Sinocism newsletter commented, "The relatively small investment by Huijin in the four banks – 477 million RMB, about USD $65 million – is not meaningful financially," adding that the investment fund Huijin had bought similar stakes in the past with the probable aim of achieving a short-term boost to stock values.
'All the money in the world'
"They'll respond with some stimulus but there isn't enough money in the world to make a difference," said Anne Stevenson-Yang, founder and research director at J Capital Research,
"Consider," she said: "If they lend an extra 1 trillion yuan (US$137 billion) – and bank lending is around 90% of financing in this economy – you get less than a 1% boost in credit.
"Basically, so what?"
Oxford's Magnus agreed.
"The speculation is that the central government will use its own balance sheet to announce a stimulus program of about 1 trillion yuan or about 0.7% GDP to breathe new life into the economy," he said.
"If it goes, as in the past, towards infrastructure and real estate projects, it'll spur activity in the short term but leave China's structural malaise worse.
"What China needs is household demand and income stimulus, but this has been studiously avoided so far – and it's not the CCP's way."
Stevenson-Yang said, "We're not going to see a bank failure, because they [the Communist Party] can control that. But the whole shadow sector has collapsed or is collapsing, and that erases a lot of personal wealth.
"And local services are going away," she added in a reference to the belt-tightening forced on local governments, which have even been reducing civil service salaries to make ends meet.
Michael Pettis, Carnegie Endowment economist, writing on X, formerly known as Twitter, pointed out that there may be hidden liabilities for the banking sector with as-yet unknown consequences.
"Mounting damage to banks' balance sheets from the property meltdown could also make stabilizing other parts of the economy more difficult," Pettis said.
"This is likely to be what causes the most long-term damage to the economy … There is likely to be a lot more exposure in less direct forms. That's because after three decades of soaring prices, it would be astonishing if Chinese banks didn't have a lot of indirect exposure to the property market, partly reflected for example in the RMB 3.4 trillion in supplier trade payables estimated by Gavekal," he wrote referring to research by Gavekal Research.
The firm predicted that China's property sector owes 3.4 trillion yuan in trade payables to their suppliers.
"The major damage to the economy caused by a property sector collapse usually occurs not directly through the property sector but indirectly, through wealth effects and, above all, the impact on the banking system," said Pettis.
"With one of the biggest property sectors in history, and perhaps the most expensive real estate bubble since Japan in the 1980s, I'd be really surprised if we were near the end of the adjustment process."
Stability above all
In its Tuesday statement Country Garden admitted, referring to its inability to meet debt commitments, "Such non-payment may lead to relevant creditors of the group demanding acceleration of payment of the relevant indebtedness owed to them or pursuing enforcement action."
Property developer Evergrande's collapse led to widespread "mortgage strikes" and protests China-wide in 2021 and 2022. The fear in Beijing is that Country Garden, which is heavily invested in third- and fourth-tier cities, where the economic crisis is at its worst, will lead to yet more protests.
"The first and utmost priority of Xi and the CCP [Chinese Communist Party] is to maintain power, which means maintaining order and stability," said Australia-based political commentator and former Chinese diplomat Han Yang.
"Xi can't afford to let disgruntled home buyers and contractors go out on the streets to protest."
As to whether Country Garden and other property developers can deliver on their commitments and maintain social stability, Magnus said, "Well, it and its peers might be able to deliver if the government keeps them liquid and able to function.
"[But] they've got to have the working capital to complete construction and deliver.
"I'm pretty sure that Beijing won't want to risk hacking off the fabled middle class whose savings and aspirations are now at risk. Then again, Evergrande proposed a restructuring that the government has now blocked."
He added, "It all looks very messy right now."
Yang is equally ambivalent about how the situation will play out.
"I guess theoretically Beijing could bail out Evergrande and Country Garden, but then what's next? What about the other over-leveraged developers and banks?" he said.
"The long-term outlook of the asset bubble is grim."
Said Magnus, "The government can of course try to spread the pain – and its relaxation of housing regulations plus rumored stimulus could provide temporary relief – but what we are now seeing is a mirror image of all the things that propelled a 20-year boom."