As nations around the world responded to the outbreak of violence between Israel and Hamas, some social media users started circulating a video that they claimed showed North Korea leader Kim Jong Un blaming U.S. President Joe Biden for the war.
An Oct. 12 Instagram post features a video of Kim delivering a speech behind a lectern. Text at the start of the video claims it shows Kim's speech about the Israel-Hamas war. He is speaking in Korean, but English captions were added. 
"Under the Biden administration, conflicts erupt yearly," read the English captions as Kim speaks. "This year a war begins between Israel and Palestine. Last year a war begins between Russia and Ukraine. And two years ago, billions worth of military equipment was left to the Taliban. I'm afraid that if the Biden admin. Does not cease to exist in the next election, world war 3 may begin. Who knows what next year's war will be. I support Donald Trump for President in 2024. Good Luck to Mr. Trump."
This post and others were flagged as part of Meta's efforts to combat false news and misinformation on its News Feed. (Read more about our partnership with Meta, which owns Facebook and Instagram.) We also found this video shared on TikTok.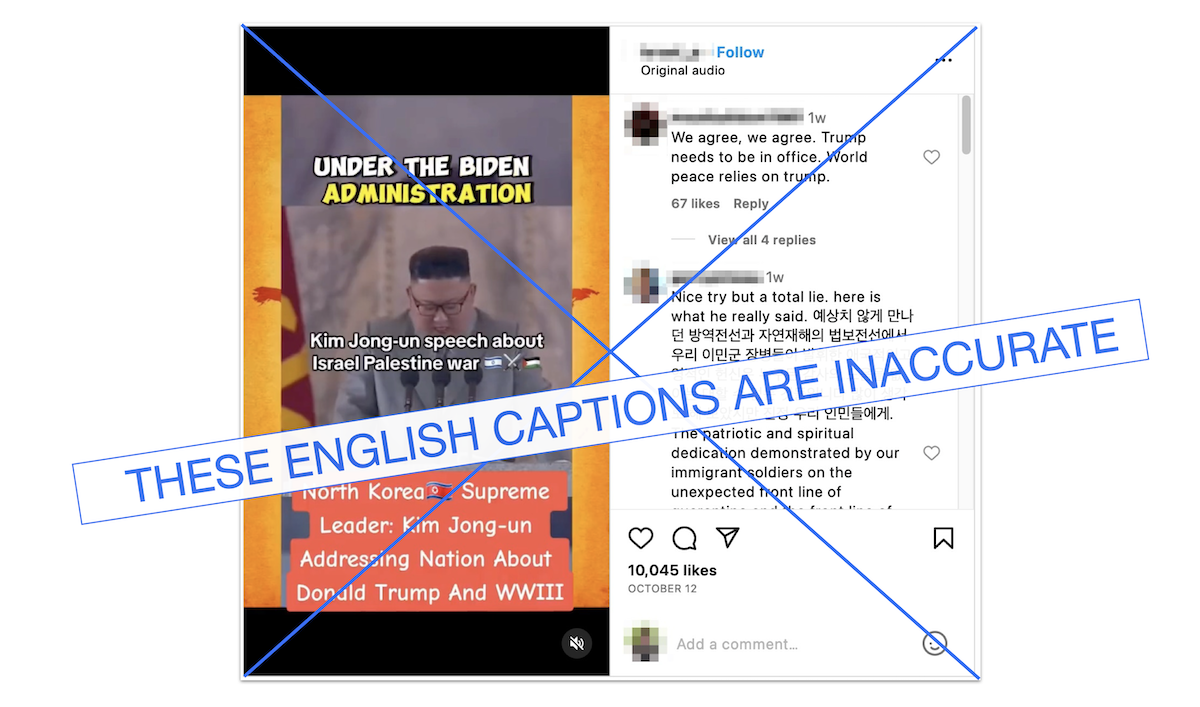 (Screenshot from Instagram)
The English captions do not reflect what Kim said in his address.
A Google reverse image search revealed that Kim delivered this speech in October 2020, three years before Hamas attacked Israel on Oct. 7 and more than a year before Russia invaded Ukraine in February 2022. 
In the speech, made on Oct. 10, 2020, at a military parade, Kim warned he would "fully mobilize" North Korea's nuclear force if it was threatened, Politico reported. Kim also tearfully thanked his people for overcoming burdens, including the coronavirus pandemic, and apologized for not satisfactorily preventing North Koreans from experiencing hardships, according to The Korea Times, an English-language South Korean newspaper. 
The BBC shared a clip that matched part of the video posted on Instagram, and reported that Kim said no one could appreciate North Korean troops' "heroic devotion" without "shedding tears of gratitude."  
The National Committee on North Korea — a U.S.-based organization that says it supports "principled engagement" between the U.S. and North Korea to promote peace on the Korean peninsula — published an English translation of Kim's speech produced by the Korean Central News Agency, a North Korean state media outlet. 
PolitiFact cross-referenced that translation with quotes included by English news organizations, which largely corroborated its accuracy.
The translated version of Kim's speech did not include the words, "Biden," "Trump," "Israel," "Palestine," "Russia," "Ukraine," or "Taliban."
And although Kim mentioned that international sanctions had created challenges for North Koreans, he did not refer to the U.S. by name, Politico and CNN reported.
Our ruling
An Instagram video claimed to show a speech in which Kim blamed Biden for the Israel-Hamas war and Russia's invasion of Ukraine and said, "I support Donald Trump for President in 2024."
A reverse image search revealed that speech was from Oct. 10, 2020. A translation and news reports about the speech's content show that the English captions superimposed on the video are inaccurate. He did not mention Biden, Trump, Israel, Hamas, Russia or Ukraine.
We rate this claim False.