An Oct. 17 attack on a Gaza hospital, estimated to have killed hundreds of civilians being treated and taking refuge there, sparked a blame game between Israel and Palestinian officials, with each accusing the other of responsibility.
Amid this back and forth, claims spread on social media that The Wall Street Journal reported that the blast at the Al-Ahli Arab Hospital was caused by an American missile.
"The Wall Street Journal: 'The bomb that was dropped on the hospital was an American MK-84,'" read an Oct. 17 post on X, formerly Twitter. "This bomb is precision-guided, largest in MK family and has about 950 kg weight."  The post had been viewed more than 375,000 times as of this publication.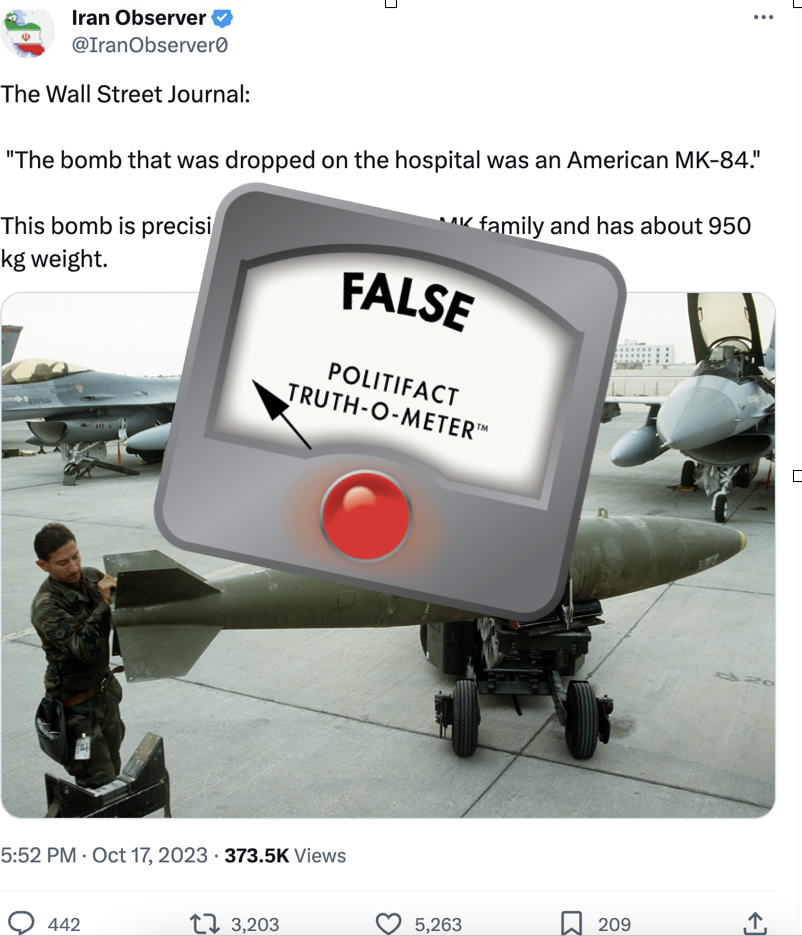 Screenshot via X
A Wall Street Journal spokesperson told PolitiFact that the newspaper did not publish any report about an American MK-84 being used in the blast.  
The newspaper has published multiple stories about the hospital explosion, as well as live updates about the war. None mention an American-made missile causing the explosion.
We found no evidence that any other credible news source made such a report.
Shortly after the explosion, Gaza's Hamas-run Health Ministry said it was caused by an Israeli airstrike. But Israel denied involvement, and said the explosion was the result of a misfired rocket by an armed Palestinian group.
On Oct. 18, U.S. officials announced that intelligence, which included satellite data, intercepts and open-source information, indicated that the blast wasn't caused by an Israeli airstrike and instead suggested it came from a rocket launched by the Palestinian Islamic Jihad militant group. 
But officials cautioned that the assessment is preliminary and said they were still collecting and analyzing evidence.
We rate claims that The Wall Street Journal reported that the explosion was caused by an American ballistic missile False.