Photos and videos on social media show thousands of missiles launched from Gaza to Israel, drones and grenades destroying tanks, Hamas militants armed with assault weapons and machine guns breaching the fenced boundary between Gaza and Israel. 
These images have led some congressional Republicans and social media users to question the provenance of Hamas' arsenal and the militant group's ability to attack Israel by surprise. Some claim that U.S. weapons are now in Hamas' hands — weapons meant for Ukraine or left behind by U.S. troops in Afghanistan.
PolitiFact conducted advanced searches on Google and the database, Nexis, spoke with six experts in military, terrorism and middle eastern affairs and the U.S. State Department and found no public confirmation that Hamas used U.S. weapons in the Oct. 7 attacks. However, experts told PolitiFact it is not inconceivable for Hamas to have U.S. weapons. 
Here's what we know about where and how Hamas gets its weapons.
How claims that Hamas has U.S. weapons spread
Speculation that Hamas has U.S. weapons went viral on social media soon after Hamas attacked Israel.
"We need to work with Israel to track serial numbers on any U.S. weapons used by Hamas against Israel," Rep. Marjorie Taylor Greene, R-Ga., said Oct. 8 on X, formerly Twitter. "Did they come from Afghanistan? Did they come from Ukraine? Highly likely the answer is both."
Jim Ferguson, a former Brexit Party parliamentary candidate, posted Oct. 8 on X, "Breaking News Israel: US weapons left behind in Afghanistan used to attack Israel." 
A fabricated video claiming to be a BBC News report falsely said investigative journalists from Bellingcat, a Netherlands-based group, "concluded" that "Ukraine supplied the majority of the weaponry used by the Palestinian Hamas movement." BBC and Bellingcat journalists say the video is fake.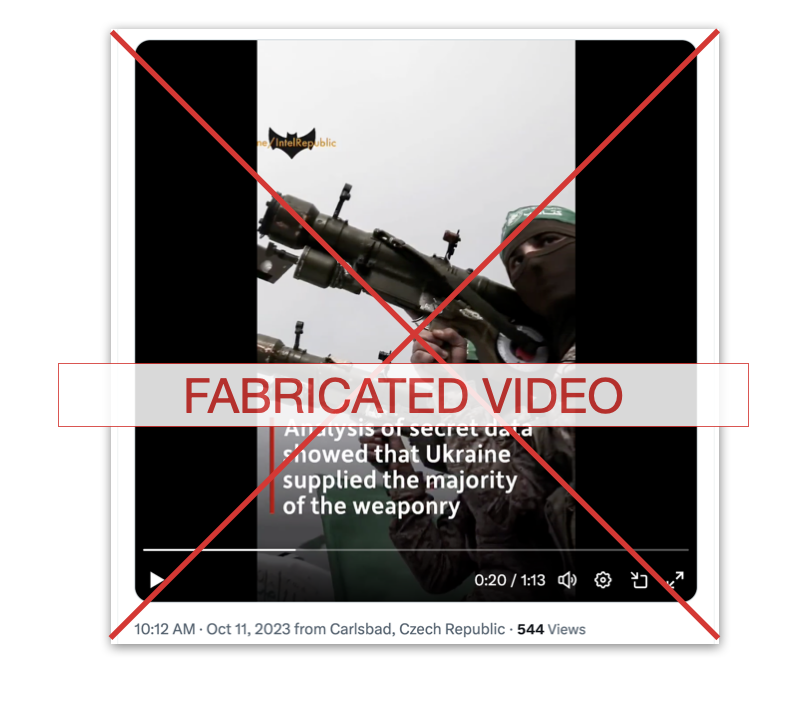 In 2022, BBC News reported that social media posts originating in Russia falsely claimed that Ukrainians were selling U.S.-provided weapons on the black market. BBC said the posts used photos of weapons from previous years and conflicts, including the civil war in Syria, which started in 2011.
Other claims that Hamas has U.S. weapons trace back to an anonymous source cited in a June Newsweek article.
How does Hamas usually get its weapons? 
Iran smuggles weapons to Hamas and also trains the militants on how to build their own weapons, according to the CIA's World Factbook. The U.S. State Department has said that Hamas gets funding from Iran. 
Ahmed Fouad Alkhatib, a Middle East analyst and guest contributor for the Washington Institute, a pro-Israel U.S. think tank based in Washinngton, D.C., said Egypt's crackdowns on smuggling routes that run through its country has forced Hamas to build and source more weapons locally in Gaza. But some materials needed to build weapons continue to be smuggled, he said.
Hamas sometimes builds weapons using materials recovered from Israeli strikes, such as rubble and unexploded weapons, a 2021 report from the Washington Institute said. Materials are recycled and used to create rocket propellers and warheads. 
Ali Baraka, a senior Hamas official, told RT Arabic, a Russian state-owned news outlet, Oct. 8 that Hamas has weapon-building factories in Gaza. 
Is there evidence that Hamas is using U.S. weapons?
Fouad Alkhatib told PolitiFact that footage of the Oct. 7 attacks shows Hamas fighters using Soviet-era missiles, not weapons the U.S. has provided to Ukraine. He added that "no visual or open-source intelligence confirms" Hamas' use of U.S. weapons left behind in Afghanistan.
Fouad Alkhatib says videos of the attack also show weapons produced in Gaza. 
An NBC News report about weapons confiscated by the Israel Defense Forces and a CNN analysis of videos and photos of Hamas' Oct. 7 attack reached the same conclusions. 
"You can see by the symbols on all the equipment that everything is homemade of Hamas," an Israeli soldier said in a video posted Oct. 15 by the Israel Defense Forces. 
These confiscated weapons are only 20% of the ones used by Hamas to kill Israelis.

In order to prevent further attacks, the IDF will see to the removal of Hamas' terrorist infrastructure and weapon manufacturers in Gaza. pic.twitter.com/T0MLLgYrAw

— Israel Defense Forces (@IDF) October 16, 2023
However, Michael Knights, a military expert at the Washington Institute, said Hamas can obtain U.S. weapons by buying them on the black market or by capturing weapons the U.S. sent to Israel.
Iran also trains Hamas on how to build copies of U.S. weapons, he said.
David Silbey, a Cornell University military expert, said that if Hamas has U.S. weapons, they are likely small weapons used by one person, rather than large armored vehicles or missile systems which would be more difficult to smuggle into Gaza.  
What about the weapons sent to Ukraine?
Knights said claims that Ukraine has been selling the weapons it has received from the U.S. on the black market are a "conspiracy theory" intended to stop U.S. aid to Ukraine.
Other experts, Ukrainian officials and an Israel Defense Forces spokesperson agree.
Brian Micahel Jenkins, a terrorism expert at Rand Corp., a global policy think tank, said this conspiracy theory fits with a larger Russian campaign.
"The way Russia sees as its path to victory in Ukraine is to basically persuade Ukraines backers in the West that the contest is hopeless, that Ukrainians are corrupt and do everything they can to discourage continuous support," Jenkins said. "Russia wins by cracking U.S. western support."
Nevertheless, weapons left behind in battlegrounds, or that were lost, stolen, or sold can end up on the black market. 
Vietnam War weapons have shown up in other conflicts in different parts of the world, Jenkins said.  
"No war will be unfought because of a lack of weapons," he said.
In October 2022, the State Department published a fact sheet about U.S. efforts to keep weapons sent to Ukraine from ending up in different hands, such as safeguarding arms and ammunition when they're transferred and deployed and bolstering security and border management in Ukraine and neighboring states. Ukraine's "intense internal demand" for weapons has also prevented U.S. weapons from leaking into the black market, the State Department said. 
However, the State Department added that U.S. weapons can surface on the black market if Russian forces capture them after battling Ukrainians. 
In a February House Armed Services Committee hearing, Colin H. Kahl, then-undersecretary of defense for policy, told lawmakers there was no "significant diversion" of U.S. weapons and "no evidence the Ukrainians are diverting (them) to the black market."