ONLYOFFICE Docs, as the name suggests, is an open-source office suite and document viewer that's loved by thousands of people. The much-awaited ONLYOFFICE Docs 7.5 is finally here and it brings lots of new features, changes, and improvements. For those unaware, the app is on par with Microsoft's Office suite and what's better is that it's completely free to use for personal use. Here's everything new in ONLYOFFICE Docs 7.5.
New PDF Editor in ONLYOFFICE Docs 7.5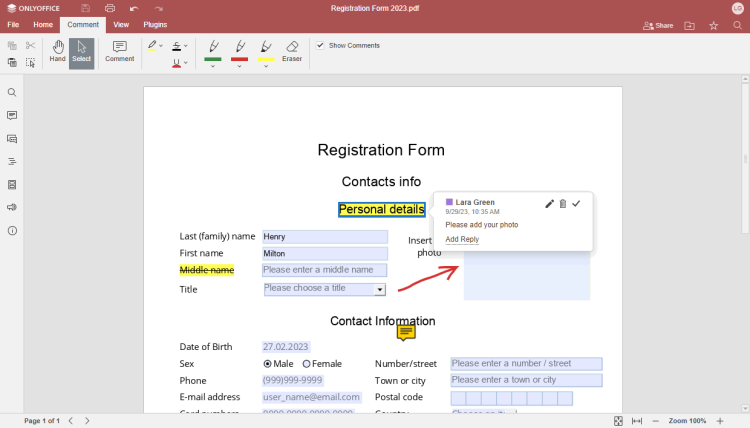 PDFs have become a standard file format in business and document management. The latest ONLYOFFICE Docs 7.5 version brings a comprehensive PDF Editor. The same supports annotations such as text highlighting, underlining, and strikethrough, as well as form filling, comments, and drawing. With collaborative editing features coming in future releases, this PDF editor is a versatile tool that you can use to get all your PDF-related tasks done in a jiffy.
ONLYOFFICE Docs 7.5: New Documents Features
Automatic Hyphenation
If you're using ONLYOFFICE Docs in a professional setting, chances are you often find it difficult to use hyphens in documents and find yourself going forward and backward with your mouse or keyboard. ONLYOFFICE Docs 7.5 brings automatic hyphenation for text documents, which, as the name suggests, will help streamline document creation by eliminating the need to manually hyphenate words at line ends. As users adjust margins, the software automatically hyphenates words, so you spend less time looking at document formatting and more time focusing on the contents of the document.
Document Editing Enhancements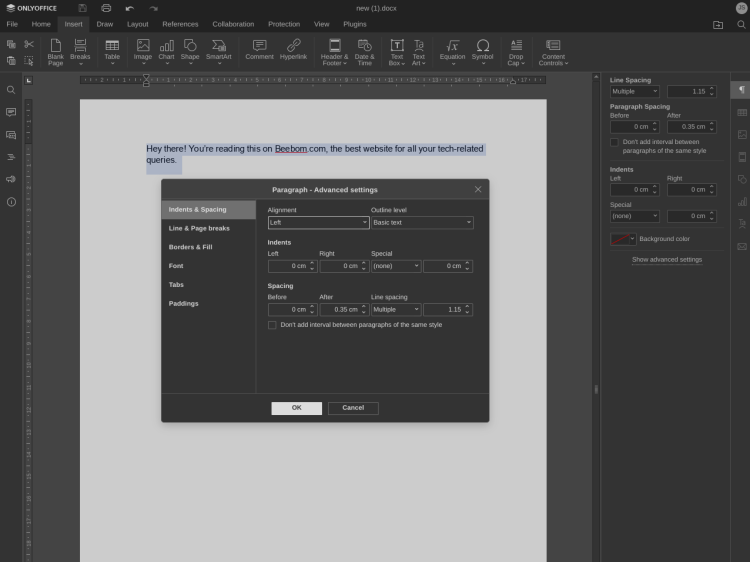 Besides a brand new PDF editor, version 7.5 also includes an advanced setting that facilitates smart paragraph selection. When this feature is enabled, selecting an entire paragraph without the paragraph symbol automatically adds the symbol to the selection. This subtle improvement enhances the overall user experience. Also, when a user enables and changes the control of the inserted control element while using Content Controls, the control will be automatically deleted but its contents will remain. This also applies when manually clicking on the Remove Content Control Option.
ONLYOFFICE Docs 7.5: New Spreadsheets Features
Retaining Applied CSV Delimiter
For those unaware of what a CSV Delimiter is, it is a character that separates data in a CSV file into separate values. The 7.5 update includes a feature that remembers the last selected settings, such as delimiter and encoding when opening CSV files. This not only saves time but ensures that users don't have to repeatedly configure settings each time they work with CSV files, streamlining their workflow and giving them peace of mind.
Visualizing Formula and Cell Relationships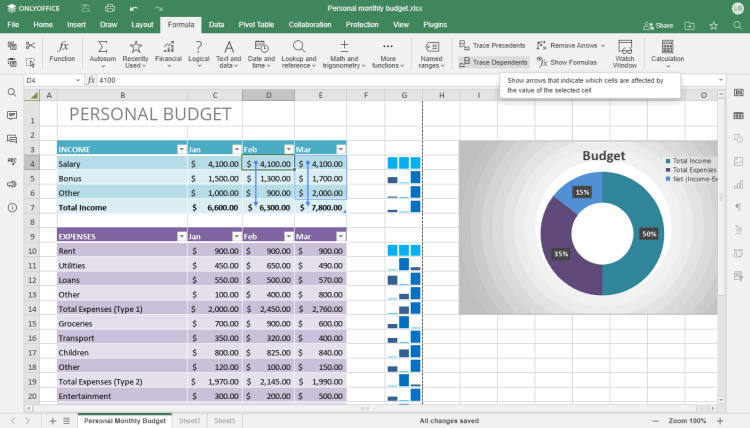 ONLYOFFICE Docs 7.5 introduces Trace Precedents and Trace Dependents options in spreadsheets. These features use tracer arrows to graphically display and trace relationships between cells and formulas. This visual aid simplifies the verification and validation of formulas, making sure users spend less time organizing cells in a spreadsheet.
Spreadsheet Editor Enhancements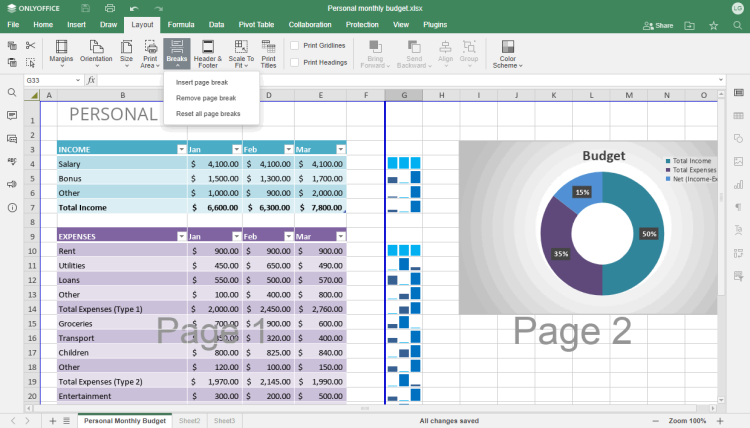 The spreadsheet editor in the version 7.5 has also been updated. Users can now insert page breaks to divide worksheets into separate pages for printing. Additionally, they now have the ability to add images to headers and footers, allowing more customizations to the top and bottom margins. Rows and columns can also be effortlessly moved within a spreadsheet using drag-and-drop functionality.
Improvements have also been made to Pivot Tables, with the ability to set number formats via Field settings and easy access to the Show Details option directly from the context menu or by double-clicking on Pivot Table cells. These enhancements should allow users to work more efficiently with complex data.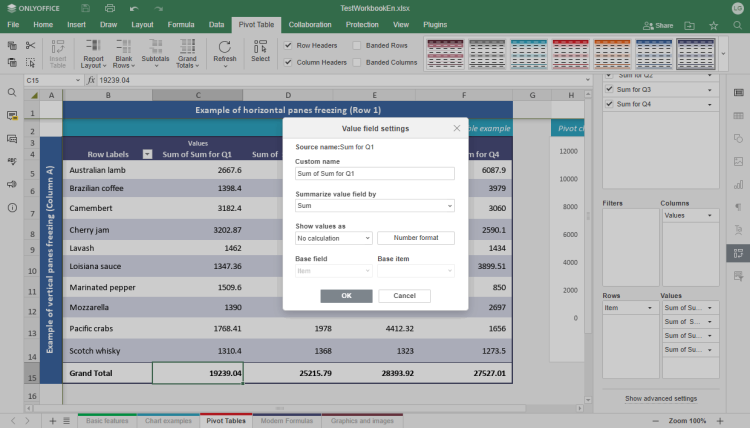 ONLYOFFICE Docs 7.5: New Presentations Features
More Features in Presentations
The presentation creator in ONLYOFFICE Docs 7.5 has been redesigned and features an updated editor color scheme with the Morph transition. This transition enables smooth animations between slides, making them more presentable. Users can apply Morph transitions to objects, words, and even individual letters.
Furthermore, you can now assign object names to simplify the identification and alignment of objects across slides.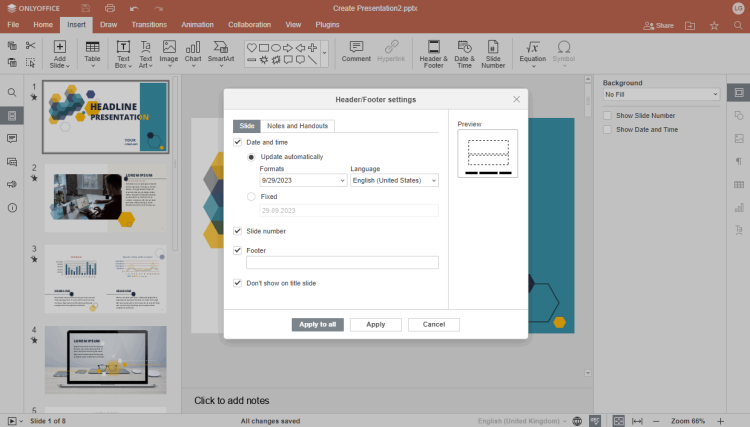 The Header and footer settings also received a makeover and now make it easier to manage elements in presentations. Other features include tips for slide placeholders, the ability to select the starting slide for numbering, and the option to add SmartArts via a placeholder.
Other User-Friendly Updates in ONLYOFFICE Docs 7.5
ONLYOFFICE Docs 7.5 includes several smaller improvements that enhance the overall user experience. Features like the Hide Equation Toolbar setting, the Edit points option in the shape context menu, and quick access to commonly used symbols make tasks more efficient. There are also tips for image placeholders in Picture SmartArts and the ability to open editors with the last applied scaling, further streamlining the workflow.
ONLYOFFICE Docs 7.5: Updated Desktop App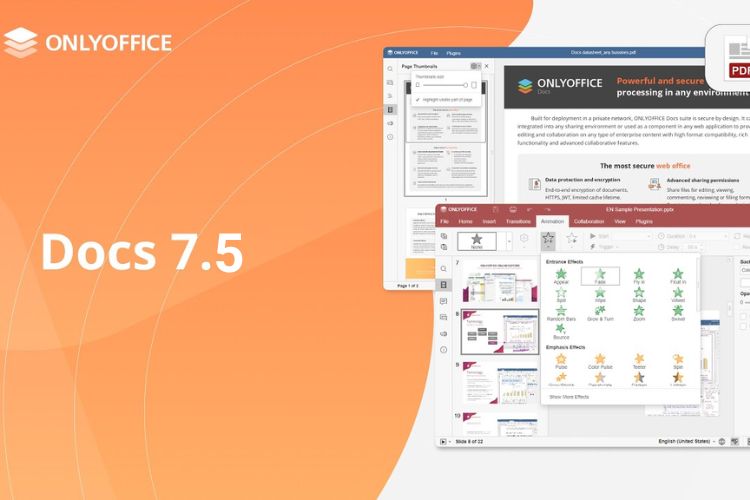 For users who prefer working with local files, the desktop version of ONLYOFFICE Docs has been updated to version 7.5. The app is available on Windows, Linux, and macOS, and now offers additional scaling options. Users can create documents from local templates and make use of an extended Open Recent option in the editors, improving the offline editing experience.
Download ONLYOFFICE Docs 7.5