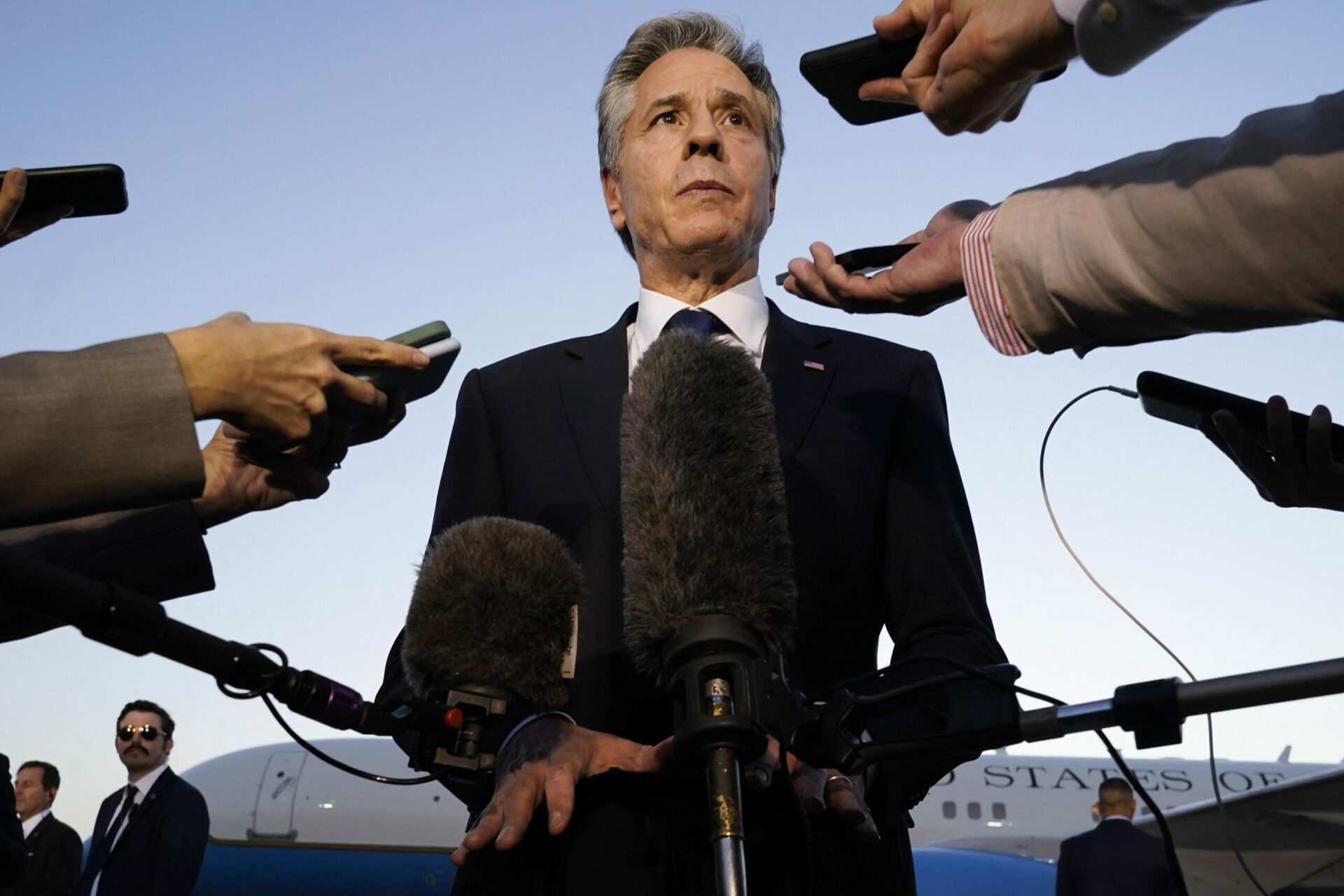 U.S. Secretary of State Antony Blinken will make an unscheduled return to Israel on Monday following talks with Arab officials, as increasing attacks from Iran-backed Hezbollah open up a second front on Israel's northern border.
Separately, the U.S. said it has held back-channel talks with Iran, with which it has no formal diplomatic relations, to warn Tehran against escalating the conflict in Israel.
In the most intense crossfire between Israel and Hezbollah in days, the latter said it attacked Israeli military posts near the border with Lebanon on three different occasions on Sunday.
The Middle East's most powerful militia said it fired guided missiles and used shells and live ammunition in its attacks, which included an army base. Israel Defense Forces said nine rockets were fired from Lebanon into Israel including five that were intercepted.
The increased attacks came as Iran's Foreign Minister Hossein Amirabdollahian warned that "no one can guarantee control over the situation and prevent the conflict from spreading" if Israel continues its offensive on the Gaza Strip.
Amirabdollahian met with Qatar's ruler in Doha after holding talks with Hezbollah's leader Hasan Nasrallah in Beirut last week.
Iranian President Ebrahim Raisi delivered a similar message to French President Emmanuel Macron in a call on Sunday, warning that if the siege of Gaza doesn't stop, "the scene will expand."
Israel has said it's preparing for a ground invasion in Gaza to "wipe out" Hamas, the Palestinian militant group that rules the Gaza Strip and was behind the Oct. 7 attack on the Jewish state. Hamas militants infiltrated Israel via land, sea and air in an unprecedented operation that killed over 1,200 people.
Israel has since pounded Gaza, killing more than 2,300 people and injuring thousands more, according to local officials. It has asked 1.1 million residents in the northern sector of Gaza to move south for their own safety, an evacuation deemed by the U.N. as "impossible."
Blinken, who held meetings in Tel Aviv on Thursday as part of a hectic trip across the region, will touch down again for several hours on Monday before returning to Washington, State Department spokesman Matthew Miller told reporters.
It will cap a frantic diplomatic sprint as Blinken crisscrossed the Middle East with stops in Jordan, Bahrain, Qatar, Egypt, Saudi Arabia and the United Arab Emirates. Blinken met in Riyadh on Sunday with Saudi Crown Prince Mohammed bin Salman.
The U.S. is urging its Arab partners to put pressure on Hamas and prevent Iran-backed militant groups such as Lebanon-based Hezbollah from getting involved in the conflict.
Iran supplies Hamas with funds and training but has denied involvement in the Oct. 7 operation. It's also Hezbollah's main backer.
Cross-Border Attacks
Hezbollah's initial attack on an army post in Shtula in Upper Galilee on Sunday killed one Israeli and wounded three others Sunday, according to Israel's rescue service. The skirmishes are continuing.
The group said the attacks were in retaliation for the killing of two Lebanese nationals in Shebaa Farms and a Reuters reporter near the southern village of Alma Al-Shaab last week. Shebaa Farms is land claimed by both Lebanon and Syria that Israel captured from Syria in the 1967 Middle East war.
Hezbollah's Al-Manar television channel showed footage of a hilltop it described as the Al-Raheb post, saying fighters had raised the group's flag. There was no confirmation from the Israeli side that the post had been taken by Hezbollah members.
Other footage showed a funeral for one of three Hezbollah fighters killed last week by Israeli fire; hundreds flocked to the western part of the Bekaa region, with some wearing military fatigues and others raising the Palestinian and Hezbollah flags.
Hezbollah fought a month-long war with Israel in 2006 and its fighters have since seen extensive ground combat in Syria, where they fought on the side of President Bashar al-Assad. It is known to have an arsenal of missiles that can reach deep into Israel.
___
© 2023 Bloomberg L.P
Distributed by Tribune Content Agency, LLC.