The latest One Piece manga chapter 1095 took us to the most anticipated God Valley flashback. Longtime One Piece fans know exactly how long we have been waiting to learn more about this legendary incident. Now, author Eiichiro Oda is finally revealing the whole truth about God Valley by including some of the greatest characters we never thought were present there in the first place. Among the list of characters, we have been introduced to a new female character called Ginny (also referred to as Jinny by fans).
One look at Ginny and her behavior has the fans chattering. She is speculated to be the mother of the main character, Luffy. Did that pique your interest? If so, keep reading to discover who Ginny is and whether she is related to Luffy or not.
Spoiler Warning: This article contains spoilers about the story and the characters in One Piece. We suggest you watch the anime and read the manga (up to chapter 1095) to avoid ruining the intended experience.
The Introduction of Ginny in One Piece
One Piece chapter 1095 presented us with the expansion of Bartholomew Kuma's backstory; lots of new intricate details about his past were revealed. One of the major highlights was that Kuma was the last survivor of the Buccaneer race. Kuma was enslaved by the Celestial Dragons and, as a result, was taken to the God Valley. We even got to see a young St. Garling Figarland in this chapter. During this incident, Kuma meets Emporio Ivankov and a young girl named Ginny in chapter 1095.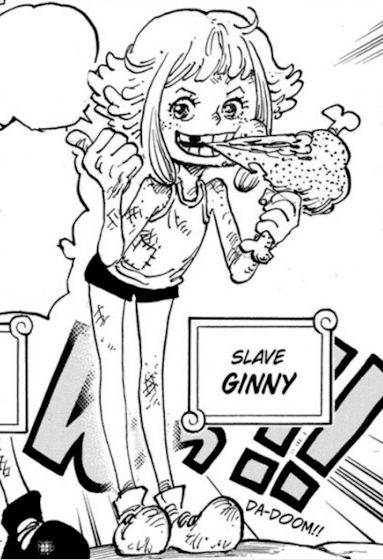 This event disclosed that Ivankov was a slave before becoming part of the Revolutionary Army in One Piece, just like Kuma. Ivankov along with Ginny introduced themselves and were surprised to see a member of the Buccaneer race. That's where we first get to see Ginny eating a piece of a large piece of meat and smiling wide. Remember this point as it serves as a parallel to establish a connection with our beloved main character. She uttered the following words to Kuma, "Big Bro here is pretty big himself, don't you think?" You can learn more about her relationship in the sections below.
Is Ginny Luffy's Mother in One Piece?
Before this chapter was released, the spoiler readers started speculating that she was the protagonist Luffy's mother. The main reason was that Ginny had a big grin on her face similar to Luffy, along with the way she was seen tearing into that piece of meat. Even Ginny's eating style resembled Luffy's, as we have tried to indicate in the image above. These facts together made some of the fans believe that we have finally got the long-awaited reveal of Luffy's mother.
We know that Monkey D. Dragon was the one who recruited both Kuma and Ivankov to the Revolutionary Army. Then, it is likely that he also recruited Ginny, as this trio was seen together at God Valley. Their age also seems to match and suit this theory. Furthermore, if she was Luffy's mother, then Ivankov would have acknowledged Luffy as Ginny and Dragon's son when they had first met or even during the Marineford war arc (one of the best One Piece arcs). But that didn't happen.
So, I highly think we are on the wrong track, and the revelations in the upcoming chapters will confirm the same. Ginny is sure to play an important role in the upcoming chapters, but that role won't develop into her being Luffy's mother. It's because her characteristics match perfectly with another character, who is also at Egghead Island. Did you guess who that is? If not, it's none other than Jewelry Bonney.
Is Ginny Bonney's Mother (Kuma's Wife)?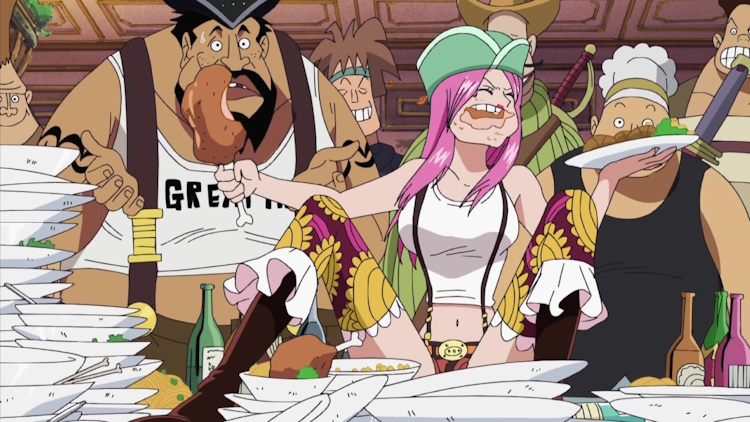 So why is Ginny perfectly suitable for the role of Jewelry Bonney's mother/ Kuma's wife? Let me explain! One Piece chapter 1095 revealed that Kuma will befriend Ginny along with Emporio Ivankov. In the next OP chapter, together they are expected to escape from being slaves, well, of course, with some help from Monkey D. Dragon (read what D stands for in One Piece).
In the present timeline, Ginny is nowhere to be seen in the One Piece story, which means she must have lost her life shortly after marrying Kuma and Bonney's birth. If she were alive, we would have seen her working alongside her husband in the Revolutionary Army.
So, if you remember, Jewelry Bonney was introduced the same way as Ginny when she was seen eating a big piece of meat and her favorite pizza in One Piece. Next is Ginny's name, which rhymes with Bonney's name perfectly. What we are about to say next may seem silly but when Bonney infiltrated Mary Geoise, she went by the name Connie, which points out the naming style for their family. These together with the story focusing on Kuma's character, suggest that Kuma and Ginny tied the knot and led to the birth of Bonney.
The voracious appetite, similar characteristics, and relation with Kuma stay cohesive and make the fact that Ginny is most likely Bonney's mother and Kuma's wife in One Piece. The fan-colored spreads also paint Ginny's hair pink, just like Bonney. However, we have to wait for the color spread of chapter 1095 to get an official confirmation.
But at the end of the day, these are just speculations and more light will be shed on this new mystery in the next chapter. In the meantime, what do you think about Ginny's character? Which side are you on, Is Ginny Luffy's mom or Bonney's mom? Let us know your opinions in the comments below.