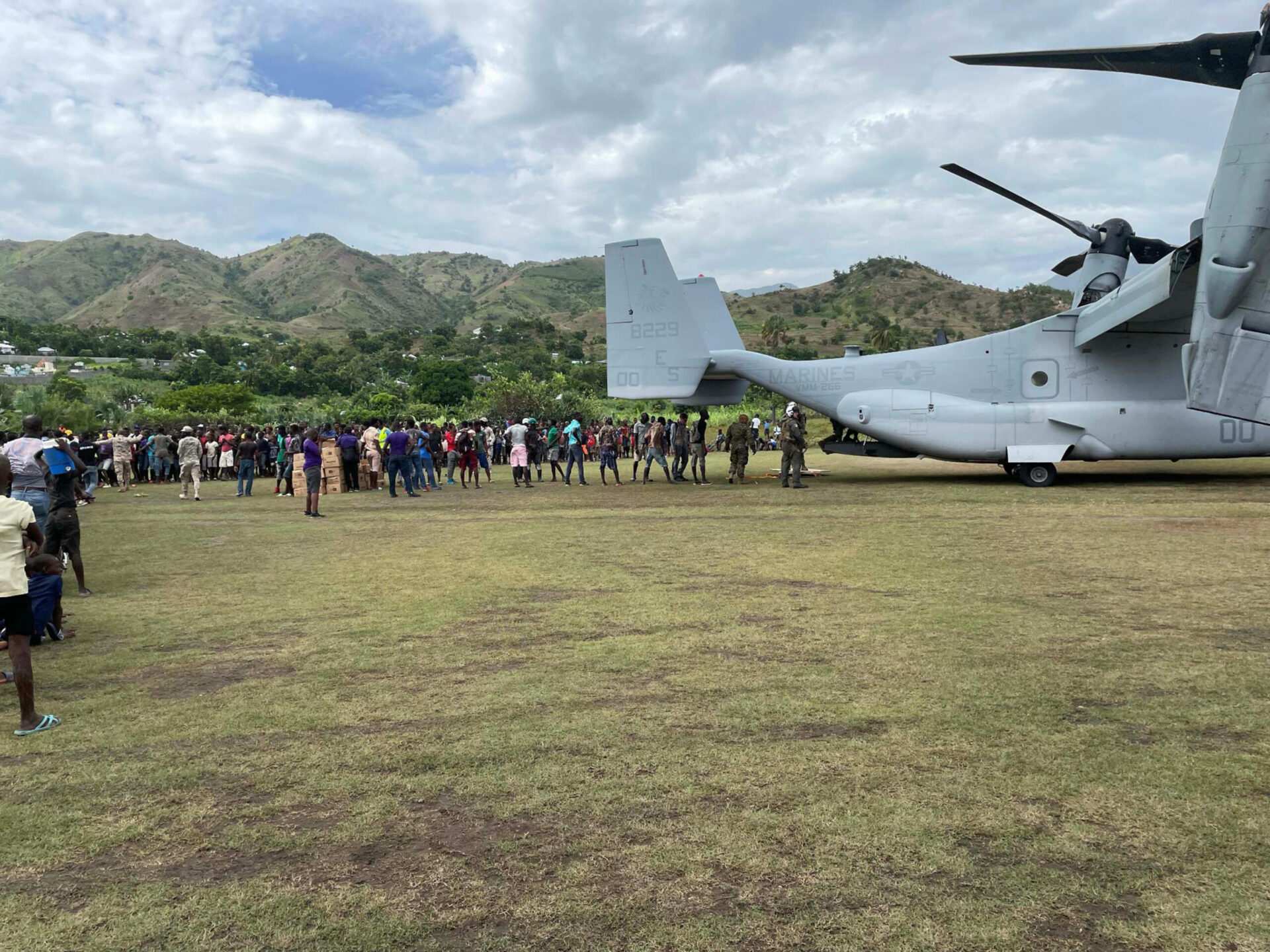 Three of them came dressed in their Sunday best, wearing suits and sitting among the worshipers. Twelve others were heavily armed and wearing SWAT uniforms similar to those of the Haiti National Police.
Their mission: find the pastor and grab him.
But the brazen attack, partially captured while a church service in Haiti was being streamed live on Facebook, didn't necessarily go as planned after the armed bandits invaded.
The incident occurred at Christ Rendez-vous Church in the Delmas 75, neighborhood of Port-au-Prince. In the video, seven choir members are seen on stage singing when one of them suddenly stops, and looking uncertain, tries to make out the figures moving toward the stage. Then the members start to scatter, placing their microphones down before the screen goes dark.
In a post, the church's pastor, Julio Volcy, then issues a plea for help. "Bandits invade the church. I ask for your help to pray for us," he said.
In an interview with the Miami Herald, Volcy said one of the alleged assailants was killed by police and a member of his 30-person security team was kidnapped. Several worshipers were also robbed during the invasion, and equipment from the church was stolen.
"They were looking for me," he said. "My security managed to grab me and place me in a secure location."
Volcy said he and his team were already sensing trouble when he arrived for his 7 a.m. service on Sunday morning. He noticed an unfamiliar face sitting in the congregation very close to him, dressed in a suit. Volcy, himself, was dressed down.
"It's only every now and again we dress up and we noticed that this isn't someone who is a regular," he said.
During the welcome, Volcy said he went to shake the visitor's hand. This is when his security realized the man was armed, and approached him. The visitor then said that in a few minutes a "police" backup would arrive for a kidnapping operation.
Realizing that he was targeted, Volcy said his security agents whisked him away to a secure location on the premises and alerted the rest of the security.
"Moments later a dozen guys came out of vehicles, they all had large guns, and they were dressed in police uniforms with ski masks," Volcy said. "The guy who was sitting next to me, then entered with the [armed gunmen] because he was the one who had to identify who the pastor was."
Volcy, who was watching everything on the church's closed circuit cameras, said when they entered, "they made people lie on the ground, they stole telephones and disconnected our computers, televisions so the incident wouldn't be livestreamed."
At the moment of the attack, Haiti National Police agents were carrying out another operation nearby where they freed three people and two bandits were allegedly killed. They responded quickly to the church attack and police wounded one of the alleged assailants who later died at the scene. There are preliminary reports that a police officer from the 22nd promotion was also killed. Haiti media have identified him as Marc Elie Azaël. A police investigation is ongoing.
Volcy, who is a U.S. citizen and active in helping the country's youth since returning to Haiti 13 years ago, says he doesn't know why he was targeted. He is a well-known figure who is active in the Protestant Federation of Haiti, his church has been visited by diplomats and he has been active in trying to get Haitians to reach a political consensus on the country's governance.
"There are people who like this, but there are people who probably don't like this too and probably is the reason why they attempted to kidnap me. But God had other plans," he said. 'Since 2018, we have a security team in the church that's about 30 people and…they put me in a secure location."
Haiti is plagued by soaring gang violence and kidnapping and not even houses of worship are immune. There are several incidents of people being kidnapped while attending church. In 2021, four people, including a pastor and a well-known pianist, were kidnapped and it also played out live on social media. The group, members of the Seventh-day Adventist Gospel Kreyòl Ministry Church in Diquini on the outskirts of metropolitan Port-au-Prince, were performing live on Facebook and YouTube in a studio adjacent to their church when a heavily armed man walked up to the stage and abducted them.
Haiti is seeing an unprecedented wave in gang violence. More than 2,500 people have died so far this year at the hands of gangs, the United Nations said, and at least 970 Haitians have been kidnapped. Thousands of others have been forced from their homes by gangs who have emptied out entire neighborhoods.
Among the latest victims of the violence is a U.S. citizen, Lauren Charles, who was reportedly ambushed by gangs in Port-au-Prince's Cul-de-Sac plain and shot on Tuesday. A photo of her passport was circulated on Haitian social media and a family member, contacting the Miami Herald, said they are trying to find the document in order to have her body return to the U.S.
The latest wave of violence has also resulted in the forced displacement of over ten thousand people who have sought refuge in spontaneous camps and host families.
Last week, the United Nations Security Council approved the deployment of a multinational security mission into Haiti that will be led by the East African nation of Kenya.
___
© 2023 Miami Herald
Distributed by Tribune Content Agency, LLC