With less than a week remaining for Neuvillette and Hu Tao banners, Genshin Impact 4.1 will end soon after Wriothesley. Genshin Impact 4.2 might not be around the corner yet but there are tons of things to be excited about. For starters, it will bring a map expansion to Fontaine, the sequel to the last Archon quest, and a few more things we covered in our Genshin Impact 4.2 leaks and rumors article. If you're here to know which characters and weapons will show up in Genshin Impact 4.2 banners, you've arrived at the right place.
Genshin Impact 4.2 Banners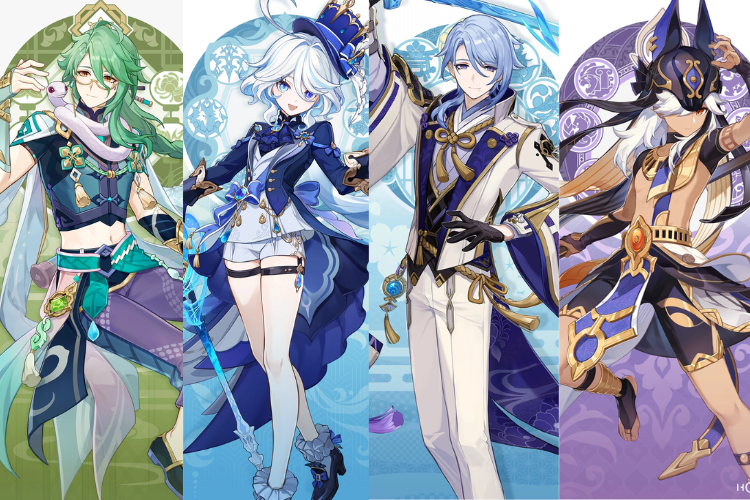 Phase
Characters/Weapons
Start and end date
Phase 1 5* Characters
Furina and Baizhu
November 8 – November 29
Phase 2 5* Characters
Ayato and Cyno
November 29 – December 20
Phase 1 4* characters
Charolette, Beidou, and Collei
November 8 – November 29
Phase 2 4* Characters
Kirara, Xiangling, Kuki Shinobu
November 29 – December 20
Phase 1 Weapon Banner
5*: Splendor of Tranquil Waters(Confirmed) and Jadefall's Splendor (Confirmed).
4*: Unknown
November 8 – November 29
Phase 2 Weapon Banner
5*: Haran Gepaku Futsu (Expected) and Staff of the Scarlet Sands (Expected)
4*: Unknown
November 29 – December 20
As you may already be aware, Genshin Impact banners in each version are divided into two phases — each phase features two characters. There's one weapon banner for one phase and features the signature weapons of the characters in the banners.
The first phase of Genshin Impact 4.2 will feature the sassiest of sassy archons, Furina aka Focalors and Baizhu. However, all you need to know is she's an off-field DPS / Support character and will pair great with Pyro units in the game. Baizhu, on the other hand, is a healer, and from what we feel, it looks like Furina's banner will overpower his.
The second phase will feature the current head of the Yashiro Commission, Kamisato Ayato alongside the most hilarious fellow in Teyvat, although the "Mahamatra" moniker signifies otherwise, the General Mahamatra of the Akademia, Cyno. The weapons banner in the second phase will feature Haran Gepaku Futsu and Staff of the Scarlet Sands, signature weapons of Ayato and Cyno, respectively.
It's too early for the four-star weapons to leak but we should start seeing a few leaks as early as the next two weeks. Although, this is probably the first time all four-star characters have leaked a whole month ahead of a version release.
How do Banners in Genshin Work?
There are three types of banners in Genshin Impact — Limited Time Character, Weapon, and Permanent banners. Although the last one is pretty self-explanatory, the former two are limited. Each Genshin Impact version is divided into two phases and each phase features two limited-time character banners and one weapon banner. Each phase lasts for three weeks, i.e., 21 days, and one patch lasts for 42 days.
That said, show your excitement for your favorite upcoming characters in the comments section below. Do let us know your "game" plan and for whom you are saving primogems.