By Vodina Richard; Obaji Akpet
Former senator representing the central part of Cross River and the All Progressives Congress (APC) candidate at the last governorship election in Cross River State, Senator John Owan Enoh has been quietly into the farming business, but the impact these farms have had and the underpinning vision seems to be something everyone should now raise their eyebrows and care about.
It all began sometime in the year 2000 when Enoh began to contemplate farming, joining the few successful politicians to hearken to the country's call to invest in the agricultural sector at a time when there were forecasts that Nigeria's oil economy was going to have a nosedive.
Ex-Lawmaker, Senator John Owan Enoh inspecting one of his palm farms at Agbokim waterfalls. (Photo credit: Michael Ogar)
"Once I could be able to own a farm, that was when I began to get involved and started developing it," Enoh told our correspondent in the latest of interviews he granted at his residence in Calabar.
Commencing with about 150 hectares of planted palms in his native Agbokim waterfalls at the time and expanding to about 100 hectares of planted palms, and counting, at Etara-Ekuri, all communities in Etung LGA of Cross River State, where the politician hails from, Sen Enoh's drive is unmistakable.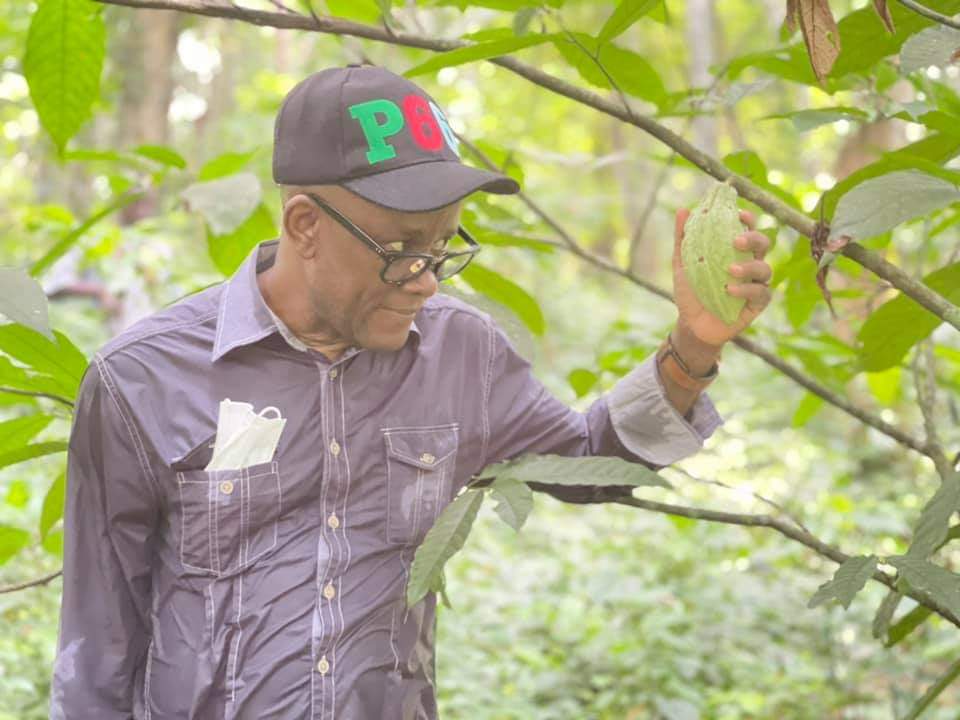 Today Enoh has emerged on the other side, not just a politician, but a farmer is known to have over 2000 hectares of farm for arable and livestock production, Odu Okongor, the supervisor for Mr Enoh's several farms told our reporter on the phone.
With an additional holding that includes 100 hectares of cocoa and still planting at Bendeghe Afi in Ikom LGA and Etara-Ekuri, about 100 hectares of planted cassava essentially for propagation, a gigantic pig pen almost being completed for the about 1000 pigs in his piggery farm, an expected 5000 birds poultry in Ikom as well as a planned ranch, the Senator is a farmer to watch. The Senator also grows plantain and banana in large quantities, said Mr Odu Okongor, eager to talk about his friend's farming exploits.
"The idea of owning a farm has always been there from the cradle," said the former lawmaker who isn't completely new to the farming business having been born into an agrarian family and brought up in a largely farming environment.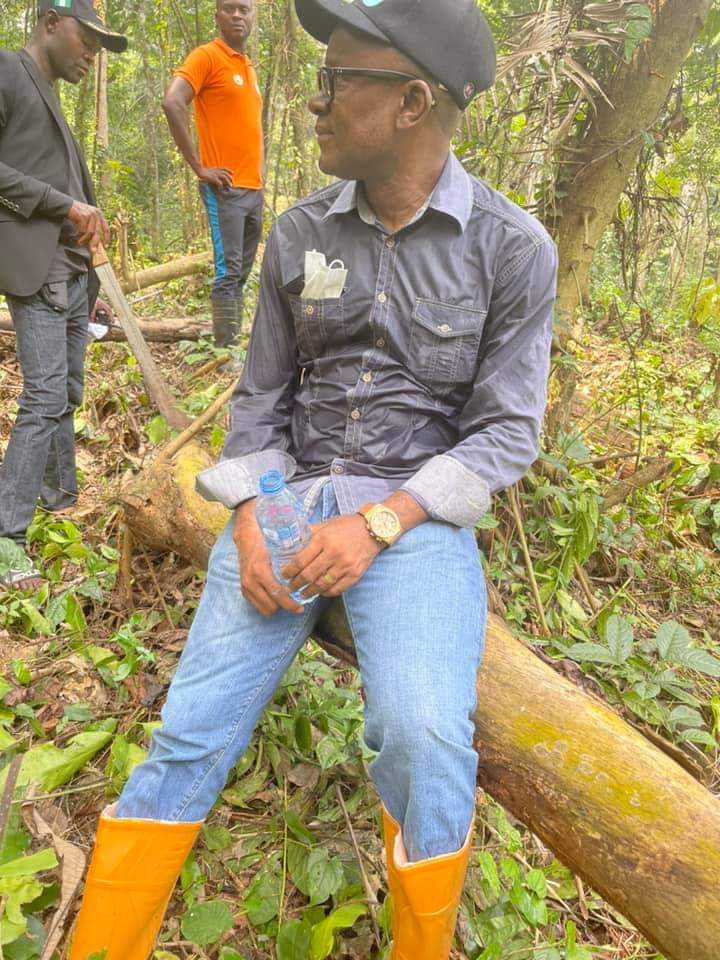 To manage the farms, the Abuja-based politician engaged several workers; both skilled and unskilled, even as he plans to increase the number to employ the unemployed, in a state like Cross River, grappling to employ its over 3,000,000 population and job-seeking peaking at its highest.
"What I do is once in a while I go to inspect, and to see that monies that are being released for different purposes are applied correctly," Enoh said confidently that his farms were in the care of trusted hands.
As to whether the efforts put so far in the farms have begun yielding the expected results, Enoh hopes his farming endeavour is on its way up to contributing to Cross River's economy, a state whose GDP currently staggers at US$9,292; and hopes by extension the farm impacts Nigeria as a whole.
But Enoh's farming venture is more than just a business, says Dr Assam Assam, a seasoned farm expert hired by Enoh to be his farming consultant.
"The farm under its out-growers scheme has trained and provided start-up support for over 200 participants on poultry, piggery, and fishery; and is currently working on a partnership with Sterling bank, where more farmers can be able to access startup loans," the farm expert added.
The vision for the out-growers scheme, Assam added is "to train, register, give them inputs and when the animals have grown, we buy off from them".
"My farming is not at subsistence level, it is to get to a point where we can export our products. The dream I have is to have a professionally run farm that earns foreign exchange, and can process its products," Enoh told our medium.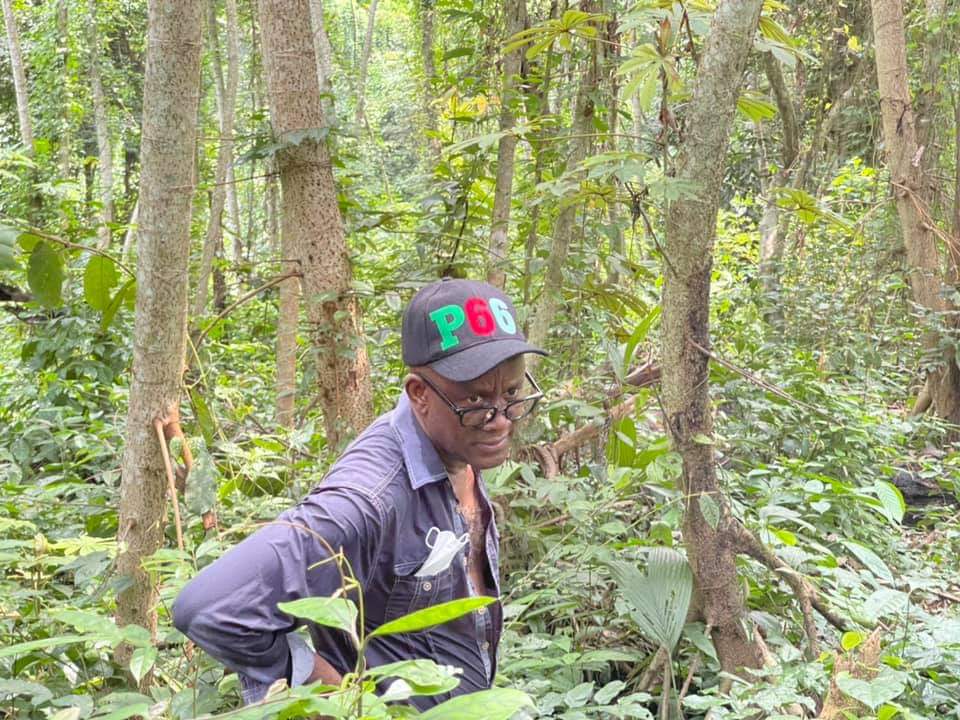 What is also unique about his farms, Enoh said, is that communities, where these farms are located, have the benefit of enjoying several interventions and support schemes from the farm's numerous corporate social responsibilities.
"Each time I pray that I'm able to create an alternative and sustainable source of income, create an economy that is separate and different from my politics. There's a point at which politics will end," Enoh said, quickly dismissing his farming has any political undertone despite being politically dogged and his eyes still set on becoming the next Governor of Cross River.
Adding that: "I expect that between the farm I'm doing and politics it's the farming that my children will come and inherit and take it further.
Whether Enoh's farming venture is to score political points or enterprise-driven, these huge investments at a time when a country like Nigeria is dying to look inward to strengthen its failing agricultural chain bring with them impact worthy of attention and to think that the person at the frontline is a politician brings fulfilling hope