Un video de un ataque aéreo israelí en el norte de la Franja de Gaza circula en las redes sociales como la respuesta actual al ataque de Hamas a Israel.
"Última hora. Fuerza aérea de Israel ataca Gaza operación 'Espada de Hierro' inició. Los terroristas de Hamas pagarán un alto precio. Las fuerzas de defensa de Israel ya comenzaron atacando Gaza", dice una publicación en Facebook del 7 de octubre que comparte el vídeo. 
Pero este video es de mayo, cinco meses antes de la violencia reciente que empezó el 7 de octubre.
La publicación fue marcada como parte del esfuerzo de Meta para combatir las noticias falsas y la desinformación en su plataforma. (Lea más sobre nuestra colaboración con Meta, propietaria de Facebook e Instagram).
Las imágenes fueron publicadas en Internet el 13 de mayo por The Associated Press. El pie de foto del video en YouTube dice, "humo y arena saliendo de una explosión tras un ataque aéreo israelí contra una casa en el norte de la Franja de Gaza".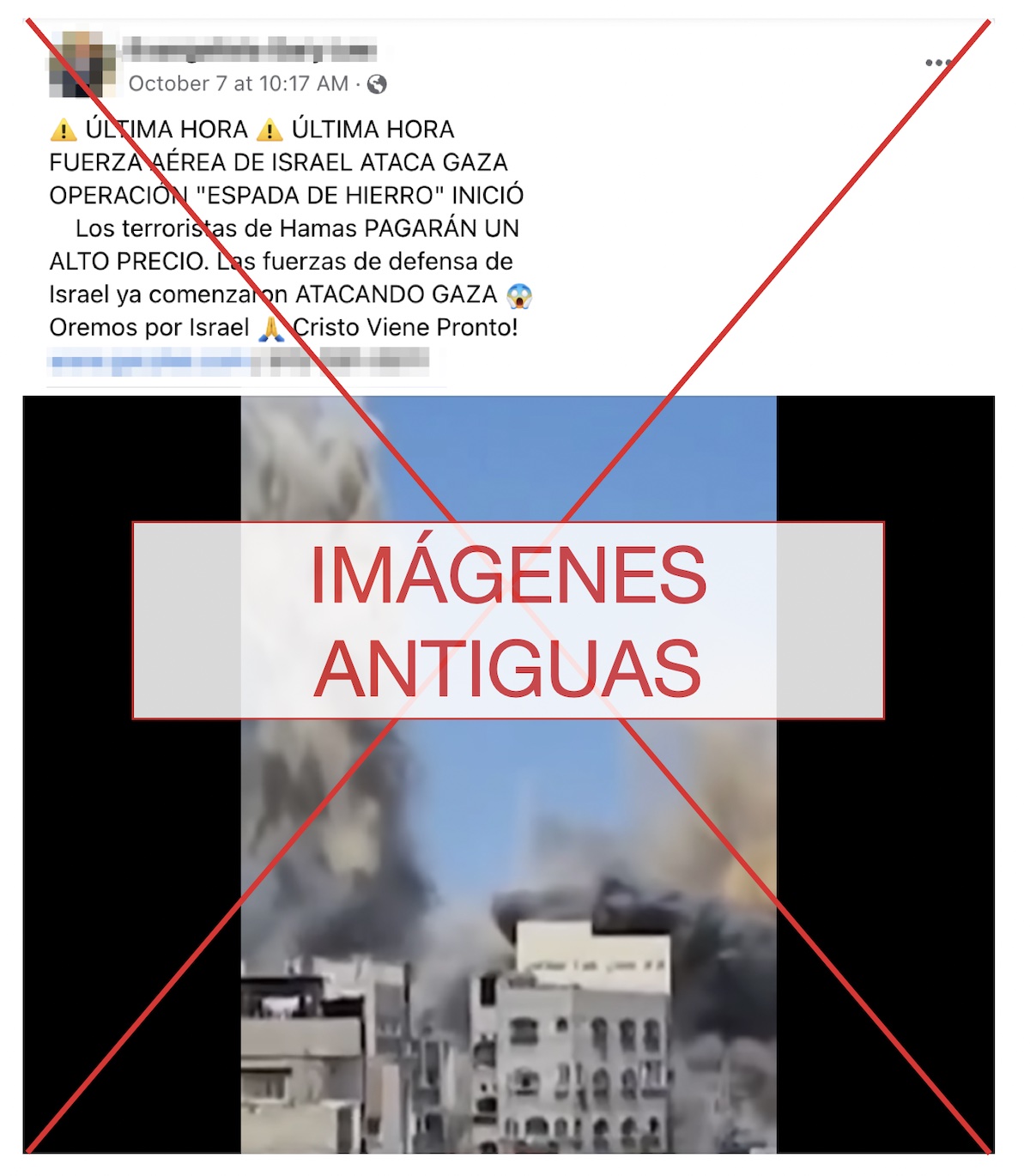 Captura de pantalla del video que muestra la fuerza aérea de Israel atacando a Gaza en mayo de 2023 y no en octubre.
El ataque aéreo se produjo tras varios días de ataques entre Israel y militantes palestinos, según The Associated Press.
Calificamos como falsas las afirmaciones de que estas imágenes muestran la respuesta al ataque de Hamas del 7 de octubre.
Una versión de este artículo originalmente fue escrita en inglés y traducida por Marta Campabadal.
Lea más reportes de PolitiFact en Español aquí.
__________________________________________________________________________
Debido a limitaciones técnicas, partes de nuestra página web aparecen en inglés. Estamos trabajando en mejorar la presentación.