Our iPhones have replaced the traditional calendars, clocks, and whatnot. I don't remember the last time I used an alarm clock. In fact, many users completely rely on their phones to get up on time. But what if your iPhone alarm isn't going off? You get up late and miss an important meeting, and it affects your entire day, right? If the alarm isn't working on your iPhone, you've landed at the right place. In this article, we've listed ways to fix iPhone alarm not going off problems. Whether your iPhone alarm isn't making a sound, or it sometimes doesn't go off on time, this article will help you fix all such issues. So, let's begin and get the alarm to work on your iPhone again.
1. Check the volume and alarm sound
This might sound obvious but low volume is one of the most overlooked reasons why your iPhone alarm didn't make a noise. It's worth knowing that the alarm volume matches the overall volume on your iPhone. So, the first thing you need to check is your iPhone's volume, and turn it up to a clearly audible level, if it's too low. Here's how to do it:
Use the Volume Up button on your iPhone to turn up the alarm volume.
Alternatively, head to the Control Center on your iPhone and swipe up the volume slider to increase volume on your iPhone.
While you're doing this, we would also suggest you check and pick a louder alarm sound. Some alarm sounds are soothing and quieter than others. These sounds are suitable for light sleepers. In case you've chosen an alarm sound that's not loud enough for you, there are fair chances you won't hear the sound. As a result, you might wonder why your iPhone alarms sometimes do not go off or why you don't hear your iPhone alarms. Here's how to change the alarm sound on your iPhone:
Open the Clock app on your iPhone.
Switch to the Alarms tab and tap on Edit from the top-left corner.
Tap on the alarm for which you want to change the sound and then tap on Sound to change the iPhone alarm sound.
Then, preview the sounds and choose the one that works for you.
2. Ensure you've set the correct alarm
The alarm on your iPhone won't go off because you haven't set it correctly. I know this might sound obvious but can happen with anyone, anytime. I often make a silly mistake- choosing PM instead of AM and vice versa. I was supposed to get up 6AM in the morning but my iPhone alarm didn't go off because it was set for 6PM that day. Also, there can be instances when you've skipped some days while setting up a repeating alarm. As a result, you might end up with iPhone alarms sometimes not going off problems. This is pretty common when you edit an existing alarm.
To escape any issues, you should check the alarm settings. Here's how to do it quickly:
Open the Clock app on your iPhone and tap on the Alarms tab.
Here, verify that you've set the correct time, and the toggle is turned ON for the alarms you need. Don't forget to check the AM/PM.
You can also tap on individual alarms, tap on Repeat, and ensure that you haven't missed any days.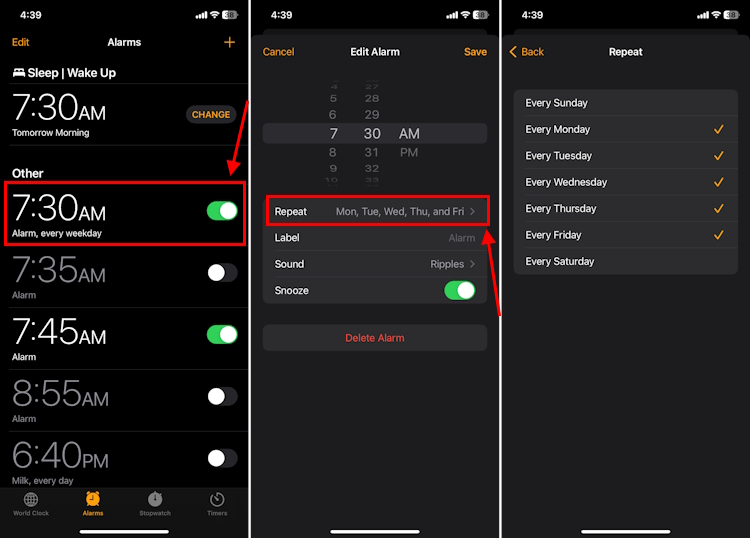 3. Disconnect any Bluetooth devices
Another reason why you didn't hear your iPhone alarm is because you've connected Bluetooth headphones, earbuds, speakers, or even wired earphones to your iPhone. In such a case, the alarm will play through the connected device, and you might or not hear anything. This depends on how your ringer and volume settings are configured, and, obviously where your connected accessories are located when the alarm makes a noise. To avoid any issues, disconnect the devices and you'll now hear the alarm via the built-in speakers on your iPhone.
4. Check your iPhone Sleep settings
If you've enabled sleep schedule on your iPhone, it can interfere with the alarm sounds on your iPhone especially if the wake-up time is set the same as your iPhone alarm. To avoid conflicts, you can change the alarm time or the sleep settings. Here's how to change your iPhone sleep settings.
Go to the Health app on your iPhone and switch to the Browse tab.
Then, tap on Sleep.
Scroll down and tap on Full Schedule & Options. Then, tap on Edit.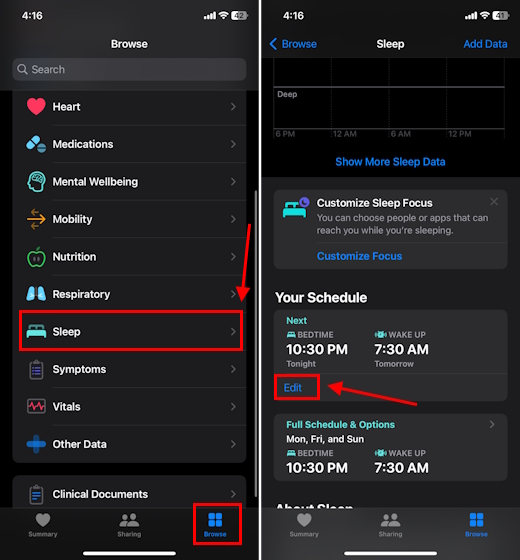 You can now change the Wake up time using the circular slider and tap on Done.
Alternatively, you can scroll down a little and choose to Delete Schedule.
5. Delete all alarms and set afresh
Some users reported that deleting all alarms and setting them again helped fix alarms not working on iPhone issue. So, there's no harm in giving it a try. Open the Clock app on your phone and switch to the Alarms tab. Then, swipe left on each alarm to delete them one by one. The other way is to tap Edit on the top-left corner, and tap on the red '-' (minus) icon next to each alarm. Lastly, you can also turn off all alarms at once using Siri. Just invoke Siri and say "Turn off all alarms".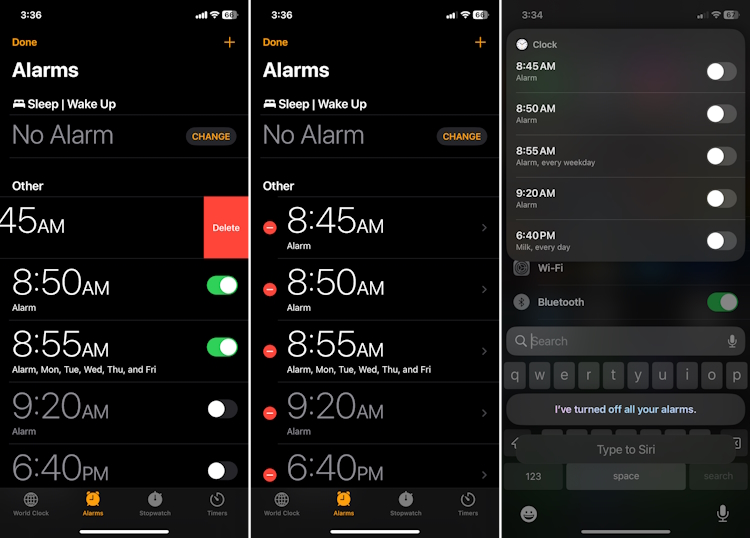 Once you've done this, create new alarms on your iPhone.
6. Use the default Clock app
Your iPhone alarm might not ring if you're using a third-party alarm or clock app. The downloaded app might not seamlessly integrate into your iPhone as the built-in Clock app. As a result, it might throw some issues or interfere with the Clock app on your iPhone. This could trigger iPhone alarm not ringing problems. To fix this, you must delete the downloaded clock/alarms app and stick to the Apple's Clock app.
If ditching the third-party app doesn't fix the problem, move to the below steps.
7. Restart your iPhone
Some temporary software glitches might prevent your iPhone's Clock app from working properly. One of the most productive ways to rule out this issue is to restart your device. We know this hack might sound old-school, but it's still one of the best ways to fix your smartphone if it's throwing any problem or isn't working properly. When you restart your iPhone, it clears the cache, removes minor bugs, and reinstates RAM to give a fresh start to the system. In case you're a beginner, here's a complete guide to restart any iPhone model.
8. Update iOS
While restarting can fix iPhone alarm not going off issues, they might resurface again after a certain period. Thankfully, Apple regularly releases software updates with bug fixes, security patches, and improvements. If some software bugs are responsible for why your iPhone alarm isn't working, updating iOS can be a potential fix. In fact, it's a solution to fix several bugs and glitches on an iPhone. So, it's worth giving it a try.
Head to the Settings app on your iPhone and visit the General section.
Then, tap on Software Update.
If a more recent version of iOS is available, download and install it.
9. Reset All Settings
If none of the above steps worked for you, it indicates there's a specific setting that's interfering with your iPhone's Clock app. And, that's the reason why iPhone alarm isn't working for you. In such cases, the best solution is to reset all settings on your iPhone. Doing this will reset all your iPhone settings to their defaults without deleting any data. Therefore, there's no need to back up your iPhone. Here's how to do it:
Go to iPhone's Settings and tap on General.
Then, scroll down to the bottom and tap on Transfer or Reset iPhone.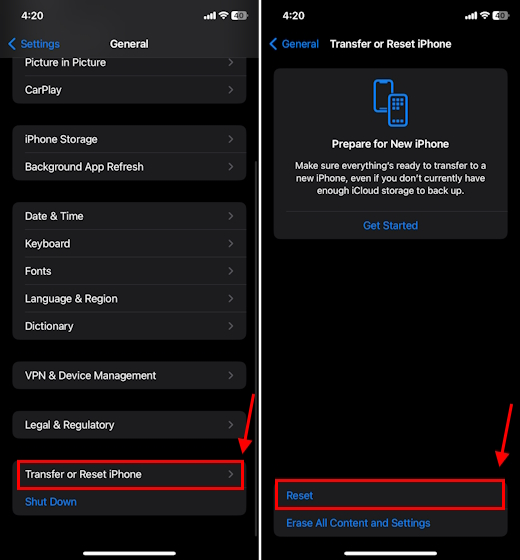 Next, tap on Reset and choose Reset All Settings from the list.
Next up, enter your iPhone's passcode when prompted.
Finally, tap on Reset All Settings to confirm your decision.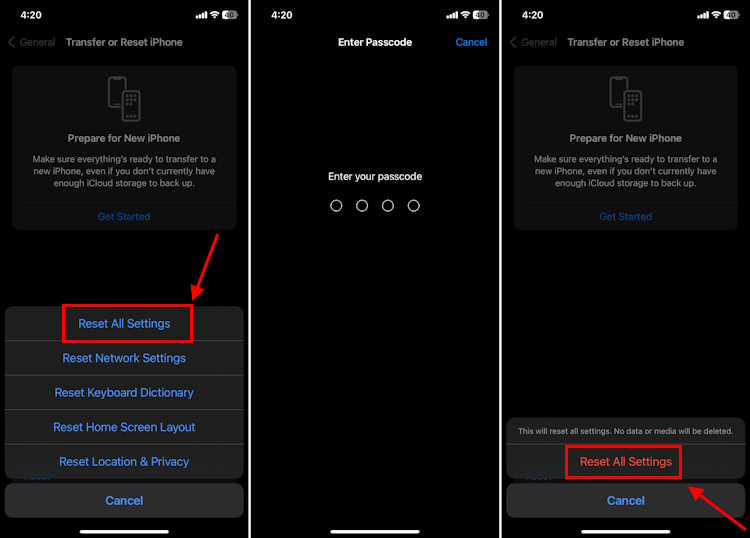 It's worth mentioning that in case this hack doesn't work, the last resort is to factory reset your iPhone. This will erase your iPhone contents and restore all the settings to their defaults. Yes, this is a time-consuming process as you'll have to back up your data beforehand. That said, it also works in cases where everything else has failed. So, you can give it a try. Before you begin, make sure to back up your iPhone or else you'll lose all your important data. Here's a step-by-step guide on how to reset your iPhone.
If you're still out of luck, it's time to contact Apple support. There might be some hardware issue or a complex bug that can't be fixed at your end. In such cases, the best is to head to the nearest Apple service center to get your iPhone diagnosed. If your iPhone is under the warranty, you don't have to worry about anything. Make sure to stay away from any cheaper alternatives or DIYs (unless you're a trained hardware professional) as they can void the warranty and can even cause further damage to your beloved iPhone.
Well, those were the 10 ways to fix alarm not working iPhone problems. We hope this troubleshooting guide helped you get rid of those annoying issues, and that you were able to get alarms working again properly on your iPhone. Which trick worked for you? Don't forget to share your experiences in the comments below.