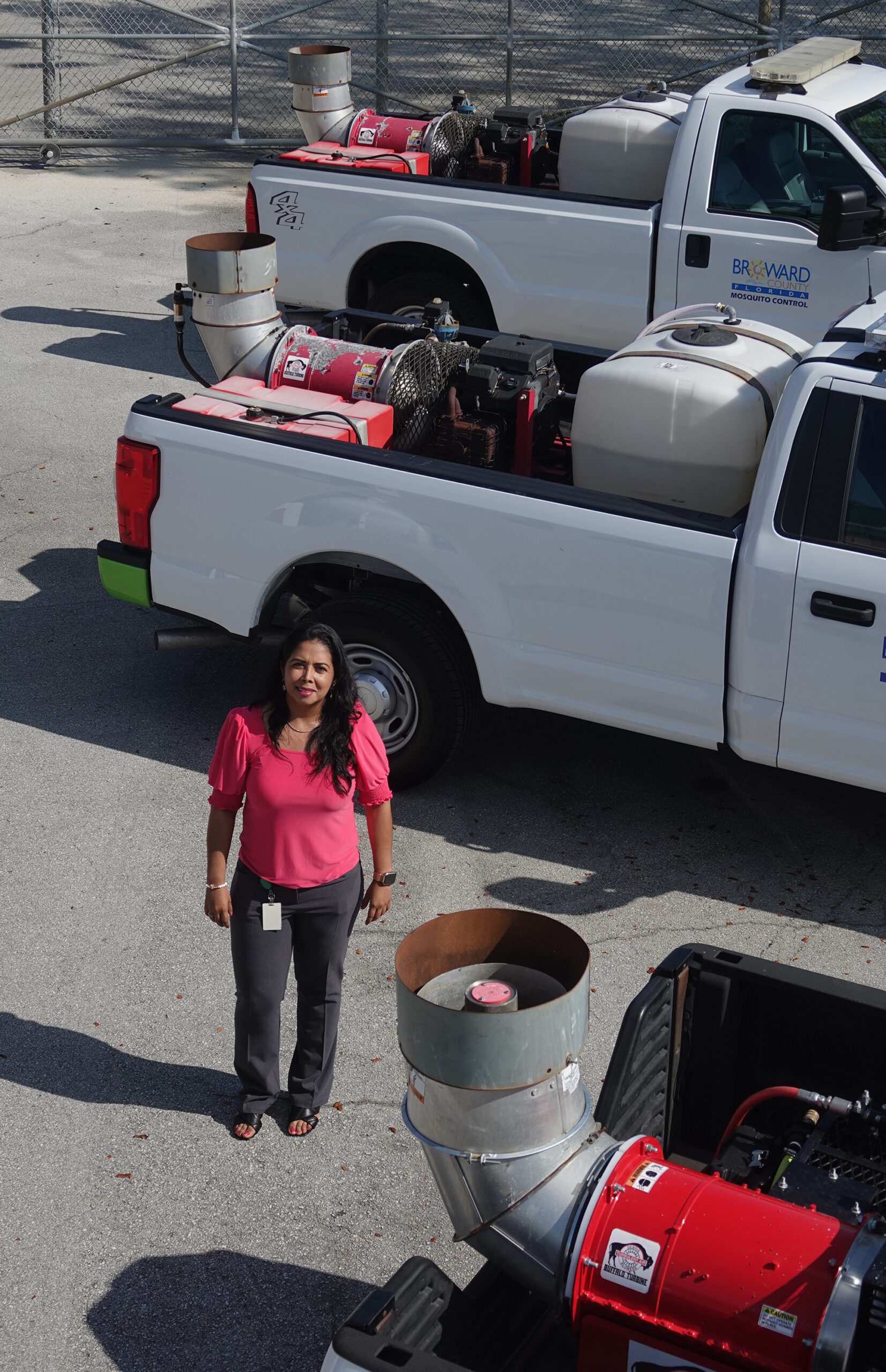 If Broward's mindset was to find a better way to spray and defeat mosquitoes, then it's marking a milestone in the skeeter battle.
After about a year of tinkering and refining plans, a team of county engineers, as well as mechanics, created a system to reduce liquid mosquito spray into particles — to reach the "perfect droplet size."
The atomizer breaks the spray into the right-sized pieces to help them go farther. The droplets can't be too large or they would fall to the ground, and they can't be too small or they would travel too far once they hit the wind and take too long to reach their destination, making them less effective.
"When I see something we do is beneficial to the community, that's what pushes me forward," said Adriana Toro, the assistant director of the Broward's Highway & Bridge Maintenance Division, who dreamed up the invention in 2016 when there was widespread concern about the Zika virus. Toro is a materials engineer and civil engineer and used her expertise to fight the mosquito-causing calamity.
The spray now has a better chance of breezing through the air to go over fences, under trees and into rooftop gutters, all the places where the dangerous breed of mosquitoes called Aedes (a Greek word that means unpleasant) aegypti lay their eggs. It's the predominant type of mosquito in South Florida and a vector of several viruses including yellow fever virus, dengue virus, chikungunya, and Zika virus.
Securing a patent
Their invention, which sits on the back of a pickup, with a large tank of the larvae spray, was granted a patent by the U.S. Patent and Trademark Office in August. It is called the "System, Method and an Apparatus for Spraying Insect Control Substances."
"It's not a cool name," admits Anh Ton, director of Broward's Highway & Bridge Maintenance Division, a division of the county's Public Works Department, which oversees its Mosquito Control Division.
The county now has three of the machines and it hits the streets when workers identify a high concentration in an area using mosquito traps that are discreetly placed in backyards, with permission.
The U.S. Centers for Disease Control and Prevention call mosquitoes the "world's deadliest animal" because the diseases they transmit are responsible for more than 700,000 deaths worldwide every year.
The Florida Department of Health releases a weekly report of mosquito-borne viruses. According to the most recent report, Sept. 17-23, there were eight cases of locally acquired dengue reported. Throughout the year, there were 31 cases of locally acquired dengue reported, including Broward County. Although the report doesn't blame which mosquito, it is the Aedes aegypti that's more common for urban areas, according to a spokesman.
Refining the system
The idea was the brainchild of county engineers, led by Assistant Director Toro, who hand-sketched their vision. The staff used pumps, valves and nozzles until the mosquito spray reached the ideal size, which is the diameter of a human hair.
Ton said in addition to being more effective, it will mean less cost and waste because it uses less mosquito spray to cover the same geographical area.
Until now, the means of spraying has been by airplane, but that's not perfect because it drops on an area whether all residents want it or not, and trees could get in the way.
There also are "backpack sprayers" — a worker carrying the arsenal on his back who goes to one house at a time — but "it takes an army of people," Ton said. "We don't have an army of people."
The worker on foot would need to work a 10-hour day to cover 10 homes, but the machine could reach 100 homes in less than two hours from the back of the truck going at about 10 mph, Ton said. "The magic is to get it in people's backyards," Ton said.
The best results will be when wind conditions are just right at a range of 5 mph to 25 mph, and there is no rain, he said.
The larvicide spray, approved by the World Health Organization, is not harmful to humans, pets, or "beneficial" insects such as bees.
Dr. Aileen Marty, an expert in infectious disease with Florida International University, was enthusiastic about the new process. She said there are "tons of different ways to spray that kill adult mosquitoes" but not that target the mosquito at the larval stage.
"That's fantastic," she said, of both the greater area the spray could cover and the cost savings by both plane and by hand.
"With this fine mist (they can) get to a lot of small places where these mosquitoes can breed," she said. That could include anything, like a container that has been left outside and that gather water.
And people won't see all of those hard-to-reach sites, which could also include pool toys or trees with holes where rainwater gets trapped: "It's very hard for humans to find all those sources of water," she said.
Ton said it will only target Aedes aegypti larvae and not the "good" mosquitoes that is vital to the bat population.
Now Broward might be in a position to not only be able to get a better handle on killing mosquitoes, but making money, too, as it dreams of getting the 3,000-pound invention of the blower and the atomizer made of steel, aluminum and plastic it to "counties and municipalities across this nation," said County Mayor Lamar Fisher.
"We look forward to sharing, and at the same time, 'How can we be financially rewarded with this opportunity as well?'" he said.
___
© 2023 South Florida Sun Sentinel
Distributed by Tribune Content Agency, LLC.