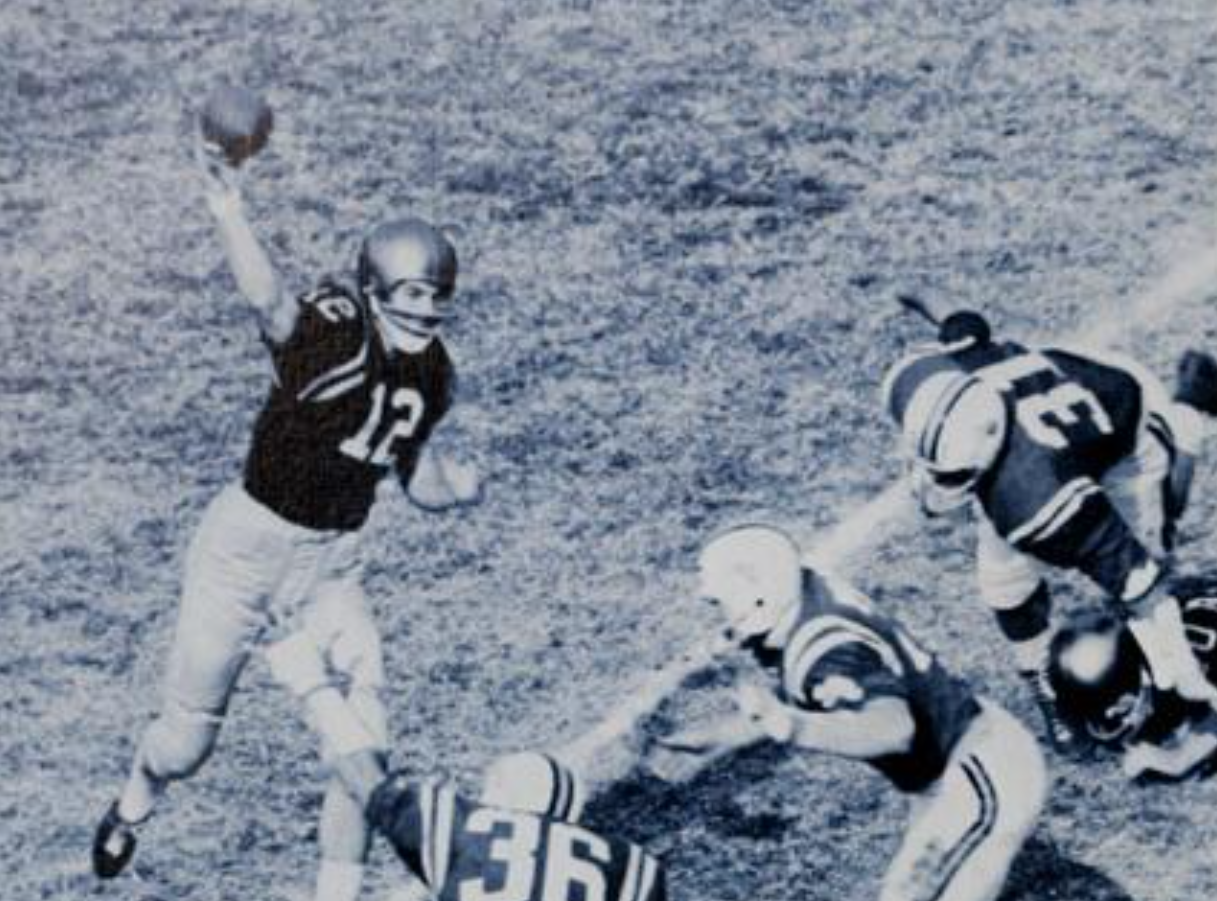 Navy athletics will pay tribute to legendary quarterback Roger Staubach with a special recognition during the service academy showdown against Air Force on Oct. 21.
Before that game, Staubach's No. 12 will be emblazoned on the field at Navy-Marine Corps Memorial Stadium. Staubach's famous jersey number will be placed at the 12-yard line on both ends of the field.
As a junior and second-year starter, Staubach helped lead the 1963 Navy football team to a 9-2 record and a berth in the Cotton Bowl. Navy beat perennial powers Michigan and Notre Dame that season on the way to being ranked No. 2 nationally.
After squeaking out a 21-15 victory over Army in a heart-stopping finish, Navy played Texas in the Cotton Bowl on New Years Day. The Longhorns beat the Midshipmen, 28-6, in that contest despite a tremendous performance by Staubach, who set Cotton Bowl records for completions (21) and passing yards (289).
In December, shortly after the Army-Navy game, Staubach was presented with the prestigious Heisman Trophy as the finest college football player in the country. He became the second Navy player in the span of four years to earn the Heisman Trophy, joining tailback Joe Bellino, the 1960 recipient.
Bellino, nicknamed the "Winchester Rifle" and known as the player that was never caught from behind, had his No. 27 placed on the artificial surface at Navy-Marine Corps Memorial Stadium in 2019. Bellino, who was also a unanimous All-American and the Maxwell Trophy winner as a senior, was inducted into the National Football Foundation Hall of Fame in 1977.
Navy athletic officials recognized at the time that Staubach matched Bellino in terms of career accomplishments. Staubach was also a unanimous All-American and Maxwell Trophy winner during that magical 1963 campaign and was inducted into the College Football Hall of Fame in 1981.
Navy athletic director Chet Gladchuk said the initial plan was to honor Bellino and Staubach simultaneously in the same manner.
"When we placed Joe's number on the 27-yard line it was only common sense that we do the same with Roger. After all, they're the two Heisman Trophy winners in Navy football history," Gladchuk said. "I called Roger and told him what we were doing. In his typical, wonderful mannerism, which is one of pure humility, Roger said, 'No. I don't want anything to detract from the attention that would be afforded Joe Bellino with that honor.' Roger respectfully declined at that time."
Out of respect for Staubach and his many contributions to the Naval Academy, Gladchuk agreed to wait for another appropriate time to add the No. 12 to the field at Navy-Marine Corps Memorial Stadium.
Five years later, that time has come. Navy's fabled 1963 football team will celebrate its 60th anniversary the weekend of the Air Force game. Staubach will return to Annapolis along with 26 of his teammates for a series of events.
"I was thinking about when would be the most appropriate time to put the No. 12 on the field. Here it is, the 60th anniversary of that 1963 team that was so tremendous," Gladchuk said. "I called Roger and said, 'I'm not asking, I'm telling you. We're doing this, so I hope you will join us on the field. You'll already be here, so come on down.'"
Staubach finally agreed to allow the No. 12 to be emblazoned on the Navy-Marine Corps Memorial Stadium turf because he felt it would be a tribute to the entire 1963 team. He would prefer some sort of signage recognizing the entire 1963 squad instead of No. 12, but understood that was not possible.
"Truth be told, that 1963 team won the Heisman Trophy. They awarded me the Heisman Trophy in recognition of that team and its accomplishments," Staubach said Thursday during an appearance on the Navy Football Podcast. "I never dreamed I would have my jersey number on the field at Navy-Marine Corps Memorial Stadium. It's a fantastic privilege. I just feel like the whole 1963 team should be on that field somewhere."
Two-way standout Tom Lynch was the consummate captain of the 1963 team, a hard-hitting middle linebacker on defense and tenacious center on offense. Pat Donnelly was another star of that team as a fullback and defensive back.
Donnelly scored all three touchdowns for Navy in its classic 21-15 victory over Army. That contest ended with the Cadets at the 2-yard line seemingly on the cusp of scoring the game-winning touchdown when time expired.
"That 1963 team ranks right at the top of my life as far as sports and football are concerned. I was just so proud to be the quarterback of that great team," Staubach said. "It's an honor to represent the 1963 team by having my number on the field at the stadium where we enjoyed so much success and have so many fond memories."
Lynch achieved the rank of admiral and served as superintendent of the Naval Academy among numerous notable postings during a decorated military career. He has held the 1963 team together like glue for six decades now.
Lynch and other teammates have been lobbying Staubach for five years to accept the special honor offered by the Naval Academy Athletic Association. Lynch was a plebe at the academy the year Bellino won the Heisman Trophy, but believes Staubach deserves the same recognition at Navy-Marine Corps Memorial Stadium.
"I can speak with great confidence on behalf of every member of our football team that we are so proud, so honored and so thankful that Roger's going to have No. 12 on that field along with the No. 27 of Joe Bellino," Lynch said.
"To have the opportunity to be down there on the field for our 60th team reunion during the Air Force game and see that No. 12 installed is a very special feeling for all of us. We feel we earned that Heisman Trophy a little bit. Roger was the guy that made it all happen, but we were all part of that."
___
(c) 2023 The Capital
Distributed by Tribune Content Agency, LLC.